Golf apparel, once only designed for style, has blossomed into functional wear which works well both on and off the course. Fit, fashion, and comfort are just as important during an eighteen hole stretch as they are at the 19th while having a snack with your foursome. So, what makes certain golf apparel perennial favorites?
Although certain styles are naturally de rigeur, like polos, cardigans, and khakis, brands are reaching out to millennials with more trendy pieces sporting bolder colors, changes in collar design and added functionality such as cell phone and scorecard pockets.
Where a few fashion-forward items are meaningful to every wardrobe, comfort is probably the most important functional spec which determines what I wear for my round of golf. I usually reach for the same pieces over and over again and, when I add a new skort or shirt to my attire, it had better serve a purpose.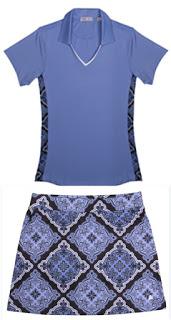 I recently added to my closet a golf shirt and skort from Bermuda Sands Women's Fall Collection, "Evelina" Women's polo and the "Vera" skort from the Greer Collection.
Black and white complement any season and the bold lavender definitely stands out against the changing Autumn scenery. The medallion pattern on the skort carries onto all of the available tops which means if it gets chilly, I can add a cover-up to the outfit!
Yes, I will be a fashion statement on the golf course come this fall but that is not why I will be excited to wear my new Bermuda Sands outfit.
The quality of the materials used is excellent. As I held both pieces, I couldn't help but notice the silky feel and weight of the fabric. I thought it would be heavy when I tried on the outfit but was impressed by its lightweight comfort.
The Greer line of golf apparel is 92% Polyester and 8% Spandex stretch jersey, which offers a great range of motion and should also help to keep me comfortable and dry, even when I am sweating out those ten-footers for par.
Bermuda Sands also offers a men's line of short and long sleeve shirts and outerwear.
I can't wait to take this outfit onto the golf course but, since it's new in my closet, it needs to air at the appropriate time and at a top-notch golf course...perhaps Grande Dunes...Pine Lakes? Or maybe TPC Myrtle Beach...
Bermuda Sands, an innovative golf apparel company, has been creating fine clothing for both men and women since 2009 and, since the quality of their clothing is first-rate, in my opinion, this company deserves a look.
Do you love shopping for golf apparel? If so, are you partial to polos...skorts? Feedback requested on our golf blog in the comments section and on Twitter @Golf4Beginners.


I may receive free services, items or payment from miscellaneous providers of golf-related merchandise. ❀ I promise that I will always deliver my honest opinion!