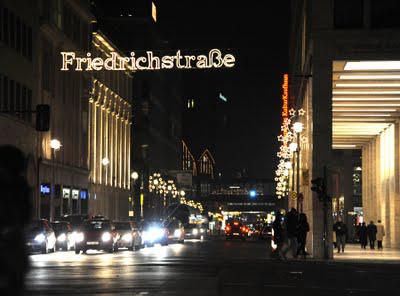 Friedrichstrasse at night outside our hotel
[
Diary of my trip to Berlin in November 2010
]  It was the last Thursday in November and we were in Berlin, where Art was attending a conference.  We were staying at the Maritim Hotel, on Friedrichstrasse, the main shopping street of the former East Berlin, now a bustling center of commerce with huge department stores, hotels, and other businesses.  That evening we attended an elaborate buffet at the hotel with dozens of dishes and artfully prepared appetizers, many in little glass containers.  Main courses included venison and roast goose–the closest we came to a real Thanksgiving dinner.  After dinner we walked a few blocks to the intersection with Unter den Linden, a wide boulevard leading to the Brandenburg Gate, which was decked out for Christmas with sparkling lights.  The temperature was around 0 degrees Centigrade and it felt like it was going to snow.  In the morning, as I looked out our hotel window, I saw a light dusting of snow on the rooftops.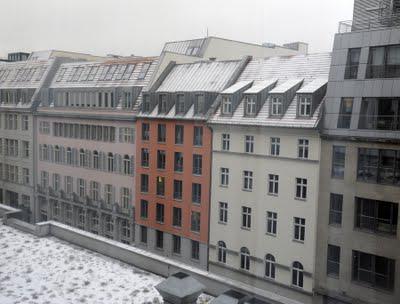 View from our hotel window
The next day while Art was attending meetings, I ate at the hotel again.  Dessert came on a plate shaped like an artist's palette with cake, ice cream, and chocolate sauce in three "paint" compartments.  Everywhere in the hotel, walls were decorated with modern paintings, some of them huge.  Finally, on the last day of our stay I realized that the concept of the hotel was a giant art gallery!  (Hence, the palette for my dessert!)  One thing that puzzled me when I got on the elevator to go to our room was that each floor had a name on it.  I now understood that these were the names of painters and each floor was dedicated to the work of a single artist.  Our floor (the 5th) displayed paintings by German artist Bernd Zimmer.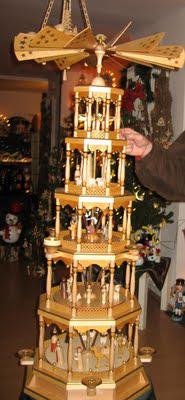 Carved Christmas Pyramid
On Saturday afternoon, after the meeting was over, we went out shopping, stopping at a Christmas store filled with pyramids (elaborately carved wooden holiday decorations that turn from the heat of lighted candles), as well as many other kinds of other wooden objects, plus holiday table cloths, ceramics, etc.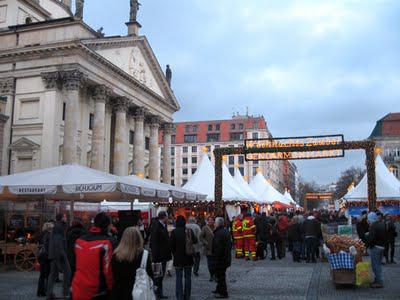 Entrance to the Christmas Market at Gendarmensmarkt
Our real destination, though, was the Christmas market at the Gendarmenmarkt, a few blocks away, where we paid one Euro each to get in.  This huge outdoor fair had dozens of booths selling food and crafts.  On one side was a stage where entertainers danced and sang.  There was also a semi-indoor section tented off from the chilly air where there were more booths.  We toured the booths and  bought cookies and poppyseed cake to take home, puppets for the grandkids, and a Thuringer sausage on a bun for my lunch.  We also took a photo by a large decorated Berlin bear. (Bears are the symbol of Berlin. They are all over the city, something like the cows in Chicago.)  That evening, German friends took us to the Berlin Opera where we saw Mozart's
The Magic Flute
.  The staging–lots of smoke and lights–was dramatic and creative.  It didn't matter that I didn't understand the German lyrics. It was all wonderful.  Afterward, we ate in the opera restaurant where Art had smoked eel and I had gnocchi.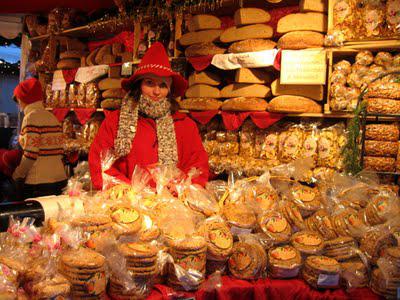 Booth selling stollen, cookies and other baked goods
On Sunday morning we bundled up and walked to the Brandenburg Gate and from there to the New National Art Museum, a large glass box not far from the symphony hall.  The main collection is German art of the early to mid-twentieth century.  From the outside, the building seems unlikely to have wall space for much art, but the inside is surprisingly spacious. In one room, they were screening a 1927 film called
Symphony of Berlin
, a black and white visual homage to life in the city as it was then, bustling with industry and commerce. (You can rent the film on Netflix.)  Later, we met our friends again for a traditional German Christmas tea with wonderful homemade stollen, fruit bread, cookies, and marzipan, followed by more German food for dinner at a restaurant near our hotel.  The next morning we got on a plane to go back to LA.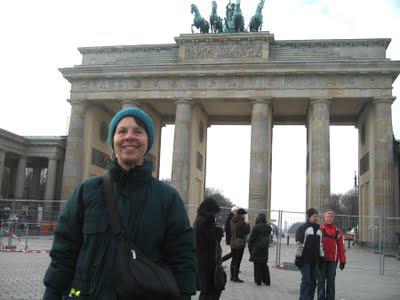 Caroline at the Brandenburg Gate, Berlin
Note
: We have been to Berlin numerous times, usually during warmer seasons.  This was my first trip in winter.  The short days and freezing temperatures, along with the sounds of Christmas music in the streets, brought back memories of winters in Minneapolis when I was growing up.  As a child, one of the highlights of the Christmas season was going downtown to look at the displays in the department store windows.  Even though I have lived in California for most of my adult life, and have gotten used to trees being green year round and t-shirt weather in January, Christmas still never seems quite the same without snow underfoot and the air so cold you can see your breath.  In Berlin, we could definitely see our breath in the night air!