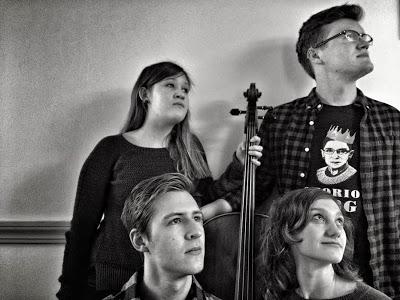 notloB Music and Darol Anger have a long history of progressive string quartet collaboration, the tradition continues! Unauthorized Personnel is a Berklee contemporary string quartet, coached by a pioneer of contemporary fiddle, Darol Anger. Bringing together some of the greatest players in Berklee's string department, Unauthorized Personnel specializes in the music of the great Turtle Island String Quartet. The group started in January of this year, and have been sawing the strings ever since. This concert will mark the ensemble's public debut!
ABOUT THE MEMBERS
Avery Merritt (Violin) is a Boston based multi-style fiddle player. He has played fiddle since the age of four and plays bluegrass, jazz, and alternative styles. He has won a number of awards, including first place in both advanced fiddle and band categories at the Topanga Banjo-Fiddle Competition, and was named an official California Arts Scholar at The CSSSA program at CalArts.There, he received a Governor's Medallion for The Arts, the highest distinction in California an arts student can receive. Avery has studied with musicians such as Jeremy Kittel, Darol Anger, Casey Driessen, Alex Hargreaves, and Mark O'Connor to name a few. He also works with NS Design as a demonstrating artist at various locations such as The NAMM Shows, IBMA, and has also performed at festivals such as Grey Fox and Freshgrass. Avery is a 3rd semester student at Berklee, currently studying under Jason Anick.
Avery's Website - http://www.averymerritt.com/
Kailey Zercher (Violin) from Santa Fe, NM, started studying classical music at the age of nine, and had classes with many accomplished violinists such as members of the Santa Fe chamber orchestra Promusica, the Santa Fe Opera, grammy nominees and world-touring performers. She has been selected for many orchestras such as All-State New Mexico, a Switzerland-based, internationally touring orchestra called Crescendo and others. Kailey is now a seventh-semester student at Berklee College of Music, where she studies everything from jazz to rock. So far, she has studied privately with Mimi Rabson, Jason Anick, Rob Thomas, and Matt Glaser, and Darol Anger. She also plays and sings in a local folk-rock/jam band called The Womps, that is to release their EP by the end of the month.
Kailey's music: The Womps - Eating Up My Soul https://www.youtube.com/watch?v=KudbF8nTgnI
Parker Ousley (Cello) grew up on the desolate frozen tundra in Minnesota and began playing cello at age 5. Before coming to Boston, he studied classical cello with David Carter, Peter Howard, and Anna Clift. In high school he began venturing from the comforts of his classical home and joined the amateur folk band, Flute Platoon as a singer and cellist. After breaking from the Platoon, Parker began singing and playing as a solo act in the Twin Cities. When not performing with Unauthorized Personnel, he and his cello, Jeremy, can be found performing on their own, with American Housewife, or in the Twin Cities-based duo The Triplets. Parker is currently finishing his sophomore year at Berklee College of Music where he studies with Mike Block, Eugene Friesen, and Rob Thomas.
Jennifer Frantz (Viola) is from Beaver, PA. She started studying classical violin at the age of 5, and switched to viola at the age of 16. She is in her fourth semester at Berklee where she has been studying jazz and contemporary music as well as composition with David Wallace and Rob Thomas. In 2014, Jennifer was the winner of a concerto competition where she performed the Stamitz viola concerto, with the Lincoln Park Performing Arts Orchestra. She also had toured all over U.S. with the jazz group From the Four, and Extreme Strings Orchestra. She has participated in multiple international music festivals and is the assistant to the director of the CLAZZ music festival. Jennifer is known for her ability to hula-hoop while playing viola.
Admission to the Wednesday concert series is by free-will offering (45-10 suggested). Make your reservation at http://tinyurl.com/notlobtickets.
ABOUT THE CAFE
You can arrive as early as 6pm to enjoy the cafe's offerings, which include sandwiches/wraps, salads, coffee, teas and pastries as well as beer and wine.
Free parking in the back lot, on street (mind the signage) and two satellite lots.
MBTA: Arts at the Armory is approximately a 15 minute walk from Davis Square which is on the MBTA Red Line, or take either the 88 or 90 bus from Lechmere (Green Line) or Davis Square (Red Line). Get off at the Highland Avenue and Lowell Street stop. You can also get there from Sullivan Square (Orange Line) via the 90 bus. Get off at the Highland Avenue and Benton Road stop.
Bicycle: The Armory is four blocks from the Somerville Community Path.
Handicap accessible.
ABOUT NOTLOB MUSIC
Since 2007, notloB Music has presented close to 200 folk, old-time, bluegrass, progressive string band, world and Celtic concerts in unique venues throughout the greater Boston area.
mail list - http://tinyurl.com/notlobmail
website - https://sites.google.com/site/notlobmusic/
facebook - https://www.facebook.com/notloBParlourConcerts/
eventbrite (tickets) - http://www.eventbrite.com/o/notlob-music-6730833315