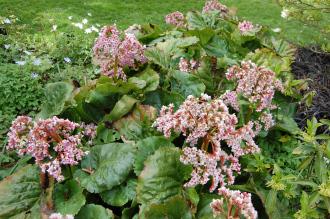 Bergenia ciliata (19/04/2014, Kew Gardens, London)
Position: Full sun to shade
Flowering period: Spring
Soil: Moist, well drained
Eventual Height: 30cm
Eventual Spread: 50cm
Hardiness: 7a, 7b, 8a, 8b, 9a
Family: Saxifragaceae
Bergenia ciliata is a semi-evergreen herbaceous perennial with a clump forming habit. Its leathery mid green leaves are ovate with entire wavy margins, with fine hairs on its upper and lower surfaces, up to 35cm long and 30cm broad. Its pink hermaphrodite flowers are cone shaped and produced on a stem which are up to 35cm high. The roots of this plant are rhizomatous and will spread slowly.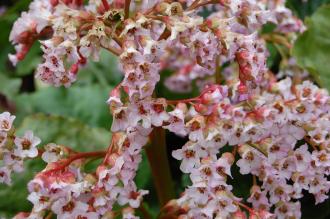 Bergenia ciliata Flower (19/04/2014, Kew Gardens, London)
Bergenia ciliata, commonly known as Fringed Bergenia, Frilly Bergenia or Elephant Ears, is native to the Himalayas region. In its native habitat it grows in moist forest conditions.
The etymological root of the binomial name Bergenia was named after Karl August von Bergen, an 18th century German physician and botanist. Ciliata is derived from the Latin ciliate meaning 'eye lash', in reference to the hairs on its leavers.

The landscape architect may find Bergenia ciliata useful as an effective low growing, evergreen, ground cover plant, particularly in shady.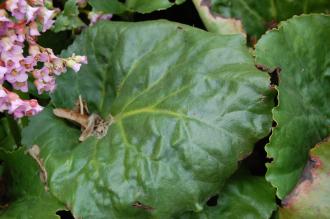 Bergenia ciliata Leaf (19/04/2014, Kew Gardens, London)
Ecologically Bergenia ciliata flowers are attractive to pollinating insects.
Bergenia ciliata prefers moist, humus rich, well-drained soils. It tolerates most pH of soil. It will tolerate poor soils.
Bergenia ciliata requires little maintenance. Large clumps of this plant may be divided in autumn or early spring.