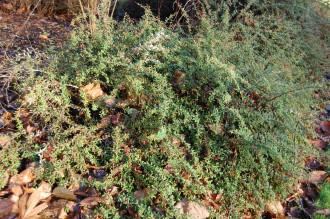 Berberis wilsoniae (30/12/2013, Kew Gardens, London)
Position: Full Sun to partial shade
Flowering period: Early summer
Soil: Moist, well drained
Eventual Height: 1m
Eventual Spread: 2m
Hardiness: 6a, 6b, 7a, 7b, 8a, 8b, 9a, 9b
Family: Berberidaceae
Berberis wilsoniae is a semi evergreen spiny shrub with a bushy, arching habit. Its gray green leaves are are spatula to oval shaped with entire margins, up to 25mm long and 6mm broad. They are produced in clusters of 2 -6 on a dwarf shoot in the axial of each spine. Its pale yellow flowers are up to 7mm across and are produced in short panicles of up to 7 flowers.  Its fruit is a translucent red berry, each contains a single seed. These berries will persist through the winter months, assuming they are not eaten by birds.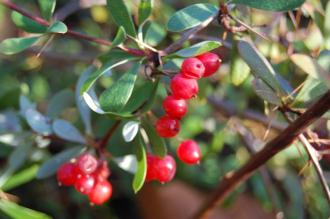 Berberis wilsoniae Berries (30/12/2013, Kew Gardens, London)
Berberis wilsoniae, commonly known as Barberry, is native to west and south China. In its native habitat it grows at forest margins.
The etymological root of the binomial name for Berberis is derived from the Arabic  برباريس, the Arabic name for Berberis. Wilsoniae is named after Ernest Wilson (1876 – 1930), an English plant collector.
The landscape architect may find Berberis wilsoniae useful as a ground cover shrub with attractive flowers and winter berries. It makes an effective informal impenetrable hedge due to it's vicious spiky branches.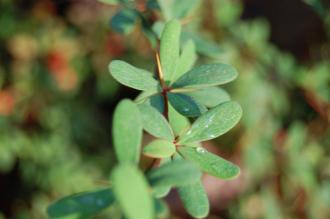 Berberis wilsoniae Leaf (30/12/2013, Kew Gardens, London)
Ecologically, Berberis wilsoniae flowers are attractive to pollinating insects. The fruit also attractive to birds and some mammals.  
Berberis wilsoniae prefers moist, fertile, well-drained soils. It tolerates most pH of soil. It will tolerate poor soils.
Berberis wilsoniae requires little maintenance.