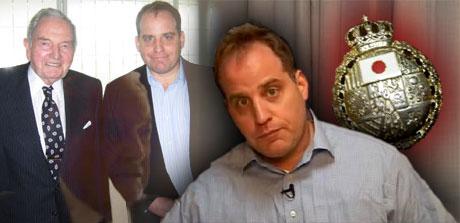 image of Fulford interviewing Rockefeller in Japan
is he sane or insane?
is he the ultimate mafia mole or just another Walter Mitty fantasist?
whatever you think about Benjamin Fulford, international journalist living in Japan, his stories have more plot twists than a Robert Ludlum novel.
Here's the first part of his latest exculpatory tirade about criminal corporate finance and the Japanese government being threatened to cough up the dough by, yes, you've guessed it!
A senior representative of the Rothschild banking family was in Japan earlier this month demanding money, according to a high level source in the Ruling Democratic Party of Japan. When he was told the Rothschild's Japanese piggy bank was now cut off to them, he threatened to have Japan sued for releasing radio-activity into the ocean. The fact the Rothschilds have had to sink to such low level threats is a clear sign they are suffering from a serious power loss. The Rothschilds also need to realize that if they are to sue anybody for the Fukushima nuclear disaster, it would be their erstwhile US allies like Henry Kissinger, J. Rockefeller and the usual Council on Foreign Relations suspects. In any case, this ruling party source has now confirmed what multiple other sources say and that is that Senator J. Rockefeller, Henry Kissinger and now Jacob Rothschild have all visited Japan during the past month and have all left empty-handed.


What happened was that there was a show-down in the Japanese underworld and the criminals who had been sub-contracting here for the Rockefellers and Rothschilds etc. agreed to stop working for them. That is why Emperor Akihito suddenly went to the hospital and ceded responsibility to crown Prince Naruhito. This was to make sure there was no royal family member available for these Bilderberg thugs to threaten and bully.


As a result of this underground change, the White Dragon Society has now been given detailed information about politicians who have been bribed in the past by the Sabbatean Jewish gangsters. Some of the main conduits for Rockefeller/Rothschild bribe money included former Prime Minister Yasuhiro Nakasone, DPJ power broker Ichiro Ozawa and Tokyo governor Shintaro Ishihara. These people are now being isolated from the Japanese power structure.


In addition, the specific North Korean, Japanese and CIA operatives responsible for the 311 Earthquake, Tsunami and Nuclear attacks on Japan have been identified. A representative of this group contacted the White Dragon Society to say that while they were not proud of what they had done, they had no choice but to follow orders or be killed. Their identities have been given to sources in MI6, the CIA, Interpol, the Yakuza, the Triads and the Japanese military police. However, so long as they refrain from any further such operations, they will not be prosecuted but will be asked in the future to testify in front of a truth and reconciliation committee.


Also, some very esoteric financiers have emerged from the background as a result of this power shift. We will not name them for now other than to mention they are ancient European royal family foundations that have managed to keep their names out of the headlines even as the Bilderbergers and Rothschilds have had theirs dragged out and excoriated in public. Connected to this there is once again talk of trillions of dollars being readied for the good of the planet. Talk is cheap, however, and until the money is actually spent on ending poverty, stopping environmental destruction and doing other good things for the planet, it remains just that: talk.


It is still not clear when, exactly, the new financial system will be up and running. A land-mark lawsuit that was supposed to break the ice was promised for last week but it has failed to materialize.


The bad guys, for their part, are circling the wagons in Europe, Wall Street and Washington D.C. Vast fraud continues to be reported at the various big US and European money-center banks as well as at many of the financial exchanges. Cabal controlled governments have also been popping into existence in Spain, Italy, Greece and no doubt elsewere soon too. However, the hard reality is that Germany alone does not have enough money to save the EU and the Euro project. The only European power with enough cash to save the day is Russia. That is why analysts in Asia expect Russia and Germany will eventually forge a Eurasian Union. [source BENJAMIN FULFORD]
I mean, Fulford's posts are like proper international bestselling thriller material - surely they're nothing more than the wild & fantastical speculation of a journalist who's too keen to achieve something great in his life, by hook or journalistic crook?
Let's see, eh?