Ready as ever, I wanted to see that ocean blue along Spain's Costa Blanca because the West Midlands had me feeling another kind of blue! Why would I lie about that? Hun, I would never! There would be sea for sure, make mine a large one, make mine a sangría because Benidorm had me wanting those Spanish tastes! Sunshine, come through because BHX had me feeling frozen!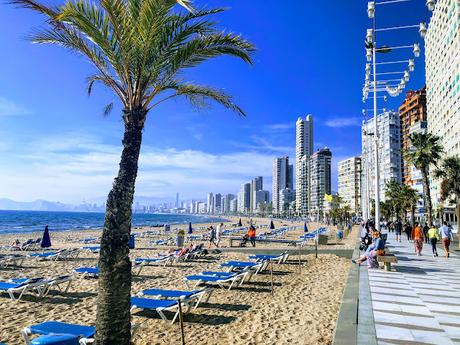 After checking into our Sol Pelícanos Ocas hotel, the only way to head was towards the beach! Playa de Levante, I needed to see you finally in-person! Playa de Poniente wouldn't be for me, I'm just keeping it real, telling lies gets you nowhere! Those Brits Abroad were surprisingly in short supply due to that scruffy looking Conservative leader making it uneconomical for Benidorm's biggest demographic to travel, I wasn't mad! Those mobility scooters whizzed past me, did they lose all function of their legs at Alicante Airport upon arrival or were they just being bone idle lazy? I didn't have the time to be the judge of that because it was my time to enjoy the sun and my own business! Those skyscraper-like hotels had me feeling my Benidorm fantasy, the tack of it all had me loving every single second. With the lack of Brits present, I felt a more local Spanish vibe along that sun-kissed beach walk. ¿Cómo está el clima? Papi! ¡Hacía cálidooo!
Spanish Prime Minsiter, Pedro Sánchez Pérez-Castejón had been clear with those recent COVID-19 countermeasures, making it mandatory to wear face-masks outside for all in Spain. The rule had just been reintroduced before our arrival, we wore our masks because the law said so and if truth me told on the Levante beach promenade there was a large level of compliance, it made sense. ¡Ay, Señorita Corona! Vete! The beach had me feeling centred, the winter left my bones if only for the five days spent in Spain, that first afternoon along the 'Playa' had me feeling reinvigorated and ready for the trip ahead of us! The sands along the Levante Beach looked serene, Beni I am sure that is not the case during high season but that wasn't my view to consider. The beach had me feeling sunny to use words in their simplest form, everything else from life could be taken out like the bins! Echa echa pa' fuera! Benidorm, I said what I said! OK?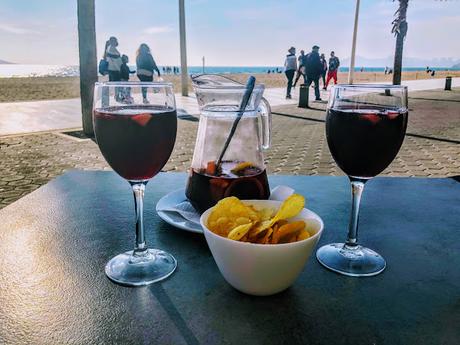 Drinks on the beach? ¡Sí! Sangría or no? Yes! Ordering a jug of Sangría had to be done, the sunshine shone and the view of the bluer than blue sea served as the perfect vista! Served up with a bowl of patatas fritas (crisps) had to be done! The fruity Sangría went down a treat, the crisps added as the perfect pairing. That January moment really turned up my 2022, Benidorm's Levante Beach had me looking into the far distance, that ocean blue and warmth had me looking to the azul waters without any persuasion needed. It was a far cry away from those Christmas mince pies and boozy drinks from the festive period, a change had me catching feels for that Spanish snack and refreshment stop. People were going about their business whether they were walking or driving their mobility vehicles. I had been so starved of culture I really didn't care what scenes occurred, if truth be told the Spanish sounded like a melody! ¡Solo sigue hablando! 
The drinks were going down fine, the walk up from the hotel to that point had been leisurely. Walking from the Sol Pelícanos Ocas along 'Carrer Gerona' showed us a smattering of loutish clientele but they were on their best behavior because the beer was cheep and Corona had them wearing their masks, also adhering to the bars strict protocols. Outside the 'Silver Dollar Pub', I caught a glimpse of the 'Benidorm Enthusiast' recording another local resort YouTube video for her followers. Throughout the build up to that Spanish escape I relied on those local slices of information, such YouTube sources like the 'Benidorm Enthusiast' calmed my nerves because her videos would inform me about the ever-changing rules and show me around the resort on the Levante side of town. Seeing the 'enthusiast' film her videos without warning made it really real to finally be in Benidorm, Spain. Av. del Mediterraneo, I saw you looking all fancy! Sure, B!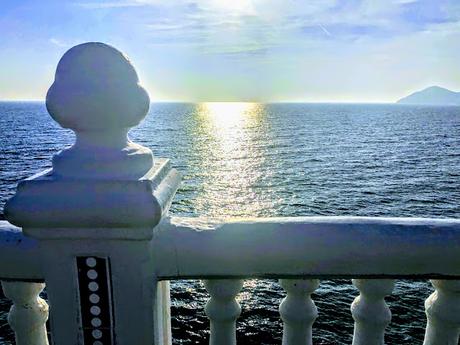 Before reaching old Benidorm or in Spanish 'viejo Benidorm', we found ourselves at the end of the impressive Levante beachfront. The recognisable steps down to the faultless 'Balcón del Mediterraneo' stood before us, getting down to the viewing platform was interesting experience but the view was worth the crowds. People were out and about for their chance to soak up that endless vista like we were on that glorious Sunday afternoon. Bang in front of me was the Mediterranean Sea with views to infinity and beyond, well that is what my eyes told me they saw. Behind us to the left, well that was the world famous skyscraper clad view of Benidorm's Levante Beach with those hotel and apartment blocks towering above the competition! Yet again, we were being served those iconic views from the opening credits from ITV's 'Benidorm!' No, I was not mad! No! ¡Esa vista, Benidorm supo servir a un telón de fondo tan impecable! Tan hermosa!
Getting it right, we were not staying along the Poniente Beach side of Benidorm because I had not waited two years to be the 'not so famous' side of the town! Never, not on my watch, no! Some serious walking we did from our hotel to the 'Balcony of the Mediterranean' and it was all worth it. The sunshine was just the right temperature, it wasn't stifling with those face masks on our faces, for that I was thankful for that! The Sangría tasted lovely with those crisps, people watching to the maximum had to be the category for certain! Do not get it twisted, I will say this until I have no voice left to speak, the view over the Mediterranean Sea had me speechless! That first afternoon in Benidorm, Spain, well it was everything and more to take us away from 'Plague Island' and then some! All that walking had us feeling hungry, we left the crowds behind at the 'balcony' for the Old Town. Benidorm, take me back! I'd trade my Lunt for the Levante any day! 
Vistas Y Más Vistas! Views And More Views! 
Joseph Harrison