"The committee's work is mostly about beating up a political adversary and not at all about advancing the security of American diplomats abroad." (Larry Hancock, 10/23/15)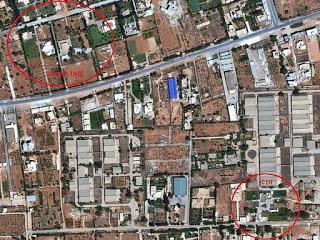 State Department's Special Diplomatic Mission Facility (upper left corner) was not a "consulate." It was cover for the CIA operation housed in the "Annex" (lower right corner).
The Central Intelligence Agency (CIA), then under Director David Patraeus, was carrying out a clandestine operation in Benghazi, Libya, operating from facility in the Benghazi compound that was simply known as the "Annex." The "Benghazi mission" was primarily an intelligence operation and most the U.S. officials there and at the nearby annex were CIA officers who used State Department cover.
Some two dozen CIA case officers, analysts, translators and special staff were a part of this operation and its security was provided by CIA Global Response Staff (GRS), who had entered the country under diplomatic cover (
Hancock, 10/23/15
).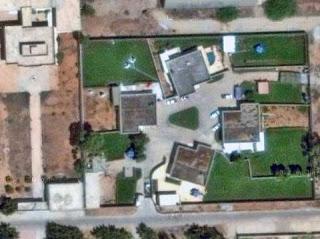 CIA Benghazi "Annex"
According to an article in the New York Times, the
CIA's mission
included arms interdiction — attempting to stop the flow of Soviet-era weapons to Central Africa — and very possibly the organization of Libyan arms shipments to vetted insurgent groups on the ground in Syria.
There is also
evidence
that the mission was working in concert with military personnel from the Joint Special Operations Group Trans-Sahara. At the time of the attack, an unarmed American surveillance drone was in flight over the territory east of Benghazi and Trans-Sahara military personnel were stationed in the Libyan capital of Tripoli.
The top-secret presence and location of the CIA outpost was first acknowledged by Charlene Lamb, a top official in the State Department's Bureau of Diplomatic Security, during Congressional testimony in October. Representatives
Jason Chaffetz
and Darrell Issa
immediately called a point of order
when Lamb exposed the location of the annex, and asked for the revelation to be stricken from the record. "I totally object to the use of that photo," Chaffetz. said. "I was told specifically while I was in Libya I could not and should not ever talk about what you're showing here today" (
Michael B Kelley and Geoffery Ingersoll, 8/3/13
).
In contrast, the State Department's special diplomatic mission facility, classified as "temporary," was minimally staffed with a rotating series of State Department officers sent to and from Tripoli.
US Ambassador Christopher Stevens had not been in Benghazi for a year. When he arrived for a short stay in September 2012, only a single diplomatic officer was present there, and that officer rotated back to Tripoli upon the ambassador's arrival. Stevens was accompanied by a communications officer and a handful of Diplomatic Service Security staff. The security personnel provided protection for the ambassador during his travels and meetings in the city. His presence was intended to be extremely low key, but it was exposed in the local media shortly after his arrival (Hancock, 10/23/15).
Larry Hancock has written that "asking Clinton to justify maintaining the State Department temporary mission in the face of a worsening security situation is fruitless, given its actual function as a clandestine national security mission cover." Furthermore, "querying Clinton about her involvement in the immediate response to the attacks is also pointless. The Secretary of State has no legal or operational role in a military response to a diplomatic facility attack. Only National Command Authority (president/secretary of defense) can order a foreign military intervention" (Hancock, 10/23/15).
Hancock has concluded that, "the committee's work is mostly about beating up a political adversary and not at all about advancing the security of American diplomats abroad."
---
Larry Hancock conducts investigative and historical research in the areas of intelligence and national security. He has studied Benghazi in regard to both its covert aspects and the issues it raises for diplomatic security. That work is published in Shadow Warfare, A History of America's Undeclared Wars (Counterpoint, 2014) and his most recently published book, Surprise Attack, from Pearl Harbor to 9/11 to Benghazi (Counterpoint, Sept. 2015).