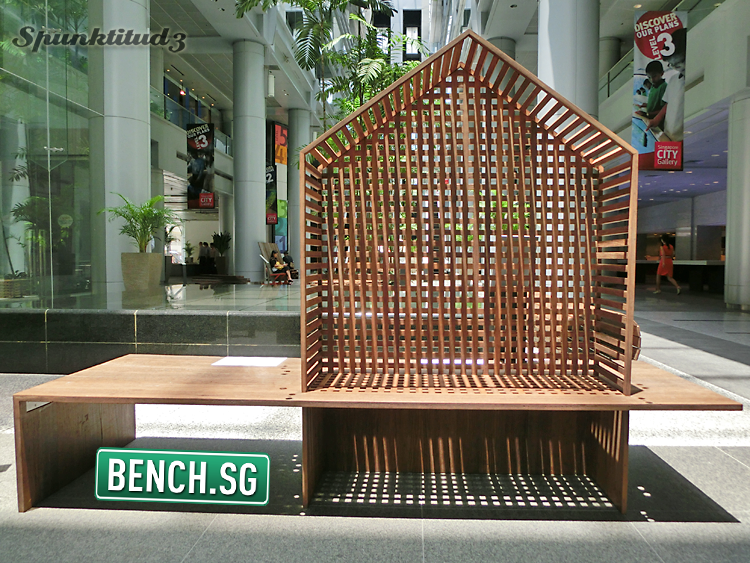 BENCH
SHELTER BENCH by Lanzavecchia + Wai Design Studio
For 37 years until its closure in 2007, Singapore's former National Stadium held a special spot in every Singaporean's heart – it was the place where we cheered on our national football team during the Malaysia Cup, where the Kallang Wave was born, and where many National Day Parades were held. For me, it was the place where I saw my first Michael Jackson concert – and when I still qualified for the kids' ticket price. I sat in the second row, and went into an epileptic frenzy when the King of Pop smiled at me and my friends. That was also the first time I camped at Hard Rock Café to buy concert tickets.
Opened in July 1973, the National Stadium was closed on 30 June 2007 to make way for the Singapore Sports Hub and the new Singapore National Stadium in 2014. In an effort to keep this piece of Singapore heritage alive, the Urban Redevelopment Authority, Singapore Furniture Industries Council and creative practice FARM invited the public and 25 commissioned local creative talents to reinterpret their memories of the national icon by designing benches using 15 wooden planks each salvaged from the stadium during its demolition. These 30 benches will then be placed in various parts of the city. It was pretty interesting to see how the designers interpreted how a public bench would look like.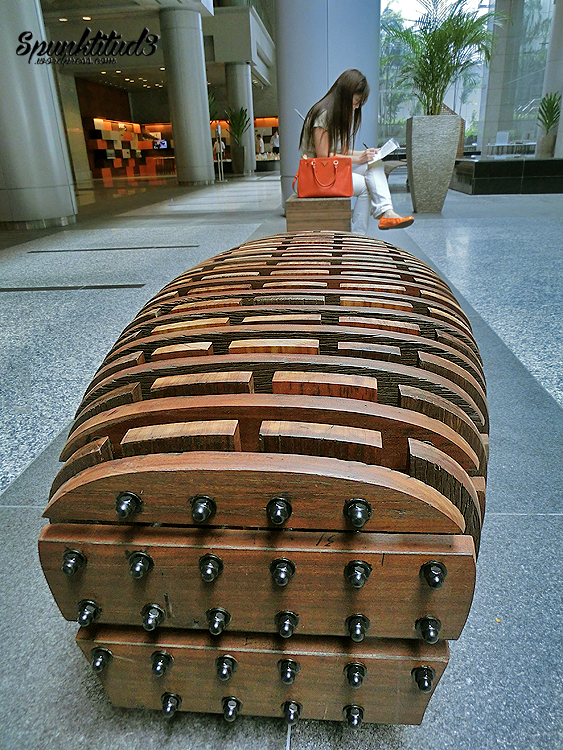 BENCH/STADIUM by Andrew Crombie, MKPL Architect Pte Ltd
One of the more intricate designs, its shape reminded me of a whale.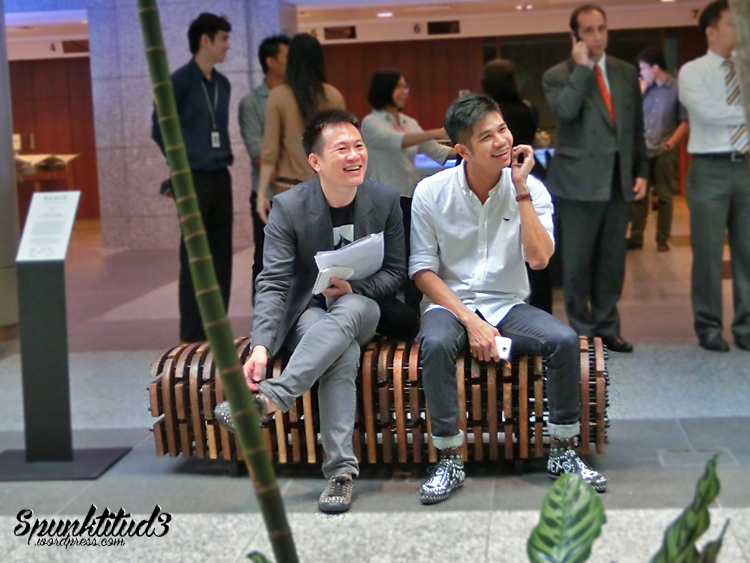 Seeing their happy faces convinced me that it is as good to sit on as it looks. Success.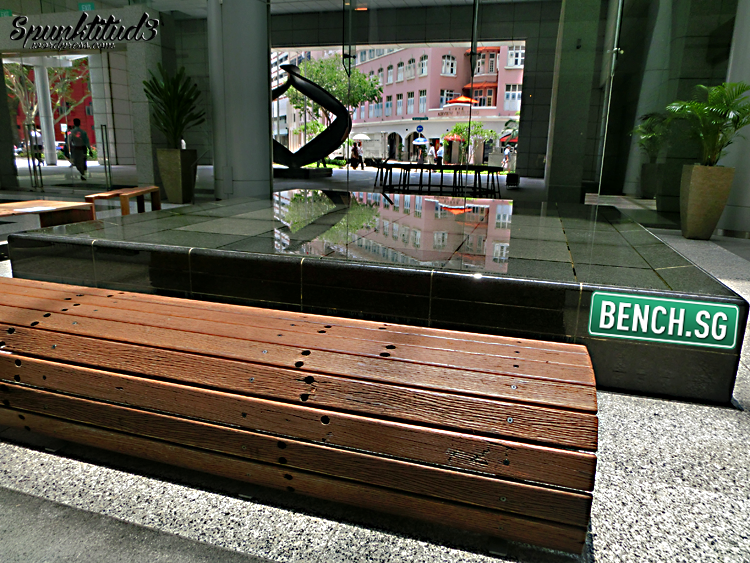 KALLANG BENCH by Studio Juju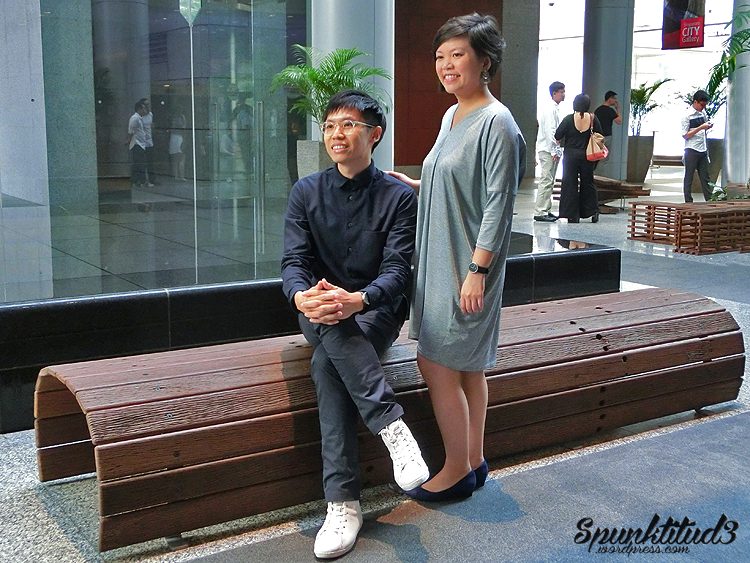 The duo from Studio Juju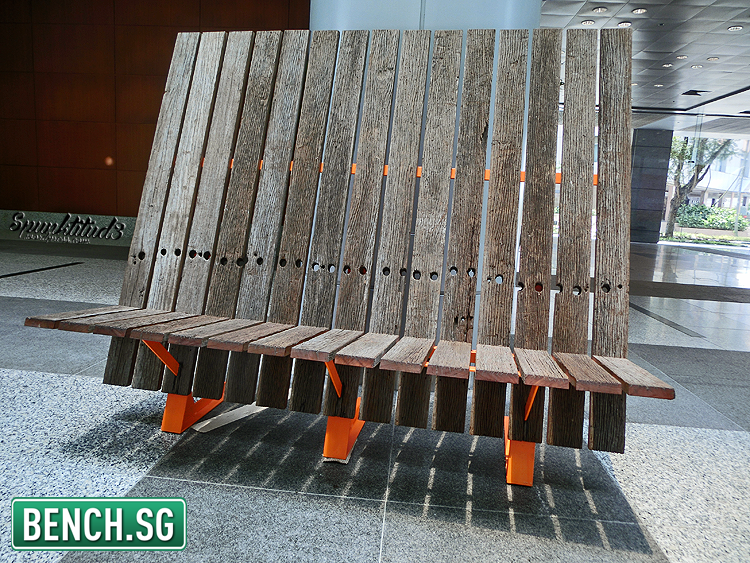 A TROPICAL TORTURE RACK by Jason Ong
This is the most humorous interpretation of them all – multi-disciplinary artist Jason Ong was inspired more by the the structure and space, rather than memories of the events that had taken place at the Stadium. To him, the idea of sitting on a park bench in hot and humid Singapore is akin to a form of mild torture (I agree), and a parallel to the blinding stadium lights and hot atmosphere at the Stadium.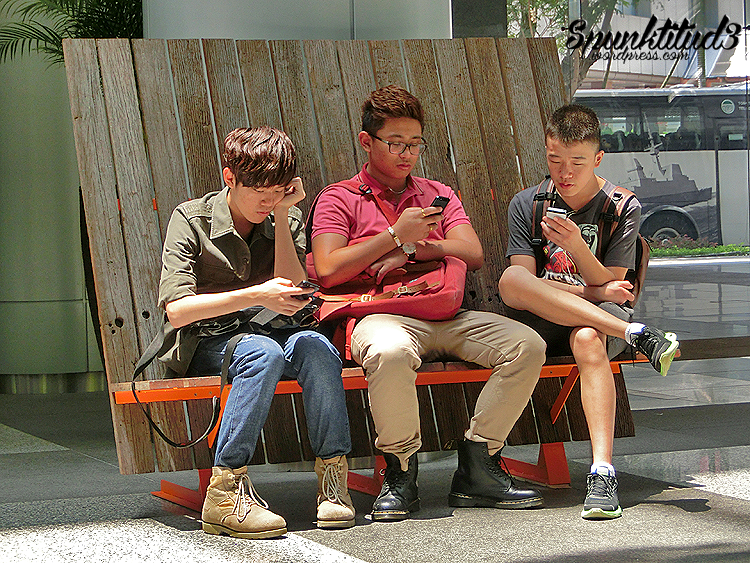 These kids look pretty comfy to me, self-engrossed in their own virtual worlds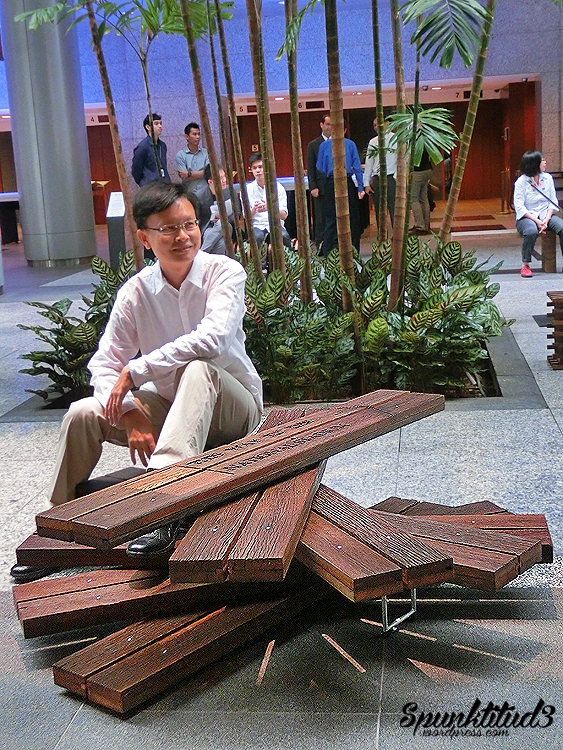 THE KALLANG RAW by Chang Yong Ter / Chang Architects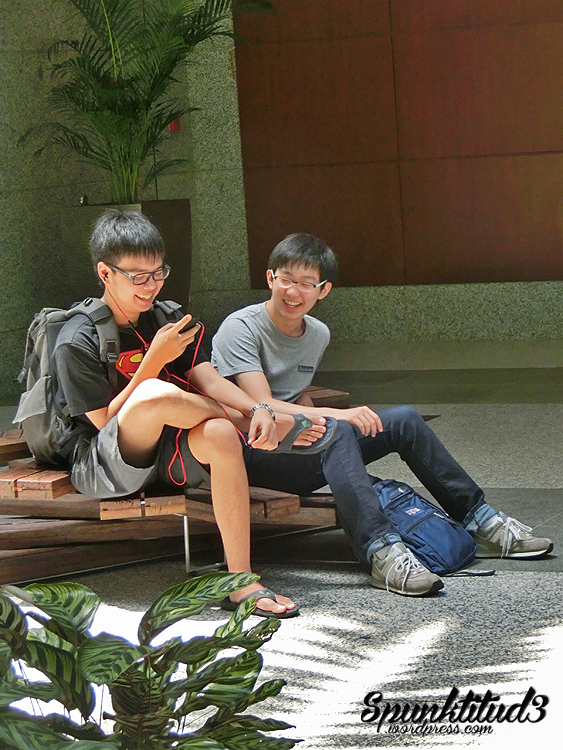 I am always intrigued to observe how the public interacts with the public space, and I think it's a success when you see smiley faces.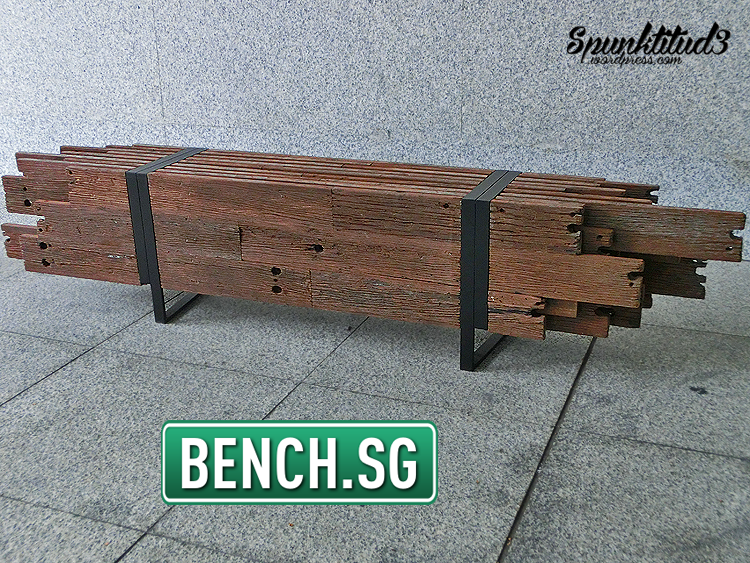 AESOP | UNBREAKABLE by Donovan Soon
This reminds me of the teaching that a chopstick on its own is feeble, but in a bunch is indomitable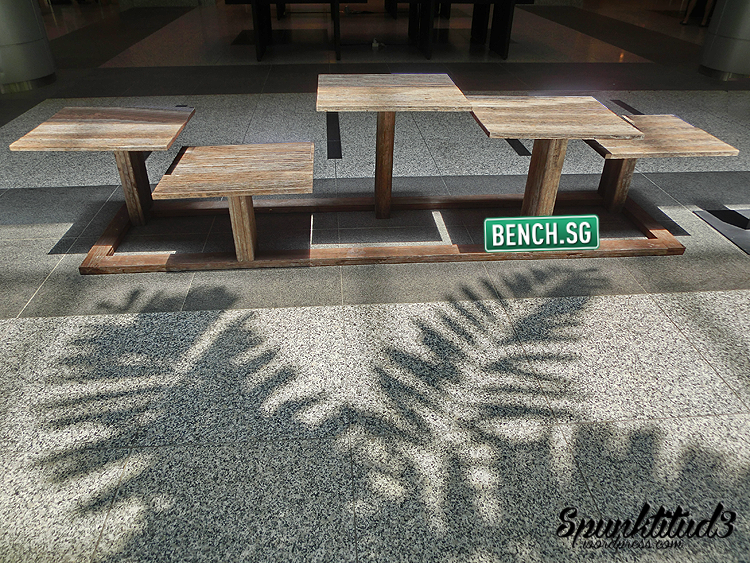 THE BENCH by John Clang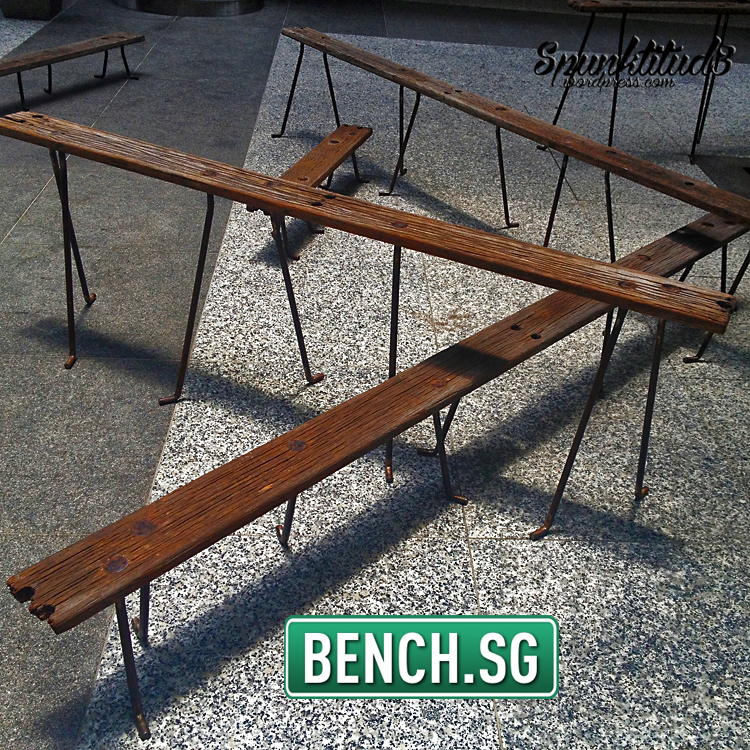 FREE SEATING by Ip : Li Architects
Me like. Chairs for little people!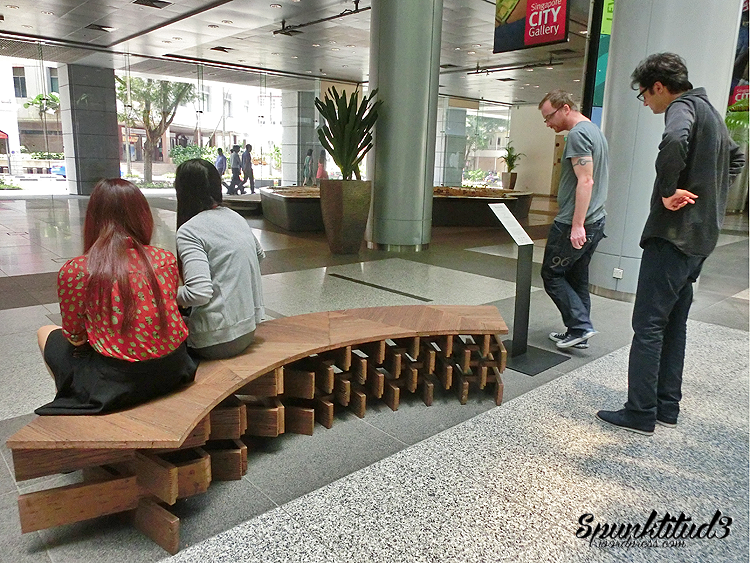 PLACK BENCH by Rico Firmansyah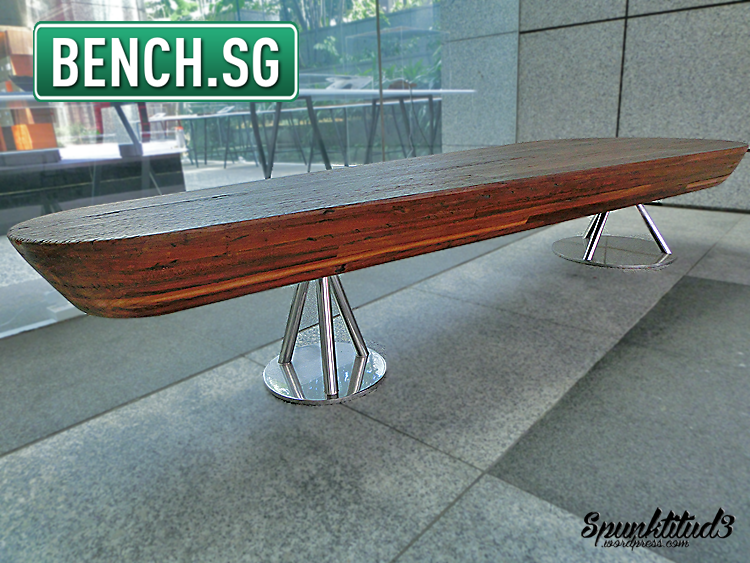 BENCH AS SCULPTURE by Tang Guan Bee
This piece by the award-wining architect was inspired by the shape of a fallen leaf on the stadium grounds. I loved its elegant look and practical design.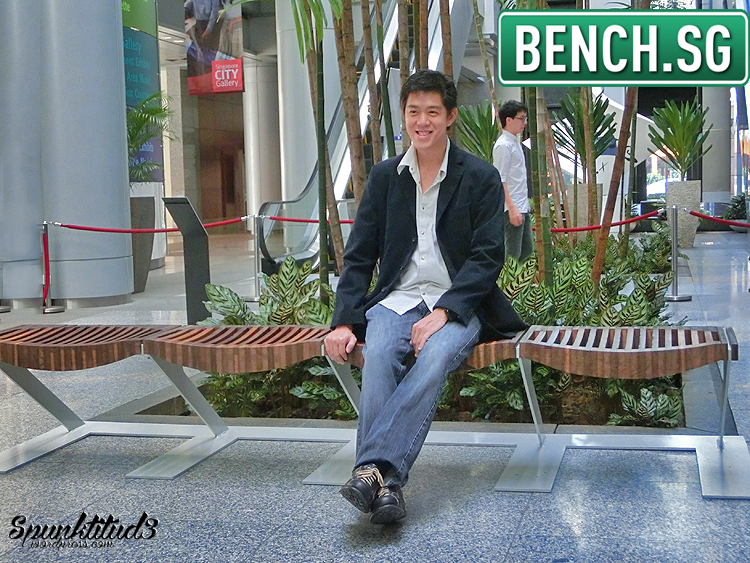 1973 by Peter Chen / Nanyang Technological University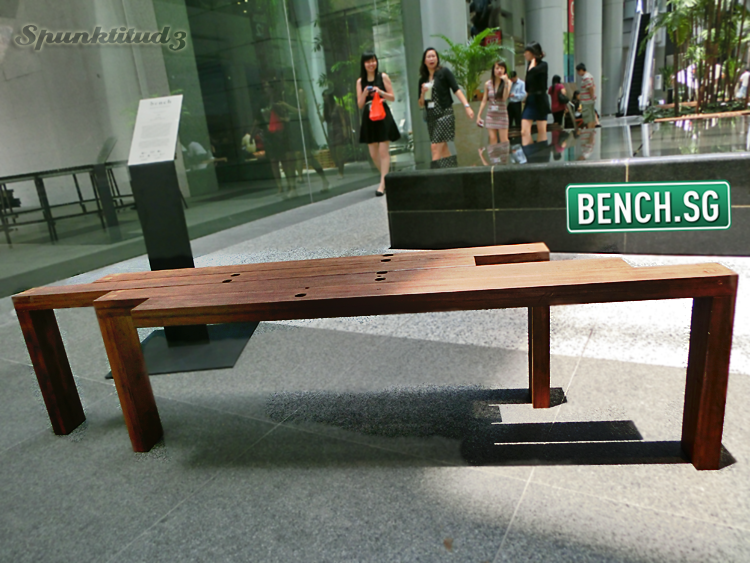 BOND by Sapp Cheng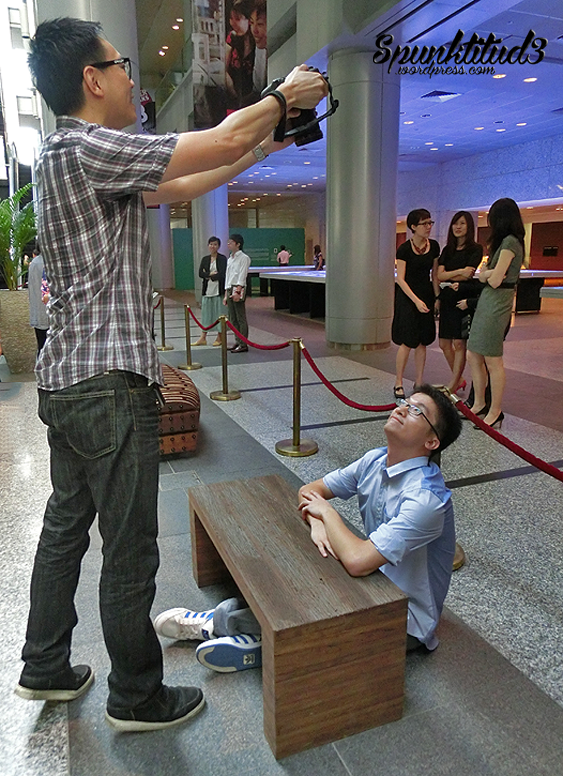 BENCH by Raymond Hon
This piece is most true to its name – a bench. Simple as it is, I think this piece by the NUS student (seated) will also be the most durable public furniture amongst its peers.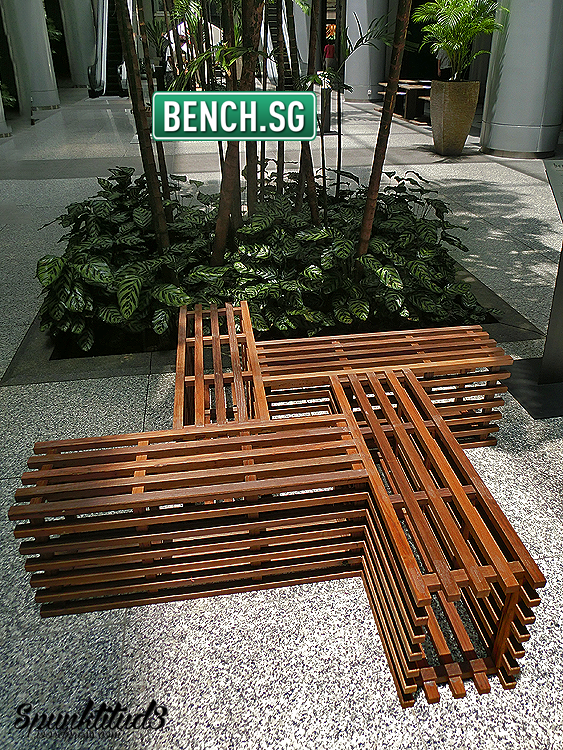 UNITY by Air Division
This design consisting of 4 identical sections of wood seating locked together mimics the 4 major races in Singapore.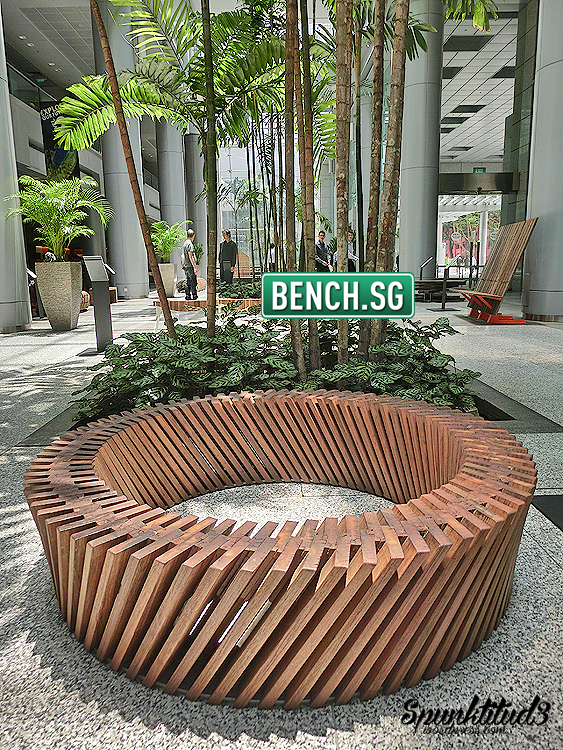 FULL CIRCLE by Terence Tang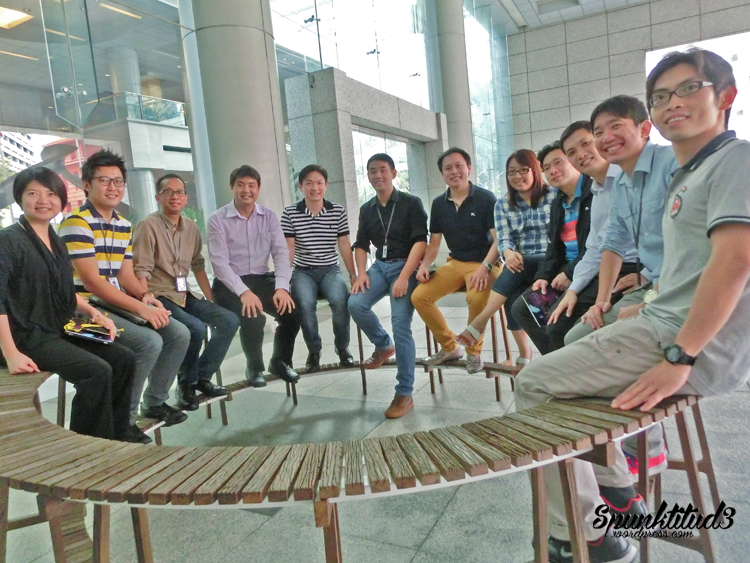 COMMUNITY by Nathan Yong
The designer wanted to encourage eye contact amongst people sitting on this bench and to communicate with each other. I think the intention is awesome seeing how most people are so engrossed with their mobile phones now, but the designer needs to put in an opening in the bench cos' I ain't climbing into the bench in my dress.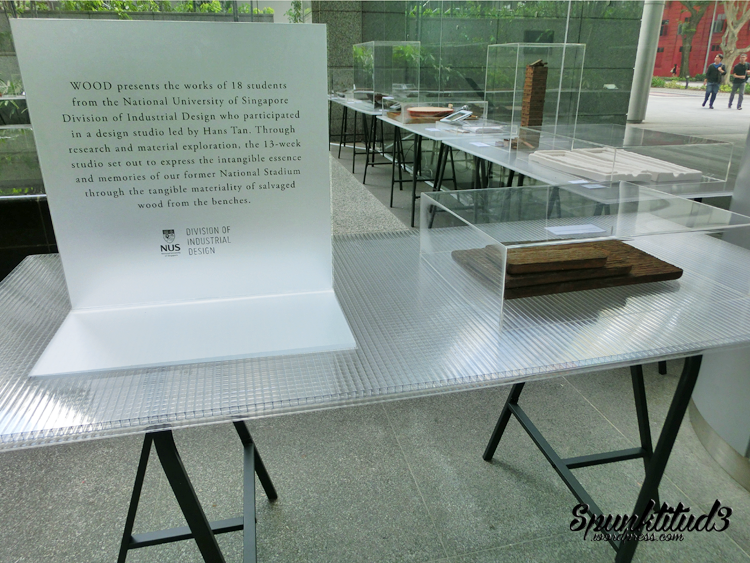 Students from The National University of Singapore's Division of Industrial Design also interpreted their impression of the National Stadium through their works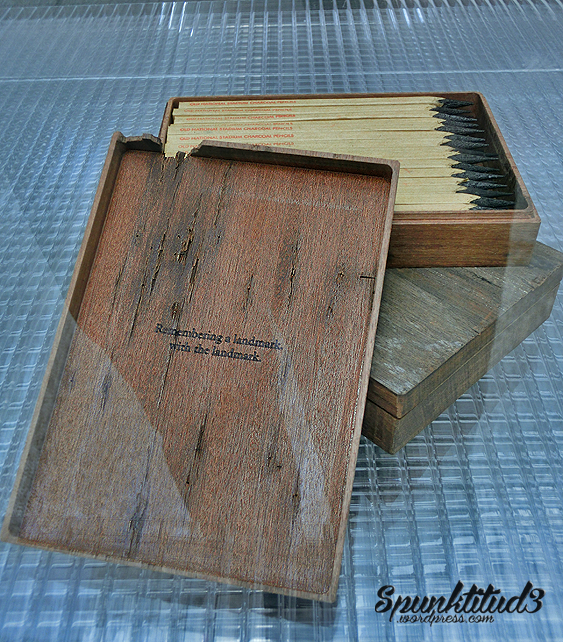 Pencils were created to encourage the public to jot down their memories of the National Stadium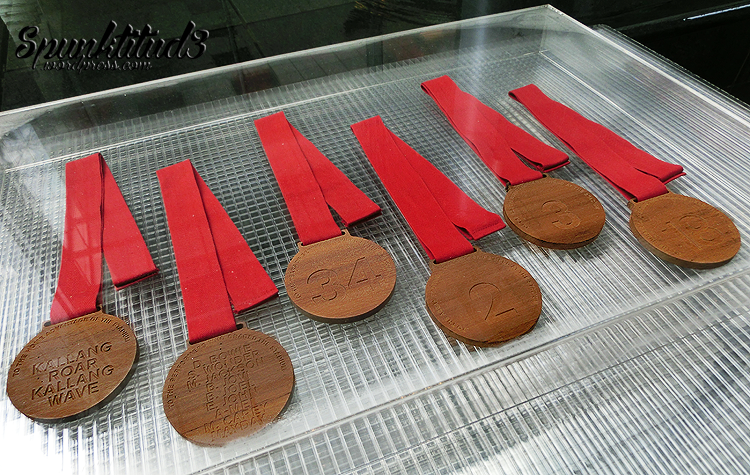 The National Stadium – where many medals were won. I think these would go pretty well with a white shirt – erm, are they for sale? :p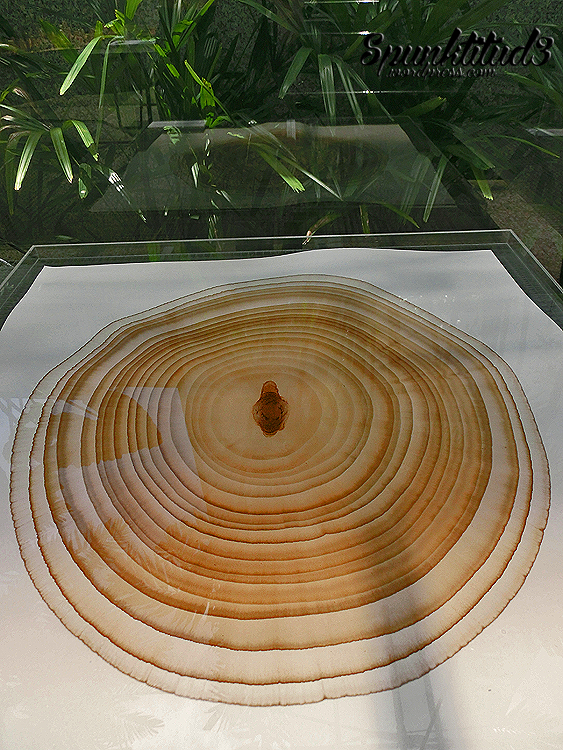 Applying chromatography to the extract obtained from boiling a plank, the outflowing rings resembles a core memory of the Stadium that remains deeply rooted despite the gradual reduction over time.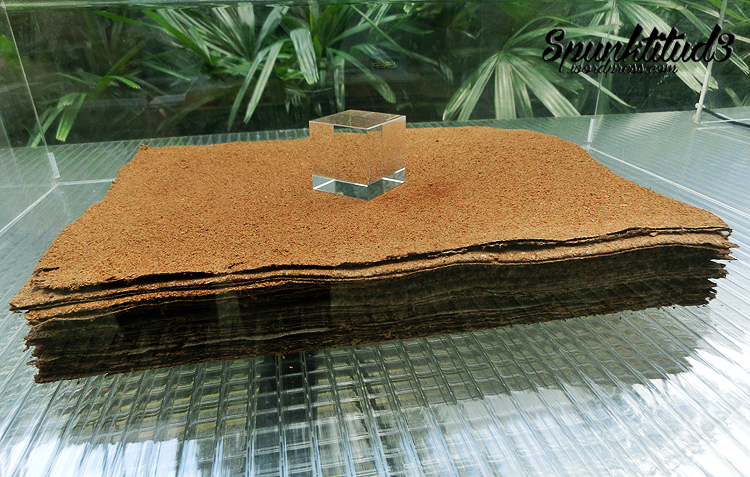 Transforming a concrete landscape into delicate paper/ephemeral memories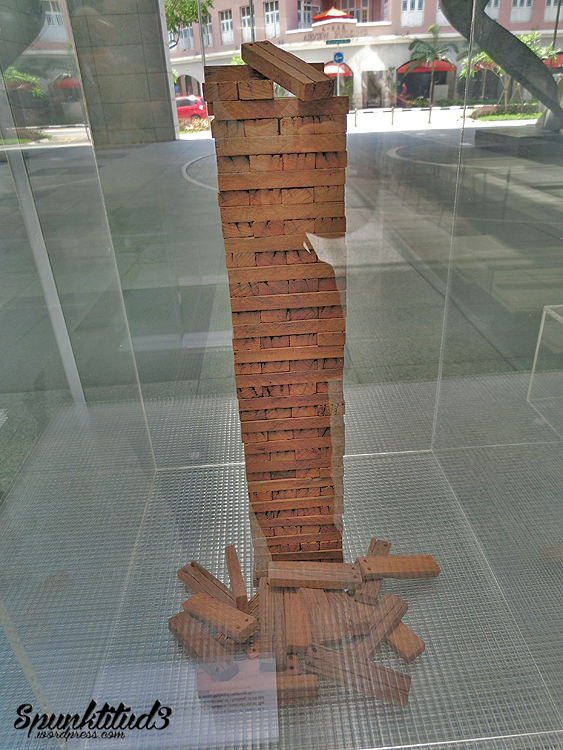 Jenga!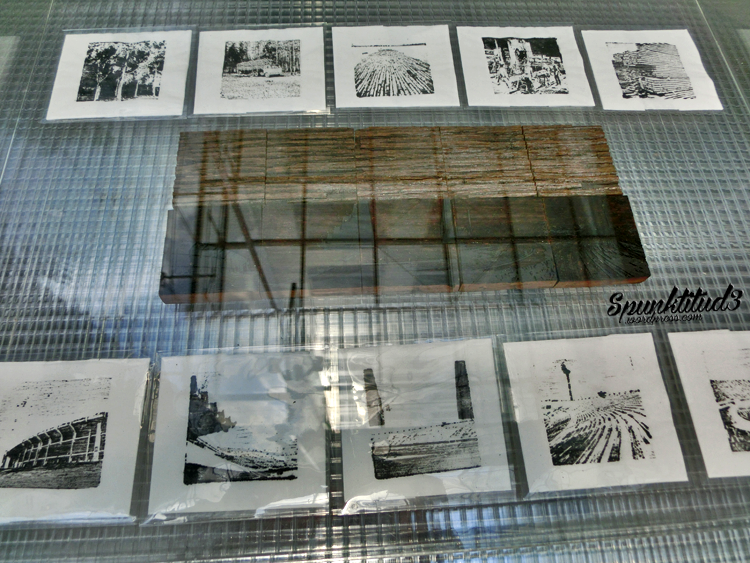 These woodblock prints carved from the planks were pretty interesting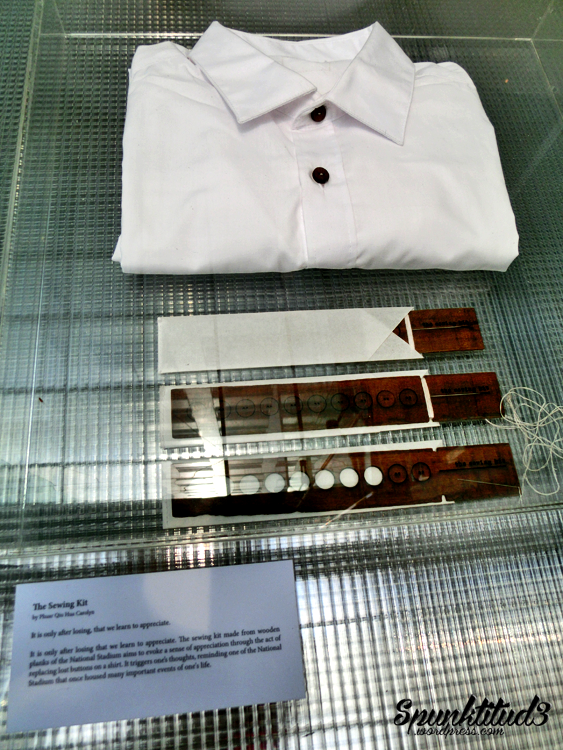 The Sewing Kit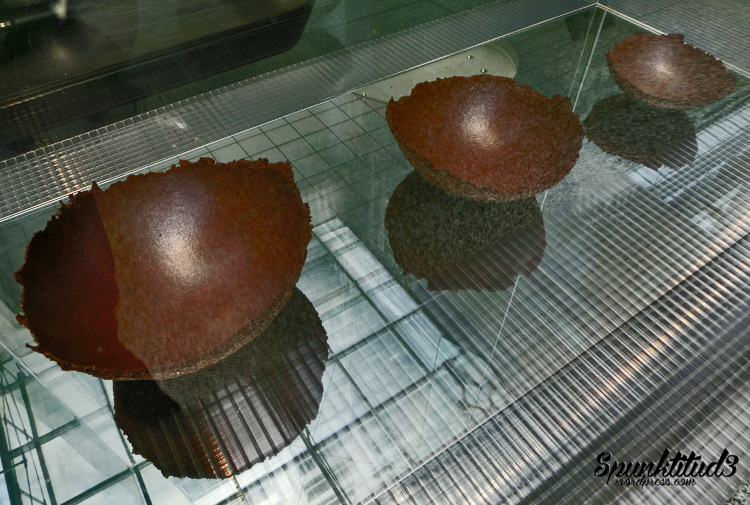 Vessels of memories
They look more like Hawaiian coconut bra cups to me :p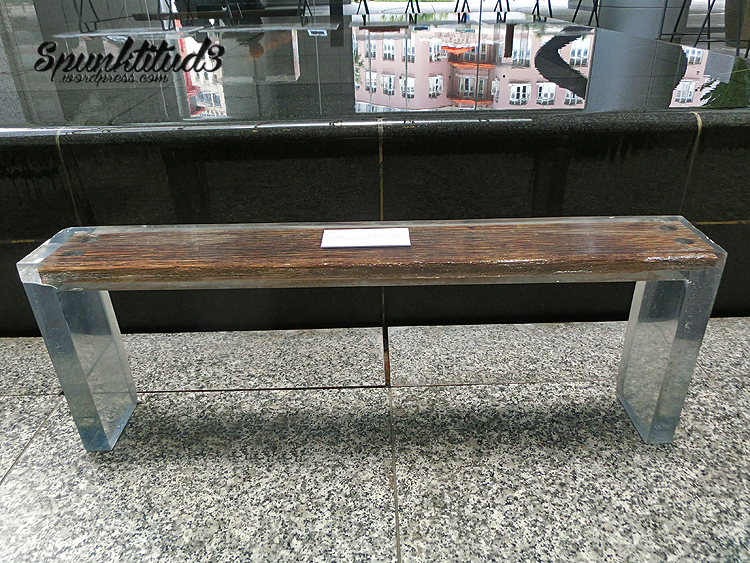 An acrylic frame not to be seated on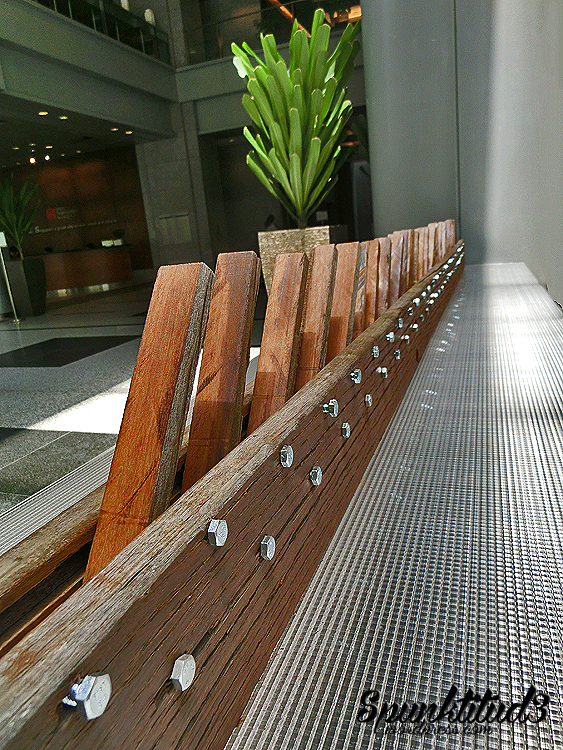 THE KALLANG WAVE
This piece is really fun! Like dominoes, push on one end and the planks will topple towards one direction – akin to a Kallang Wave. With the National Stadium gone, I guess this is what will suffice for now, until the new Sports Hub is completed. With so much more socio-political issues on Singaporeans' mind, I wonder if we can feel the spirit of the original Kallan Roar again. Time will tell.
To find out more about BENCH, visit www.bench.sg