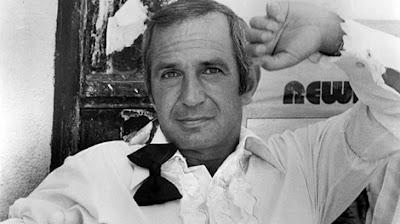 We're sad to report that actor Ben Gazzara has succumbed to pancreatic cancer at age 81. Over Gazzara's nearly-sixty year career, his greatest screen moments occurred in collaboration with close friend John Cassavetes, along with actors Peter Falk, Seymour Cassel, and Cassavetes' wife Gena Rowlands. With Falk's passing last year and now with Gazzara's, it seems an opportune time to revisit a 2004 chat I had for Venice Magazine with the surviving members of the Cassavetes "company" that coincided with Criterion's release of their "John Cassavetes: Five Films" collection. Cassel was the only member not present during the conversations, which took place in the home that John and Gena shared from 1962 until his death, and which served as a location for many of their films together.

REMEMBERING CASSAVETES:
The Legacy of America's Most Important Indie Film Pioneer Is Preserved in the Criterion Collection's New Release John Cassavetes: Five Films
By
Alex Simon
John Cassavetes, while primarily known to most of the public as a veteran character actor, left behind his greatest artistic legacy as an independent filmmaker with a unique voice and vision. This legacy was a small one unfortunately, with John writing and directing only 11 films before his untimely death in 1989 at age 59. The Criterion Collection, regarded by cineastes the world over as the Rolls-Royce of DVD labels, has meticulously restored and released five of John's most renowned films in a new box set entitled John Cassavetes: Five Films, which was released September 21. 

The five films: Shadows (1959), Faces (1968), A Woman Under the Influence (1974), The Killing of a Chinese Bookie (1976), and Opening Night (1977) all illustrate John's unique capacity for capturing human behavior at its most honest and vulnerable moments. Also featured is Charles Kiselyak's documentary A Constant Forge, a comprehensive look at Cassavetes' life, art and career, featuring dozens of candid interviews with John's friends, family members and colleagues.
Three of John's closest collaborators: Peter Falk, Ben Gazzara, and his widow/muse Gena Rowlands, sat down with Venice recently to reflect on John's legacy. Here's what transpired:
Ben Gazzara was born August 28, 1930 in New York City, the son of Sicilian immigrants. After studies at The Actor's Studio, Gazzara made a name for himself on Broadway in the original productions of Cat On a Hot Tin Roof and A Hatful of Rain in 1955. Otto Preminger's Anatomy of a Murder made him a bona fide star in 1959, with his powerful portrayal of a rape suspect on trial.
Gazzara's first collaboration with John Cassavetes was the 1970 drama Husbands (available on DVD from Sony), in which he co-starred with Cassavetes and Peter Falk in the story of a trio of friends who decide to mourn the death of the fourth member of their group (played by Gena Rowlands' brother, David) with an extended wake that takes them overseas on a wild binge in London. Gazzara followed this with his seminal role in The Killing of a Chinese Bookie, playing Cosmo Vitelli, an L.A. strip club owner in debt to the mob. He also appeared in Cassavetes' Opening Night the following year.
Gazzara, Falk and Cassavetes remained close friends after the experience of filming Husbands, and formed a tight-knit group much like their characters in that film. Here are some of Mr. Gazzara's memories and reflections about his time spent with John:
When did you and John first meet?
Ben Gazzara: We were young actors in New York together. We were friendly, would say 'hi' to each other, but we were also rivals, up for the same parts and things, so we never became friends at that point. I was doing this TV series here in LA years later called "Run For Your Life," and he was doing a couple pilots over at Universal. I asked him "If they both sell, which show are you going to do?" He said "Neither of them. I don't worry about that stuff. I'm not doing it for the money. I'm doing it for the raw stock and a hand-held camera, because I'm going to shoot a picture up at my house." And of course, that was Faces. So, time goes on, and I'm finished with the series, and I saw very little of John, and I'm leaving the studio the day I finished shooting the 86th episode, the final show of my series, and John is driving off the lot. He says "Ben, did Marty (Baum, their agent) tell you?" I said "No, tell me what?" "We're gonna do a picture together!?" I said "Oh, okay." I thought, 'bullshit!' because you hear that all the time, as an actor. Sure enough, a week later, we go to the old Hamburger Hamlet on the strip, and he tells me I'm going to be the star of Husbands, more or less. He said "I'm going to Europe to shoot this gangster picture (Machine Gun McCain, 1968). I think I can get the money from this Italian producer." So I said, 'okay, sure,' still not quite believing him. I had to go to Czechoslovakia to do a war picture with George Segal and Robert Vaughn (The Bridge at Remagen, 1969), then the day the Russians moved in, that day in August, I get a call from John: "Ben, don't get killed! I got the money! I got the money to make the picture!" So I went to London, and we started rehearsing Husbands. That was 1968. And for me, it was like getting out of jail. As a young actor, I was in on the creation of projects. My first plays in New York were written around improvisation, which is what I love. Being on the TV series, sure I was making a lot of money, but I was playing the same guy in the same fuckin' predictable situations. But here, I was free, able to let it go.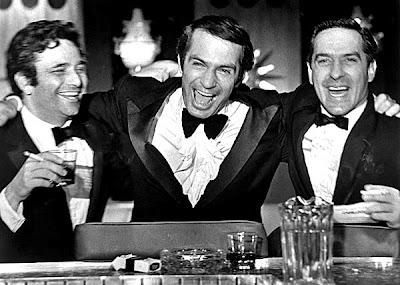 Peter Falk, Ben Gazzara and John Cassavetes: Husbands. 

Tell us more about the experience of doing Husbands.
Well, John and I became dear, dear friends. We did a couple films together after that and we would've done more.
What was the process like, working with John?
A lot of people had the misconception that John improvised his films, which wasn't true. We rehearsed for two or three weeks before we shot. Occasionally a scene would be completely improvised, but only occasionally. The rehearsal was in order to give the impression of it happening for the first time, and also for the purpose of rewriting. John loved to rewrite on his feet. He'd just tear things apart, and try six, seven different ways of doing things. So by the time you got on the floor, with the camera present, you were pretty secure with where you were. John's films were made through his actors. He loved being surprised during rehearsals and wanted you find things within yourself that would even surprise you. He wasn't afraid of taking any trip you wanted to take. The only thing John hated was if you didn't try, if you didn't "put it up," as he used to say. "Put it up!" So I felt right at home, because that way of working was my idea of joy: where everything is open and everything is possible and nobody can do wrong. There is no wrong. It might not be right, but it ain't wrong.
Emotionally, John's films can be very tough to watch. Did they take a toll on you as an actor?
Only when they were drawing to an end. It was always very tough to say goodbye to the experience, especially on Husbands, because there was a lot going on there. It was about friendship. We became friends, and who knew if we were ever going to see each other again, because most films are "I'll call ya, I'll call ya, I'll call ya," and nobody ever calls anybody. But John was the glue that really kept my friendship with Peter together. Since John died, Peter and I see each other very infrequently. But when John was alive, we all used to see each other constantly.
He also did that cameo in your film Capone (1975), playing the gangster Johnny Torrio.
Yeah, he did that as a favor, he was so sweet. He walked on the set, did the scene, went back to his office on the lot! For no money! He didn't get paid for that.
There are many filmmakers now, particularly on the independent scene, who have been highly influenced by John's work. He's left a lasting legacy.
I know, isn't that interesting? When he was making these films, he couldn't get a dime to make them. And now, every kid in film school is talking about his work. That was the thing about John, a lot of guys could get beaten down by rejection, but 'no' didn't exist for him.
"That which does not kill you makes you stronger."
That's right! The major studios didn't want to do it, fine. He put up his own money. "I'll do it!" The people at the studios just didn't get it, didn't get the stories, didn't get the characters.
John wasn't afraid to have characters that weren't necessarily likeable. Your character in Husbands, for example, was a real son of a bitch on many levels, but you still cared about the guy!
I know. Well, he was scared, and he was ignorant. John loved that. He used to say "I love ignorance." What he meant was, the ignorant are ingenuous, but they would vent with such a strong belief. John used to say, I don't know if he was serious or not, that he was going to make Husbands II, and the opening would be on the Grand Canal in Venice. I would be with a new, young wife, he and Peter would pull up and we'd all meet on motor boats. Wouldn't that have been a great opening?
Yeah. They probably would've been there for a dental convention, right?
(laughs) Yeah, that's right!

Let's talk about Cosmo Vitelli, a great character.
In his heart, in his gut, although he's an unsophisticated man, he's really an artist. He lives in his art, his art being this cockamamie strip show he puts on at this seedy fuckin' joint he owns. That's his life. And when these gangsters come to take that away, it's thing he cares about the most. To the point of, in one of my favorite scenes, when he's on his way to do the hit and could possibly get killed doing it, he stops to call to see how the show is going! To me, that film was a metaphor for John's life: the never-ending battle against those nuisances who try to keep you from doing your work. (pause) Do you think Cosmo died in the end?
Yeah, absolutely. I think he sat down in front of his club and bled to death, but like a good captain, he stayed with his ship, and in that sense, he won the battle.
Yeah. And you know something, John and I never talked about that, about whether Cosmo died or not. I never asked him and he never asked me.
But it doesn't really matter because ultimately, that's not what the film is about.
Right.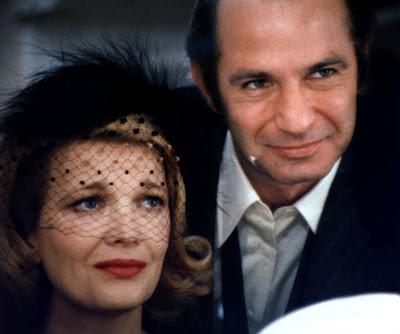 Gena Rowlands and Gazzara in Opening Night. 


Let's talk about Opening Night.
Again, we have a film about the theater. John's theater life was very limited. He was the stage manager for a play called The Fifth Season, but I don't think he ever acted on Broadway. But, obviously his love of the theater and memories of the theater were present here, because it's a remarkable film. Not only is it about the theater, but it's about aging. It's about doing good work and what you have to call on in order to do good work. The work was the thing that was most important to John.
Was it all downhill working with other directors after you had been directed by John?
I wouldn't say "downhill," but it was certainly different. It such a rare and unique experience being in on the creation of an event. It's rare to find a director with the lack of ego to do that.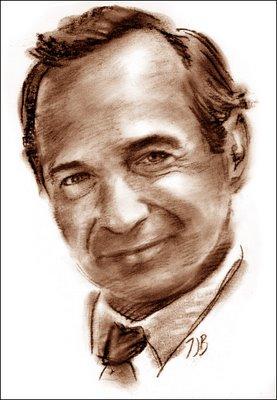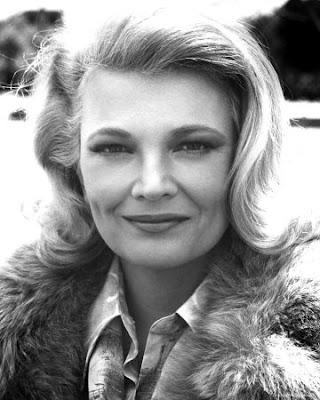 Gena Rowlands has rightfully earned her title as "The First Lady of American Film" with a career that has spanned more than 40 years on the stage and screen. The Wisconsin native first encountered her future husband John Cassavetes when the young actor visited her backstage after a Broadway performance. Following their marriage in 1954, both pursued very separate careers as actors, not working together as actress and director until Cassavetes' landmark 1968 hit Faces. John and Gena would collaborate five more times in this arena: Minnie & Moskowitz (1971, available on Anchor Bay Home Video), A Woman Under the Influence (1974) which garnered Gena her first Oscar nomination as Best Actress, Opening Night (1977), the cult sensation Gloria (1980, Columbia-TriStar Home Video) which earned Gena her second Best Actress nomination, and Love Streams (1984, not yet available on U.S. home video). The Cassavetes-Rowlands partnership arguably was the most fruitful of its type in American film history, giving birth to a body of work that continues to resonate with audiences and filmmakers the world over.
Gena sat down with Venice recently in the house she and John shared for nearly 30 years (and where much of Faces and Love Streams was shot) to reflect on his legacy.
How does it feel now that Criterion has finally given these great films the treatment they deserve?
Gena Rowlands: I'm delighted. They do such quality work that I'm really very happy, because the last DVD release that was done (on Pioneer Home Video) were not of good quality. I really appreciate that Criterion made the effort to do it right.
Do you think this will expose the work you both did to a new generation of viewers?
I hope so. I just would feel terrible if John and his pictures were forgotten. But, it's been a long time, you know. A lot of young people who are studying film now weren't even alive when the films were first released. I'm hoping that they will now be accessible enough that those people will be exposed to them.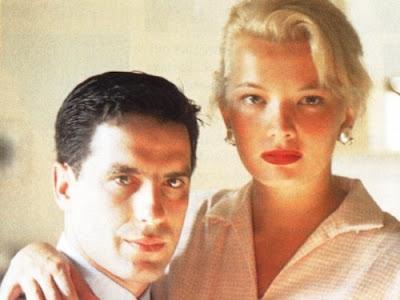 Gena and John, circa 1960.


Ben made a very interesting comment: he said the first time he worked with John, he felt as though he'd been set free, because it was the first time he'd been able to collaborate with a filmmaker on the creation of a character.
I think that's very true for all of us. There was such freedom. The way other pictures are set up, there isn't quite that freedom. They're set up in a much more businesslike way. For example, most films are shot out of sequence, usually scheduled according to cost. John would always shoot his films in sequence with the script, and that made such a big difference for the actors. You never felt as though someone was about to come down on you when you were working with John. He would never let you stop yourself during a scene. Oftentimes a plane will go overhead during a shot, and the actor will just stop, because he or she knows that they're going to cut. John insisted that you keep going always, until he said "cut." What happened was that you kept your concentration and pretty soon, you didn't hear the plane, or the fire engine, or whatever it was. It was a very valuable way of working. He did so many things that were unique. His use of body mikes for sound were great because you didn't have to hit any marks, you could just go more or less where you wanted. And the lighting was such also that you could move quite freely. He lit in a very flat way that was more natural. You didn't get to have a good light or a bad light, and most actors know what that means. We all had to work in the same light.

What strikes me about all of John's work is that it's like jazz: when you listen to jazz, you have to let it wash over you and take you on that ride, like an ocean wave. And after getting carried away by John's work, you really feel like you've been inside his head. There's not many filmmakers you can say that about, even the best ones.
John always said "Don't give interviews about what I was thinking, or what I was doing. If anybody wants to know me, let them look at my work. That's it."
Guess there's not much more to say after that, is there?
(laughs) No.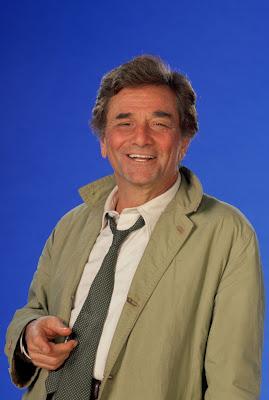 Peter Falk first achieved notice on the big screen in Murder Inc.(1960), playing notorious mob killer Abe "Kid Twist" Reles, garnering a Best Supporting Actor nomination for his chilling turn. It was the small screen, however, that gave him his signature role, as the intrepid Los Angeles Police Detective Columbo, whom he first played in a 1968 TV movie, "Prescription for Murder," and has continued to portray up to the present day.
Falk did his best work as an actor, however, in his two collaborations with John Cassavetes. First, in Husbands, and then in A Woman Under the Influence, playing Gena Rowlands' beleaguered spouse. Falk and Cassavetes remained close friends after Husbands (along with Ben Gazzara), and the actor sat down with Venice recently to share some of his memories of that friendship, and of their collaborations.
I said to both Ben and Gena that John's films were like jazz.
Peter Falk: That's very interesting, because Elaine May once said that the difference between ad-libbing and improvisation is that when jazz musicians improvise, they do so off a pre-existing theme. So if you are ad-libbing, and you're just throwing out words that aren't in the script, you're not improvising off any kind of theme. So true improvisation has to do with improvising off something that exists. And that's the difference between boring, realistic ad-libbing, which is spontaneous, but it has no shape. It has no form. But real improvisation, the kind you see in Cassavetes films, is related to a pre-existing theme.
How did you first meet John?
I was at a Laker game. It was during halftime and I was walking down the aisle to get a hot dog or something, and we bumped into one another. We recognized each other, and it turned out that he went to high school with Alice, my first wife. He remembered Alice vividly, and it turned out she remembered him vividly as well. Four or five years later we did Husbands and that's when we became pals.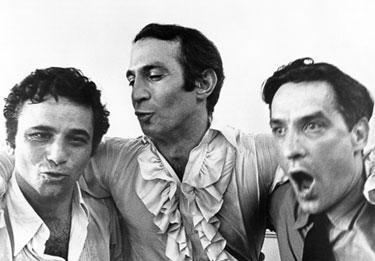 Peter Falk, Ben Gazzara and John Cassavetes in Husbands. 
How did he come to you with Husbands?
(long pause) I don't know if I should tell this story or not. (pause) I think I'm gonna save it for the book! (laughs)
Fair enough. Tell us about working with John.
I guess there are all kinds of memories, and when you get to be seven-six, a lot of them slip away. Some of them with John have slipped away. But John himself, knowing him, spending time with him, will never slip away. He was, with one possible exception, the most fertile man I ever met. He was extraordinary. In the thing I wrote for the memorial to John, I said he was very shrewd about money. He knew it was worthless. It only had one purpose: to buy a piece of film, or rent a stage, and to try and capture life as he knew it. And that aspect of John is something I'll always remember. He totally had something in mind other than fame or money. He was possessed with the need to try and capture life as he felt and saw it. I've never met anyone who's the equal of him for that.
I think you worked with him more than any other actor, both as actor and director, and as co-stars, including an episode of "Columbo."
Yes, the thing people don't know about that, is one day I called him up to discuss a scene in that episode, in the back of my mind thinking that if I got him talking about it, maybe he'd rewrite it. And you know what, he rewrote the whole fuckin' thing on the phone! Took him about six minutes. He didn't think he was rewriting it, he just started talking about it, and I scribbled it down! (laughs) So he never directed an episode of the show, which apparently a lot of people think he did, but he did do some writing for it.

Let's talk about your character in Husbands. He was a really interesting guy. I think my favorite scene in the movie, is your scene with "The Countess."
"Take your hand off my hand!" (laughs) I always want to correct the popular assumption that John's reputation for having improvisation in his films is exaggerated. It is exaggerated, if you look for example at that fantastic scene in A Woman Under the Influence when Gena breaks down, if you think all that dialog was made up on the spot, you're crazy! As much as being an actor, director and filmmaker, John was a writer. If he'd lived prior to the invention of the camera, he would've written plays and gotten a bunch of actors together and had his own reparatory company to act his plays. But the scene with the Countess was, in fact, improvised. John saw this woman, and I don't know what transpired and what it is that captured his imagination about her, but I know that scene was never on paper and never scheduled for that day, but he came up to me and said we were doing it. And that's how that scene came about! (laughs)
What are your recollections of the shoot?
Most of them revolve around my confusion and anxiety at working the way we did. I knew this Cassavetes guy was really interesting and really onto something, but on the other hand, I didn't know what the fuck he was saying! (laughs) I couldn't follow him when he talked. I didn't understand my character, didn't know who he was or what he was doing. And I kept telling him, "Benny's got the best fuckin' part! Every scene is about Benny's character while we're outside lying around somewhere!" (laughs) He kept saying "Just wait til we get to London, just wait. Your part's gonna cook!" "I don't wanna fuckin' wait 'til we get to London! I wanna cook now!" (laughs) But, as always, John was right. We got to London, and my guy cooked.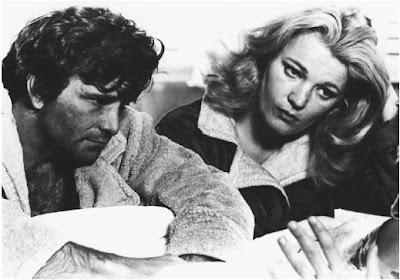 Falk and Gena Rowlands in A Woman Under the Influence. 
Let's talk about A Woman Under the Influence. You could almost call it the first feminist movie, and it arrived right when the women's movement was taking shape. Your character was very interesting because he was basically a good guy, but a guy from the old school who didn't understand the new rules of the situation he was in.
Yeah, from Nick's point of view he absolutely loved her, but there's no question that she was a little wacky. But at the same time, that craziness is something that appeals to him, in his own way. But again, in Nick's defense, she did have a screw loose! (laughs) I always felt the film was a love story.
And it's regarded by many people as John's best film.
Yeah, I just read an article by John Sayles, where he talks about how seeing A Woman Under the Influence made him realize he wanted to be a filmmaker. And he went onto say that he knows a lot of filmmakers whose lives were changed when they saw their first Cassavetes picture. (reads from the article) "It's not a Technicolor dream or a cartoon with live actors. It was recognizable human behavior." I think if you spoke to a lot of filmmakers they would say the same thing.
What do you think is John's greatest legacy?
I think his greatest legacy is when somebody who is possessed by some kind of an artistic need to either dance or to write or to make a movie, independent of fame or money, but because that's in them, because God put it in their bellies, and they've gotta do it. His legacy is, if you remain true, and if you're willing to make a fool of yourself in the name of your obsession, it's worth it. It will happen. And he did that. That to me is a legacy for guys who are endowed with that kind of gift. They can look to John and say "He did, so I can do it."