Ben Affleck Doesn't Remember Groping Hilarie Burton, But He's Sorry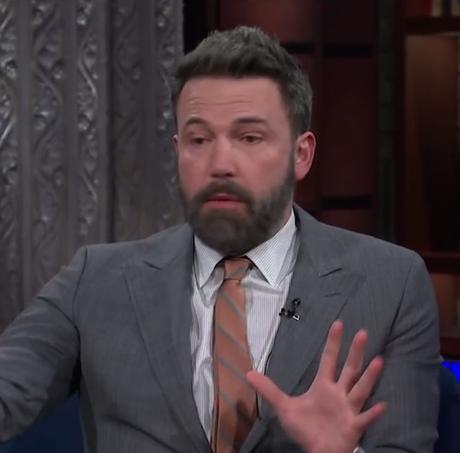 Ben Affleck appeared on The Late Show with Stephen Colbert last night to promote Justice League. Ben probably thought that the most awkward and uncomfortable question Stephen Colbertwas going to ask him might be about Justice League's garbage reviews. If only! Instead, Stephen bypassed that and went straight for the gross elephant in the room by asking about Harvey Weinstein and Ben's own allegations of groping.
Harvey produced several films from Ben's early career, most notably the movie that launched him from That Guy In The Kevin Smith Movies to Matt Damon's Friend, Good Will Hunting. Ben spoke out against Harvey shortly after he was exposed, and later stated that he will donate future Miramax and TWC earnings to charity. When Stephen asked Ben about the situation with Harvey, he half-joked, "This is a comedy show, correct?", which I believe is Ben-speak for "I hate being Batman, but can we PLEASE talk about Batman again?"
He eventually answered, saying much of what he's already said before. That he was horrified to learn about Harvey's alleged behavior, adding that his experience on some of those earlier films is now "tainted." Ben also made it clear that he plans on donating future earnings because he didn't want to "cash a check from the guy."
Stephen then brought up the allegations made against Ben on Twitter. Ben spoke specifically of the allegations made by former MTV VJ Hilarie Burton, in which she accused him of groping her breast while filming TRL. Ben said he's sorry, and he's not calling her a liar or anything, but he doesn't remember.
"What I was accused of by a woman was of touching her breast while I gave her a hug. I don't remember it, but I absolutely apologized for it. I certainly don't think she's lying or making it up. It's just the kind of thing that we have to as men, I think, as we become more aware of this, be really, really mindful of our behavior and hold ourselves accountable and say, 'If I was ever part of the problem, I want to change. I want to be part of the solution,' and to not shy away from these uncomfortable or awkward or strange encounters that we might've had where we were sort of navigating and not knowing."
The Ben Affleck Reformed Groper Tour also made a stop at the Today show this morning. People says that Ben was asked about Harvey, which turned into a conversation about Rose McGowan. After Ben spoke out and claimed to be surprised by Harvey's behavior, Rose called BS and accused him of fully knowing what kind of sleazeball he was dealing with. Ben didn't really want to get into it, but he did give Rose a little pat on the back for speaking up.
"I don't really want to get into other people's individual stories because I feel like those are their stories and they are entitled to tell as much or as little of those as they want. I believe Rose, I support her, I really like and admire her tenacity and wish her the best."
Both of Ben's interviews contained sentiments Ben has said before, like that he wants to work to create a better workplace for women. So if you're a journalist or talk show host out there who wants to ask Ben a question about Harvey or groping or Rose McGowan, please see his previous answers. But if you still want to ask him, do it quickly. I could see Ben getting to the point where the second he senses an incoming sexual harassment question, he just calls for his new dog and sneaks off stage while it distracts everyone. What's the point of having a PR dog if you don't get to use it?
Pic: YouTube
Source: Ben Affleck Doesn't Remember Groping Hilarie Burton, But He's Sorry
1 total views, 1 views today