Lineup for these one-off shows features original members and Robert Levon Been from Black Rebel Motorcycle Club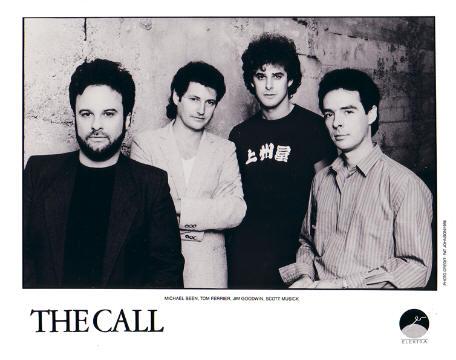 New York, June 7, 2013: Santa Cruz seminal-rock band The Call is cherished by its devoted fanbase but criminally underrated by the mainstream, despite powerful radio singles like "Let The Day Begin," "I Still Believe (Great Design)" and "The Walls Came Down."  In two decades, The Call released 10 well-received albums that combined gritty Americana with first-rate rock songcraft. Onstage and in the studio The Call worked with Bono, Peter Gabriel, and members of The Band. Founding vocalist/bassist Michael Been passed away in 2010 and, in tribute, the quartet regrouped this past April with his son, Black Rebel Motorcycle Club's Robert Levon Been, for two historic concerts. The campaign will support the release of a live CD and DVD from these landmark shows, and it may pave the way for additional projects featuring rare and unreleased material.
The Call was uplifting, introspective, swampy, and anthemic, easily deserving of the "best band you never heard" tag. The quartet consisted of vocalist/bassist Michael Been, drummer Scott Musick, and guitarists Tom Ferrier and Jim Goodwin on keys. The band was active from 1979-1987, and then reunited in 1997 before disbanding for good.  After the band dissolved, vocalist/bassist Michael Been turned his attention to his son's talents, championing his career in Black Rebel Motorcycle Club. In 2010 Michael Been suffered a heart attack and passed away backstage at a Black Rebel Motorcycle Club performance in Belgium. In a poignant tribute, Robert joined his father's bandmates for two special shows, April 18th at Slim's in San Francisco, CA and April 19th at The Troubadour Los Angeles, CA. This release documents those emotional performances.
The Call's PledgeMusic campaign will support all costs associated with releasing this stunning CD and DVD project. Incentives range from T-shirts and autographed paraphernalia to an actual phone call from a member of The Call. Based on the support for this release, the band is contemplating further exciting packages. "We know there is a potential for a box set and remastered catalog with assorted goodies like unreleased tracks and such," the band says. "We may give you a taste of these goodies here as updates, but ultimately would love to add the box set to this project after the CD/DVD is accomplished."
Pledge your support now at www.pledgemusic.com/thecall 
Since 2009, PledgeMusic has been committed to nurturing a broad range of talent through innovative methods that yield career-making results. The company has become the leading international direct-to-fan company. PledgeMusic is highly regarded for interactive innovations that offer artists and fans direct and unique ways for each to share in the music making experience. Thirty-four PledgeMusic artists have been upstreamed to both major and independent labels and publishers. These campaigns have yielded ten top 40 albums to date. Some successful campaigns include The Lumineers, Ben Folds Five, Luke Bryan, Bring Me The Horizon, Rhett Miller and Rachael Yamagata, among others.