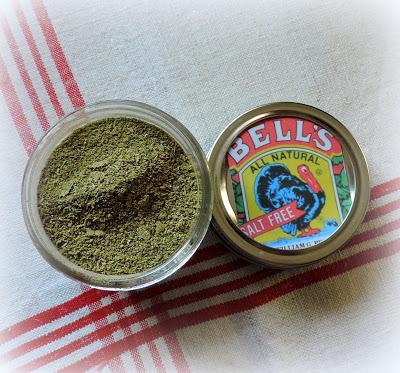 One thing I really missed when I loved over here to the UK, was a good all purpose poultry seasoning mix.  I used to bring some back with me whenever I went over to visit, but I have not been home in over 6 years now.  When I lived in New Brunswick we used to buy Bell's all natural seasoning whenever we went shopping in Maine.  Its pretty much a New England/Maritime constitution!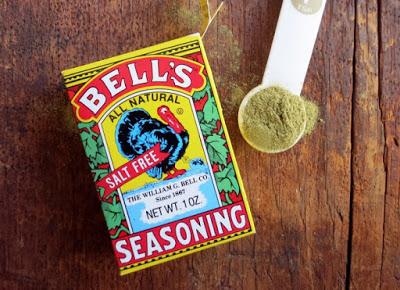 It was especially great this time of year when we would be cooking turkeys and making stuffing's etc. I recently ran across a copycat recipe for it here on
Chow Hound
.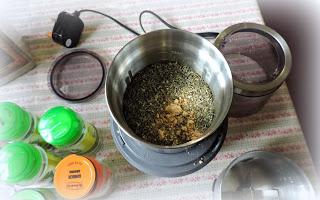 It was very easy to make.  As easy as measuring the different herbs into my spice grinder and pushing a button.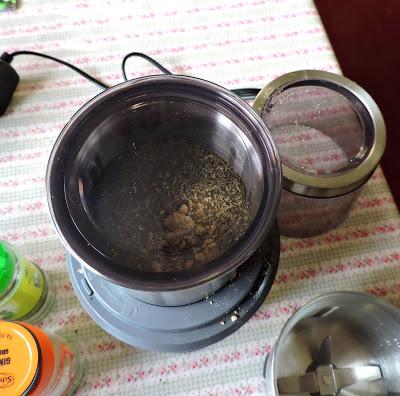 It uses dries rosemary, oregano, sage, marjoram, thyme, ginger and black pepper, and with just a few pulses of the spice grinder  . . .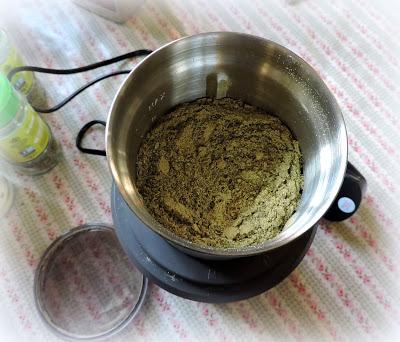 Like magic, there it was.  Bell's seasoning, or poultry seasoning has always been a holiday classic in my home.  I used it for stuffing's, seasoning my turkey's, and even meatloaf and burgers.  It really has a lovely flavor.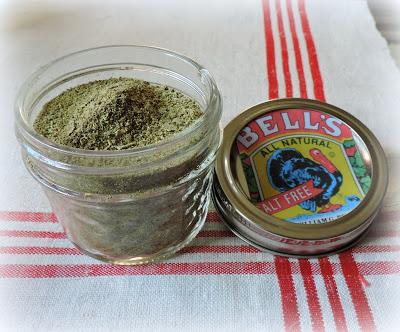 I had completely run out of Poultry seasoning, so I was really, really pleased to find this recipe.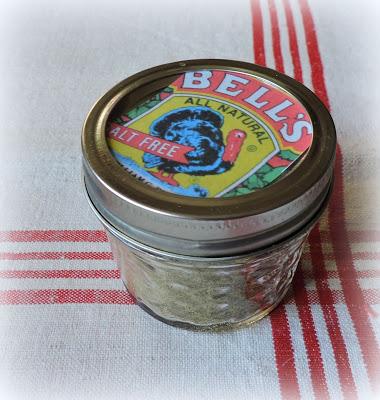 And really pleased with the end result.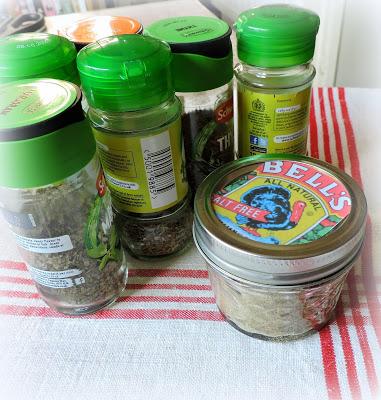 Now I will never be without poultry seasoning again, and that makes me very happy.  Of course with Thanksgiving at the door, it will come in really handy.  I did a trial run of it with my  mother's potato stuffing recipe.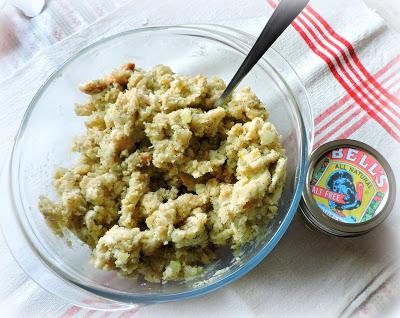 It was perfect!  As soon as I had mixed it into the stuffing with the remaining ingredients, the resulting smell returned me to a time when I was a child back in my mother's holiday kitchen.  Food memory heaven.
Yield: 1/2 cup
Author: Marie Rayner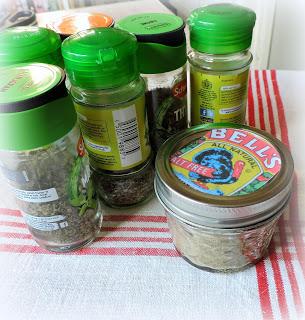 Copycat Bell's Seasoning
The taste of my childhood when it comes to holiday dinners.  Perfect for seasoning your stuffing's, soups and birds. this is also great in meatloaf, burgers, with fish, etc.
ingredients:
4 1/2 tsp dried rosemary4 tsp dried oregano3 3/4 tsp dried sage3 1/2 tsp dried ground ginger3 tsp dried marjoram2 3/4 tsp dried thyme3/4 tsp ground black pepper
instructions:
Put all of the ingredients into a spice or coffee
grinder and grind to a fine powder.  Transfer to a glass jar with a
lid.  Seal tightly and store in a dry cool place for up to six months.Created using
The Recipes Generator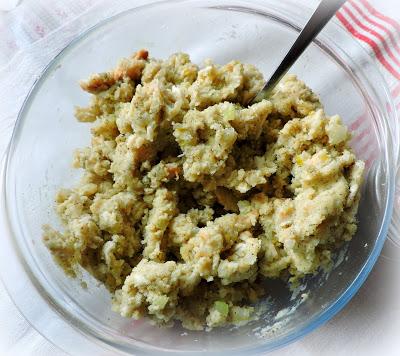 This is the stuffing that we had in our home all of my growing up years.  It is made from using potatoes, onions, celery, and bread crumbs, and of course some butter and a healthy pinch of the poultry seasoning.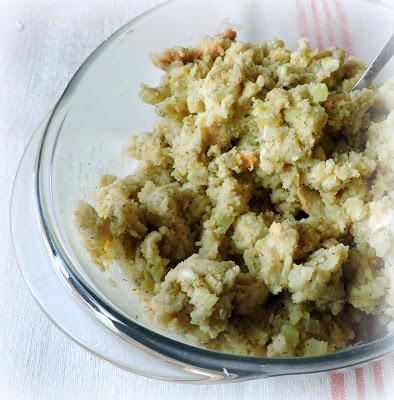 It is largely a maritime thing and I am not sure where it comes from, or where it's culinary roots lay.  My mother's father was of German Dutch descent, hailing from the New Germany area of Nova Scotia.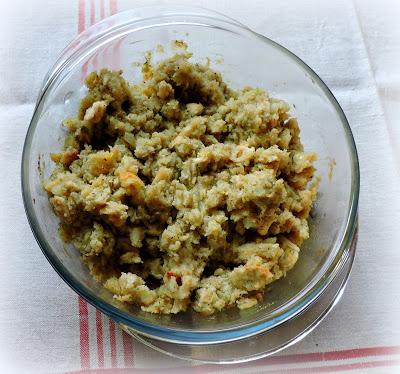 My ex MIL also made a version of this, which was only slightly different to my grandmothers. Whereas my grandmother used torn up bread in hers, as did my mom . . .  my MIL used fine dry bread crumbs.  Both are equally as good.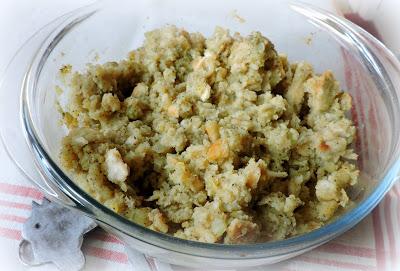 Yield: Makes enough to stuff a 10 to 12 pound turkey
Author: Marie Rayner
Potato Stuffing
prep time: 20 mins
cook time: 30 mins
total time: 50 mins
This is the stuffing of my childhood.  It would not be the holidays without it.
ingredients:
5 TBS butter1 large onion, peeled and minced1 large stalk celery, trimmed and diced1 TBS celery leaves, chopped3 pounds potatoes, peeled and quartered(you want to use one which is good for mashing)180ml warm milk (3/4 cup)1 1/2 tsp bells (or poultry) seasoning355g coarse bread crumbs from a sturdy loaf of white bread (6 cups)salt and black pepper to taste
instructions:
Place the potatoes in a pot of lightly salted water
to cover.  Bring to the boil and cook until fork tender.  While the
potatoes are cooking melt the butter in a saucepan. Add the onion, Cook,
 over medium low heat, stirring frequently, until the onion is softened
and translucent without browning.  Stir in the celery and cook for a few
 minutes longer. Remove from heat.
Drain the
potatoes and return to the pan, Shake over the heat of the burner to dry
 out.  Mash together with the warmed milk.  Stir in the onion and
celery, and celery leaves.  Add the bell's seasoning and the bred
crumbs, mixing all together well.  Season to taste with salt and black
pepper.  Cool and use to stuff a turkey.  Alternately pile into a
lightly buttered dish, dot with butter and bake in the oven along side
the turkey for the last half hour of cook time. Created using
The Recipes Generator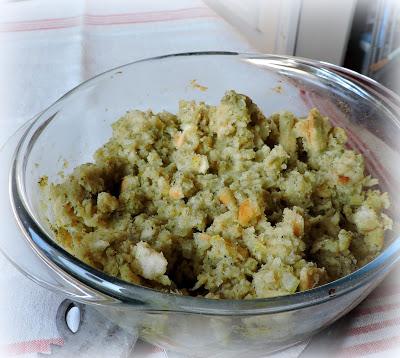 For me the stuffing has always been one of my favorite parts of the holiday meal.  There was never enough. I hope you will try this potato stuffing recipe, and I am sure that if you do, you will fall completely and totally in love with it!!  Mom never stuffed her turkeys, but always baked it in a casserole dish on the side of the turkey.  And she never cooked the onion in it.  I cook the onion as not a lot of people like raw onion, but like my mother, I prefer to bake it in a casserole dish on the side.  Its fabulously tasty!  I could eat a plate of this and nothing else!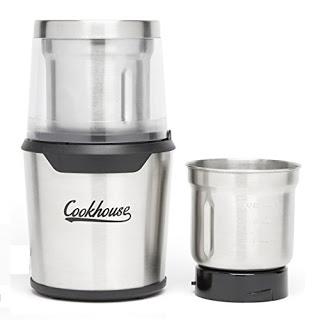 I used the Cookhouse 300watt Electric Coffee and Spice Grinder to make my Bell's Seasoning. This stylish kitchen appliance boasts high precision calibration for a consistent chopping and grinding experience.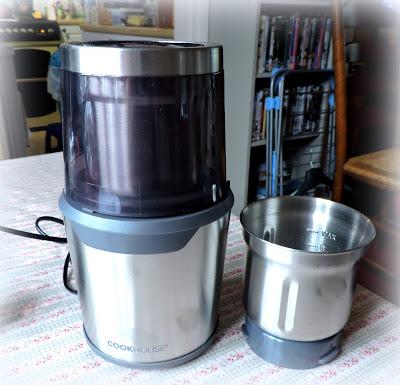 With a 70g capacity and wet/dry functions this all-purpose 300W grinder is a really handy piece of equipment to have in the kitchen.
I had been on the look out for a good grinder for a long time. I wanted something that was attractive and yet did a great job and was easy to use.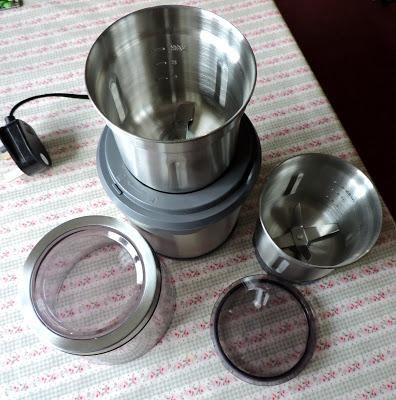 This attractive machine is perfectly sized for a small kitchen and is a great little workhorse.  It is as easy to use as pushing a button.
It features a transparent lid, which  allows you to keep an eye on your ingredients, and, thanks to its removable stainless steel bowls, cleaning it isn't that hard either!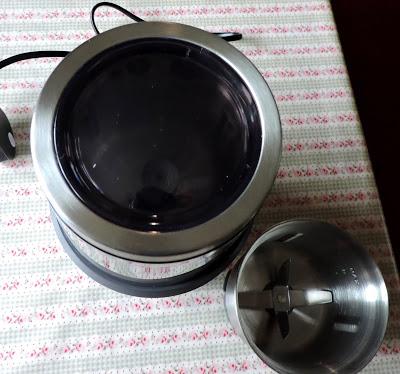 It is made of ergonomically designed stainless steel and comes with two easy clean removable brushed stainless steel bowls, each with a stainless steel blade system.  There is an inner transparent cover and an outer cover.  It is very easy to use. 
Add your coffee or spices to the metal chamber.
Fit the lid on.
Push the button. 
Wait.
You're ready to go!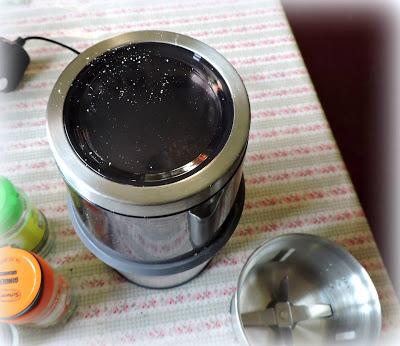 I am very pleased with its performance.  You can grind anything from coffee beans, to rice, to nuts, to spices. You can also make wet spice pastes such as curry pastes with it. You can find them here on
Amazon
. If you have a coffee lover, or a foodie in your life, this would make for an excellent Christmas gift, presented in a basket along with their favorite coffee beans, and spices.  You can also use this machine to grind nuts and seeds.  I just love it! I highly recommend.