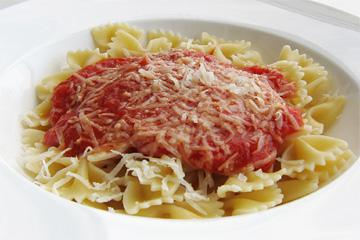 Italians rarely get tired of a good tomato sauce, but when they do they often resort to a tomato sauce variation. This recipe is based on the simple addition of roasted bell peppers, and of chili for some heat. The resulting sauce is great on pastas, but it also doubles as a tasty dip for toasted bread. The peppers are sliced, roasted in olive oil and then added to a tomato base. If the skins are unwanted or if a smoother texture is desired, the cooked peppers can be strained in a food mill.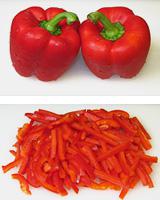 Ingredients for 2 people
- 1 cup tomato sauce (made as described here)
- 2 bell peppers, red or yellow (seeded and sliced)
- 1 tablespoon olive oil
- half of a fresh chili (minced) or 1 teaspoon of chili flakes
- 150 g dried pasta (e.g.: farfalle, fusilli, rigatoni)
- ¼ cup Parmigiano (freshly grated)
- salt
Preparation
- In a non-stick pan, roast the pepper in olive oil along with the fresh chili (if using it) for 5 minutes at high (fig. 1).
- Lower the heat, add the chili flakes (if using them) and cook for 15 minutes covered (fig. 2), adjust the salt.
- Strain the peppers in a food mill (fig. 3), collect the pulp (fig. 4) and discard the skins.
- Put the pepper purée back in the non-stick pan and add the tomato sauce (fig. 5).
- Cook for another 5 minutes to blend the flavors (fig. 6).
- Meanwhile, boil the pasta in salty water for the time indicated on the box.
- When the pasta is ready, drain it and serve it with the sauce and a sprinkle of grated Parmigiano.