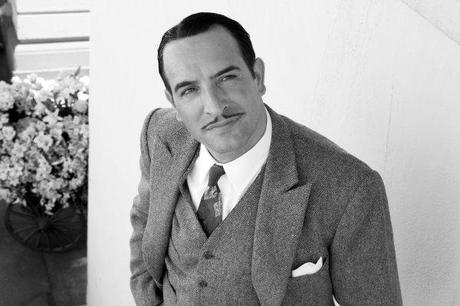 I won't talk! I won't say a word!
Best Picture winner at the BAFTAs and the Oscars, Michel Hazanavicius 'silent film' has won as many admirers as it has detractors. Unfortunately, in the wake of the awards season, the film seems destined to be known as the gimmicky black and white silent film that harked back to Hollywood's golden age. It's unfortunate as The Artist is film that provides simple pleasures and regardless of whether it has its own 'legacy', it's an entertaining film that exists in the here and now.
That doesn't mean that The Artist doesn't have a few faults of its own and its main one in telling the story of a silent film actor (Jean Dujardin) as he rails against the change to sound in the 1930s, is that it never overcomes its artifice. The story; the beats and the drama created by Hazanavicius and his cast are rife in filmmaking making for a predictable film. Hubris, a fall from grace and the rise of a 'star' are themes cinema has been doing for decades. There's little depth to be found beyond Dujardin's performance and even then his performance isn't particularly memorable, just a very good one in a role with possible pitfalls that Dujardin skilfully leaps over. Whatever difficulty the role brings is erased by the French actor's charm.
And that's what makes the film as entertaining as it is – its charm. It's uncomplicated, effortless, visually it can be quite clever and the performances are all good. It's an exercise in keeping the narrative simple but it could have done with a little more complexity and emotion. Rehashing a very familiar story means that it has to try harder to earn sympathy and it never quite manages it. You can argue until you're blue in the face as to whether the use of black and white is a gimmick or whether it's a modern film with old-fashioned values, the real problem is that it doesn't give you a huge reason to care.
7/10