Woman –
Few days back, we had women's day celebrations at our office. Although on a lighter note, but still, most of the men had similar thoughts – "Why only women's day? It's become a fashion these days. We men do not get the opportunity to celebrate the men's day."
I had the same answer to all of them – "Because, it's women who have to remind everyone that they are not objects to be played with."
Some men argue that women are self-obsessed with themselves. They need to get their facts right. Can you name a woman in news who got her sex changed to man? Can you remember a woman who had a dream that she was Ram or Krishna and started dressing like them the next day? I cannot. Its men who are obsessed with women. Above all, how often do you read/hear/see crime AGAINST MEN?
When we talk of crime against women, the first few reactions that come up are – Rape, Eve-teasing, Dowry and violence at home.
RAPE – I need not mention any details on this. This the most horrendous act of displaying the so called manhood by men who fail to being visible forget impress a woman. Recently, one of friends shared a link which sarcastically summarized almost every possibility of Rape perfectly. The summary was sad but very true – My son would never rape a woman. - http://epiphanyinthecacophony.wordpress.com/2014/04/15/my-son-would-never-rape-a-woman/
Eve-teasing – I think, this is the root cause of almost all crimes against women which need to be addressed. This is the beginning of the thought that yes, I can go a step further.
Dowry – Despite all efforts, it keeps on going to the next level. There are headlines in newspapers about some super rich fathers giving a car to every guest at his daughter's marriage. Give and take of costly jewelry is so called custom. All sections of society low, middle or high have their own set of standards towards gifts given to their daughters at the time of their marriage.
Violence at Home – I fail to understand the reason women take the very incidence lightly and ever give a second chance to themselves. We women need to get it straight – To err is human, to forgive is divine. But some things are nor errors, they are crimes. A crime need not be forgiven by any chance. Moreover, get the below lines hard into your head and heart -
"There are no second chances in life, except to feel remorse." ~

Carlos Ruiz Zafón

, 

The Shadow of the Wind
If I have to answer what need to be done to stop it?
Beauties, respect and love yourself.

Right to education need to be taken literally.

Get your Son's heart and head embedded with respect and love towards humanity.

Spread the word.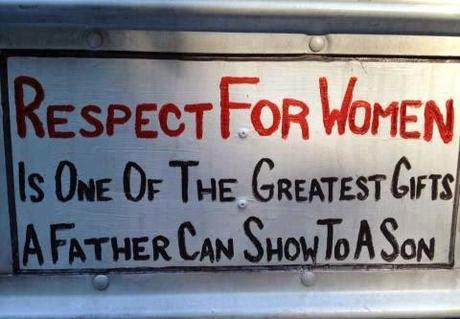 Source - http://2.bp.blogspot.com/-pMcnLmqfBcI/UQhMCLVGHfI/AAAAAAAAgew/PYQKuvz7q9s/s1600/Respect+for+Women+is+one+of+the+greatest+gifts+a+father+can+show+to+a+son.png
Below are some worth reading lines I found online (several pages, could not find the source.) Although same applies to a Father, brother, boyfriend, husband. But, the final, there is nothing called Fatherland. Accept it or not, we all tend to remember moms before fathers by default.
When I was born, A Woman was there to hold me: My Mother
As I grew up as a child, a woman was there to care & play with me: My Sister
I went to school, A Woman was there to help me learn: My Teacher
I became depressed when I lost, A Woman was there to offer a shoulder: My Girlfriend
I needed compatibility, company & Love, A Woman was there for me: My Wife
I became tough, A Woman was there to melt me: My Daughter
When I will die, A Woman will be there to absorb me in: My Motherland
If you are a Man, value every Woman.
And if you are a Woman, feel Proud to be one
Written in response to
IndiSpire