It was only when I finished this new abstract drawing and looked at it afterwards that I got a sense of being "under water" from it.  I began making bold blue and green lines using the broad tips of calligraphy pens to vary the thickness.  For some reason, I was inspired to squiggle the pale grey-green lines coming down from top to bottom, which led to my drawing circles with a fine tipped black pen.  As in my painting process, each step led to the next one.  The abstract painting or drawing tells me where to go next.
Of course, this process isn't always seamless and automatic.  Sometimes I'm led to a dead end or an even larger problem to solve in a composition.  But generally, if I just keep going I'll eventually find the way.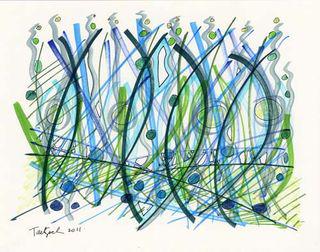 2011 Abstract Drawing #28, 11.5" x 9" acid-free ink on archival paper.