Now that I'm back in the UK, I'm trying to learn all there is to know about British politics. Well, kind of. A vacuum of 27 years really doesn't help things here. Watching anything that covers more than Theresa, Boris, Nicola and Jacob has me as much at sea as Hello magazine, where I only know people over 70. 
One thing I am noticing though, is the inexplicable popularity of Jacob Rees-Mogg. I'm hearing that he's the bookies' favorite to win the Tory leadership, despite his relative lack of ministerial experience. Now where have I seen this before?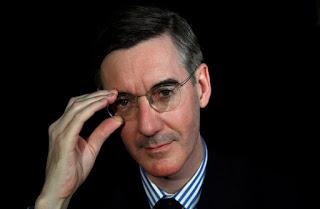 So I wrote a semi-serious piece at my Huffington Post blog. I try not to get too serious and shouty on here, so here's the link if you want to see what else I can turn my hand to. 
Let me know what you think of my opinion too.