Contributor: John Keegan
From the official press release:
NEW YORK, NY – February 8, 2012 – Syfy is ordering a third season (13 episodes) of its hit drama series Being Human, it was announced today by Mark Stern, President of Original Content, Syfy and Co-Head of Original Content, Universal Cable Productions. The announcement comes just four episodes into the 13-episode second season, which premiered on Monday, January 16.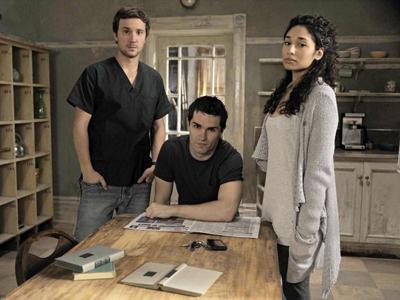 To date, viewership for the second season has increased by an impressive +27% in Adults 18-49, +35% in Adults 25-54 and +15% in total viewers.
With newly-released Live +7 data factored in, the season two premiere of Being Human (January 16, 2012 at 9PM ET/PT) delivered a 1.7 HH rating representing 1.4 million Adults 25-54 (a series high for the demo and +18% over the first season premiere), 1.4 million Adults 18-49 (second highest ranking in the demo and +12% over the season one premiere) and 2.4 million total viewers (the second most-watched episode of any season and +3% over the season one premiere).
With women comprising 52% of the total audience for premiere episodes this season, Being Human remains Syfy's most female-skewing scripted series ever.
"With the success of season two, 'Being Human' has become a premier destination for Syfy viewers," said Stern. "Jeremy Carver and Anna Fricke have taken this series to new heights this year and we're excited to see where the third season will go."
Being Human stars Sam Witwer, Meaghan Rath and Sam Huntington as vampire Aidan, ghost Sally and werewolf Josh who share the creature comforts of home in a Boston brownstone. Together the three roommates struggle to keep their supernatural secrets and resist individual temptations as they strive to live lives that are as near to normal as possible.
Executive Producers are Michael Prupas (The Kennedys, Pillars of the Earth), Jeremy Carver (Supernatural) and Anna Fricke (Men in Trees, Everwood) who are both writers/showrunners, Adam Kane (The Mentalist, Heroes), and Rob Pursey and Toby Whithouse. Irene Litinsky (Human Trafficking, The Phantom) is series Producer.