Being customer centric shouldn't just be a concept - we need to approach it as our company missions.
We've been trying to be more customer centric for a long while but only 14% of leaders think they actually are and only 11% think our customers would say we are. I've never met an exec or business leader who says that they weren't customer centric.
From the Harvard Business Review last year - "The most common, and perhaps the greatest, barrier to customer centricity is the lack of a customer-centric organisational culture. At most companies the culture remains product-focused or sales-driven, or customer centricity is considered a priority only for certain functions such as marketing."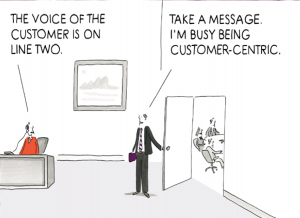 This entry was posted in Customer Success and tagged customer centric, Customer Experience, customer growth, Customer success, feedback, Loyalty, marketing, product management, Sales on by .