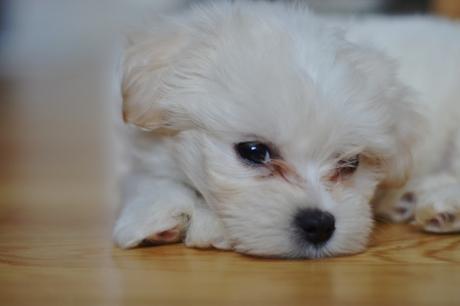 There's a lot to be said for becoming a first-time puppy Mama, isn't there?
Our family added a lovable ball of fluff to the clan earlier this year after several years of desperately wanting a dog. In case you missed it, here's the full post introducing Milo to the big wide world. And despite having researched meticulously for more than 2 years, there's so much more to being a dog owner than 10 Top Tips for Your New Puppy and being able to enjoy cuddles aplenty. Early mornings are more early than ever, your dog can and will teach you more than anybody else… it's been a real learning curve.
I thought it'd be useful to share some of the thoughts, tips and tricks I've picked over the last 3 months of Milo-time.
Bringing pooch home
Depending on your situation, there are several options available to bringing pup home. We got Milo from a local breeder who was more than happy for us to drop in and see him whenever we wanted. Our first visit to see him was when he was almost 6 weeks old and it's good to take an old T-shirt or a blanket to leave with him, should you decide to reserve a pup, to get him used to both your scent and to pick-up some from his Mama and litter once home with you. The process is a little different when rescuing a pooch (I also researched extensively into this but we didn't feel ready to take on a dog with behavioural, etc. problems, as first-time owners), but anything you can do to help a pooch settle in to his or her new digs is a good shout.
We decided against popping Milo into a travel crate for the journey home, instead opting to cuddle him in a blanket so the 15-minute car journey wouldn't be too stressful for him. We soon switched to having him in his soft travel crate for vet visits and he's pretty happy in there!
Toilet training
It took us all of about a week to toilet train Milo and we couldn't be more relieved. We began with puppy pads indoors and, being the nervous Mama I am, introduced him to the garden once his course of vaccinations were complete. We chose to pop one puppy pad in the living room (not so far for him to go if he was desperate) and another right by the back door, to further encourage him to transition outdoors in time. My tips would simply be to be very observant of pup in his first few days at home and to give him plenty of opportunity to get it right. I quickly learnt the squats he'd do before a pee or poop and simply tapped the pad or picked him up to get him accustomed to the surface he should be doing his business on! I'd also restrict him to the living and dining rooms after he'd woken up from sleep, a nap or after eating to give him as many chances to get it right as possible. Break up treats and treat and/or praise him once he's got it right.
Moving him outdoors was a little different: essentially you're re-training him. We started by letting him out of his crate in the morning, picking him up and taking him straight to the garden. Puppy is usually desperate to go first thing so simply stand and wait for him to get to it. It's important not to crouch down and play with him or he'll get distracted! I found that taking a puppy pad out with me and laying it on the grass helped a hell of a lot, also! Nowadays, he's let out in the morning and immediately rushes over to wait by the back door to be let out.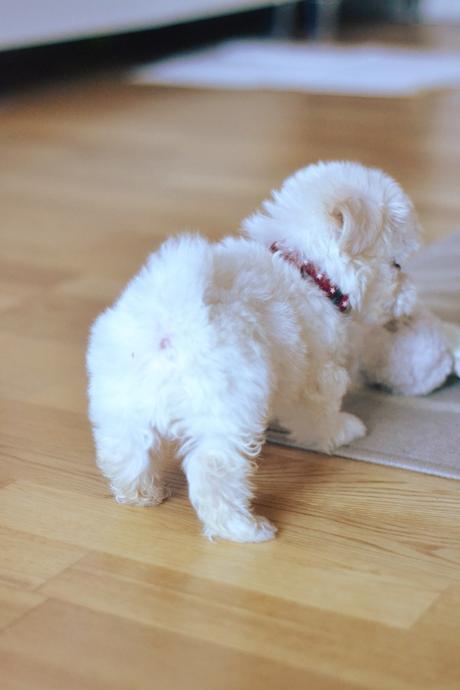 Training them for separation anxiety
To some, it might seem fairly straightforward that a dog won't struggle with separation anxiety if you love on him enough, but something that we've been training Milo for is being left alone. Milo lives in a busy and bustling four-bedroom family home of five humans where he is loved on almost every hour of the day. We always try to make sure that there is somebody at home; no-one likes a neglected pooch, eh? Pups should never be left longer that 3-4 hours and, when left, should have plenty of water available to them.
Working from home means I have plenty of time to spend with Milo – my at-home office is downstairs and now that Milo is toilet trained, he pretty much gets full reign of our downstairs kingdom – but it also means he's becoming a little dependent on me always being there. (Hermit confessions.) We've had Milo since he was 9 weeks old and from about 11 weeks, I began to leave him alone in the living and dining rooms for short bursts of time by closing the door and popping upstairs. Start with 5 minutes and build it up in intervals. Once I was confident he was happy alone downstairs for an hour or so, I started introducing the idea of the front door opening and closing (I'd literally just open and shut it and remain indoors – sneaky!) as I noticed lots of rescue centres mentioning dogs with anxiety of doors shutting and them associating it with their owners disappearing. And to this day, he's really not fussed about doors opening and closing. Milo is now 19 weeks old and rarely fusses when I pop out to run errands, he's just happy to hang out with his beloved flamingo, chicken and raccoon pals!
The No-Sleep Thing
If there's one thing nobody prepared me for when I brought Milo home, it's the severe lack of sleep thing. I'm much more of a morning person these days (coupled with multiple naps throughout the day) because pup has me up at 6am-ish each day. It's quite likely that when you bring your puppy home, they will struggle to sleep for the first few days. Milo cried and cried in his crate each night for the first week until on the 8th day, by some miracle, he decided to become a big boy and settle down. We tried everything from changing bedtime, playing music, keeping the TV on quietly, switching on fairy lights, multiple combinations of toys, popping a treat in there… all it takes is, honestly, time. We were on the verge of picking up a soft toy that claims to help puppies sleep but suddenly, he just learned to settle. Never keep the collar or harness on your pup when he's being crated and don't leave toys with him that he might injure himself playing with.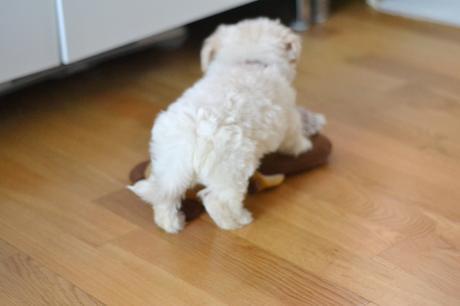 Patience and persistence
Oftentimes, you'll feel completely at wit's end with your new puppy – and that's fine too. Being a puppy owner is not a walk in the park in the slightest (heh) and you'll certainly get back what you put in. Be persistent and consistent with their training and your clever pooch will slowly but surely learn the tools of the trade with toilet going, new tricks and commands, and becoming a very well-loved member of the family. I can hand-on-heart confirm that there is no greater than feeling than putting aside 3 hours a day dedicated to training pup a new command and having them absolutely nail it in 15 minutes flat. Milo knows that those precious post-lunch hours are for us to work away at new commands and he is such a clever one when he wants to be!
Crating Milo
Like I mentioned earlier, Milo lives in a busy four-bedroom family house so when it came to deciding whether or not to crate him, it seemed fairly straightforward to crate him. This is somewhat of a controversial topic that I'm sure you've already read up about if you're looking to get a pup, but it's been working well for us. We find his crate provides a cosy, safe haven for Milo to hang out in whenever he wishes to. He loves hanging out under the sofa and once that first week or so was over with, he's been more than happy to sleep, nap, play and rest in his crate. Our house is pretty big compared to cutie little Milo and we also have a spiral staircase, so it gives us peace of mind at night, too, that he's not running around the house at night looking for sleeping spots and getting up to no good! Additionally, Milo is so clumsy that if we let him run amok and sleep on the sofa, he'd certainly fall off in the middle of the night! If I had my way, pooch would have free reign but I wholeheartedly believe that Milo loves his crate.
Diet
Something that I feel we didn't research heavily enough into is Milo's diet. There are hundreds of thousands of resources out there that claim hundreds of thousands of things, making planning your dog's diet a complete minefield. My suggestion would always be to ask the rescue center or breeder what pup has been on previously. Even if you decide not to continue with their plan, it's good to keep them on the same food and slowly wean, much like a baby, so you don't disrupt their digestive habits too much. Our vet kindly recommended particular dry puppy kibble for Milo after he'd been on dry food and chicken breast with his Mum.
It's also worth researching diet recommendations and suggestions for your breed of dog too. Milo is a Malshi (Maltese Shih Tzu cross) and is prone to suffering from tear-staining so we feed him on grain-free kibble not only to minimise tear staining but improve his coat condition and encourage healthy growth. We'd recommend the James Wellbeloved range, Milo is a fussy puppy but absolutely loves his kibble now after trying three varieties from other brands! Raw diets are touted to be great and we've been researching this for when pooch is a little older as well as looking at getting a nutrition consultancy appointment at Pets at Home, but it's often just a case of trial and error with your individual and oh so preciously unique pup.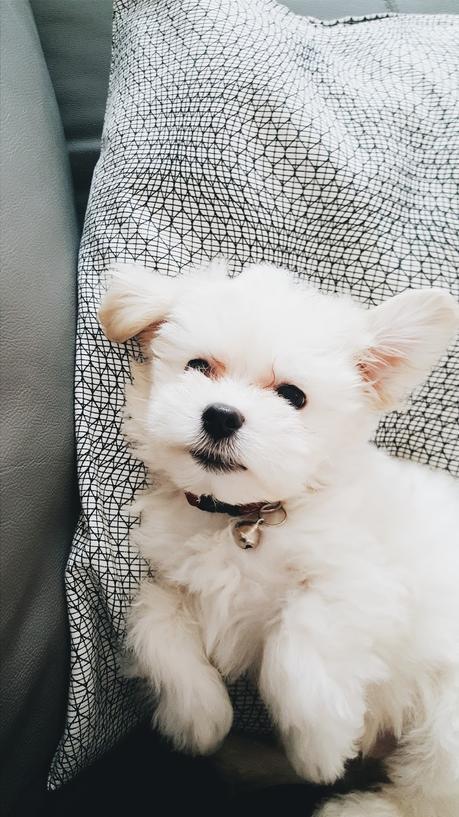 Finding small joys in everyday
Let's end this on a very cheesy high then, shall we? The very best thing about becoming a first-time puppy Mama to Milo is how I manage to find small joys with him everyday. Happiness is wrestling with a tennis ball. It's stumbling across his very first feather and getting a tickly nose. It's watching him bound recklessly across the garden and watching him curl up indoors in his blanket for a nap. It's seeing his alert ears realize that 6pm is rolling around and more humans are coming home to play. It's the sweet look in his eyes when he's ready for a sneaky snooze on your lap and he knows you probably have work to do. The very best part of being a puppy Mama is rediscovering life outside of a screen and being able to go on adventures every single day. Didn't you know? Pavements and huge empty fields are full of curious sights and scents? ;)
I hope this post helped some of you! Pup-date on Milo coming soon, we promise.
Michelle & Milo xx