Recently, I attended the IMATS convention where Masters FX held a True Blood panel and showed behind the scenes glimpses at what they do for True Blood. They are truly very creative people and we love how they enhance our favorite show so much.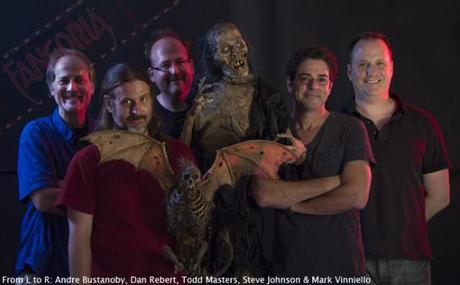 Below is part of an article they gave to fangoria.com where they share even more and, also some new and interesting photos.
It's an early evening in the studio where HBO's popular supernatural series TRUE BLOOD is being shot, when an ear-piercing scream interrupts the quiet summer tranquility. Contrary to the usual reaction one would expect to such a sound, no one blinks an eye. It's pretty much business as usual on a series in which staking, decapitation, full-body immolation and numerous other forms of graphic violence are all in a day's work.
Most of the aforementioned mayhem (as noted in the exclusive pics here) is engineered by the team at MastersFX, whose ground-breaking makeup work have been seen in such series as TALES FROM THE CRYPT, SIX FEET UNDER and FRINGE. On this particular evening, we've managed to corral four key members of that team—including MastersFX owner Todd Masters; TRUE BLOOD FX producer Dan Rebert; MastersFX visual FX supervisor Andre Bustanoby; and coordinator Mark Vinniello—for a rare interview about their contributions to TRUE BLOOD, which enters its fourth season this summer. Punctuated by the occasional unexplained scream of course…
STEVE JOHNSON: Is there such a thing as too gory?
DAN REBERT: A lot of times, in production meetings we toss ideas around. The writers and creators of the show lean on us for input, asking what we can do with a certain amount of money in a certain amount of time. And I'm often told that what I'm pitching is too gory. The producers laugh it off and joke around, tell me I'm sick. But one of our biggest effects on the show was when Bill [Stephen Moyer] is having sex with Lorena [Maria Klaveno]. In the middle of it all, he reaches forward, grabs her head, twists her neck and snaps it. He twists her head all the way around backward and continues having sex with her. That's probably one of the most graphic, horrific things that I've ever been asked to create—and they wrote it! And these writers and producers tell me I'm sick?
JOHNSON: Todd, this show is quite reminiscent of DARK SHADOWS. It's Gothic, it's melodramatic; you've got forbidden desires, werewolves and vampires. But if you were directing or producing, what would you add to it?
TODD MASTERS: I'd like to see them push the envelope even further. The stuff that Dan and the shop are doing is just amazing and it seems to be a big of interest to the fans. There are lots of water cooler moments in this show, regardless of the effects; it's just the kind of show that you want people to talk about. But moments like Lorena's head twisting, that to me is the fun and games of the show.
JOHNSON: With film vs. television, how do you meet those schedules, on what has to be a tighter budget?
MARK VINNIELLO: Dan has often said that working on TRUE BLOOD is like doing a film every two weeks, and the expectation for such a quality show is to maintain that level of quality. One of the things that has helped us out is that a lot of the materials available now weren't available 10 or even five years ago.
Here are a few more photos:






To read this entire interview and see more photos go to: fangoria.com