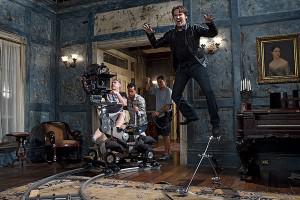 Yesterday, Inside True Blood gave True Blood fans another behind the scenes look at "The Production Machine" and what a Tech Scout is. According to 1st Assistant Director Scott Schaeffer:
The tech scout is a chance for the director and the crew to understand exactly what challenges each location and its scenes may have, and how to overcome them. During this trip, the heads of the various departments on the crew go to each location in the episode. The director talks about every scene pertinent to that place and shows how he or she plans to shoot each one, while the department heads takes notes pertaining to anything they'll have to implement the day of the shoot.
We can't even imagine how much time it must take the director and crew to do a tech scout. When you consider some of the challenges that they may encounter with one scene, it can most likely take quite a while to sort through everything (imagine what was disccussed for the scene in the above picture?!)! Keep up the great work guys!
Source: Inside True Blood – Tech Scout
Photo Credit: Rolling Stone Magazine