Behind The Scenes: Nicki Minaj Flexes Her Glorious Greased Globes At #SecretShoot For 2 New Songs
{$excerpt:n}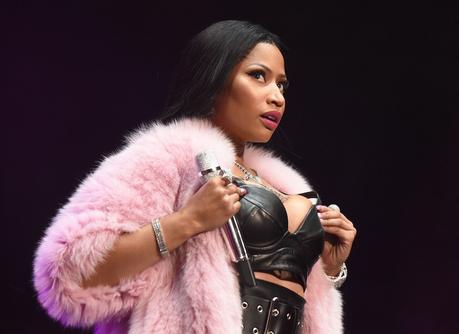 Image via Chris McKay/Getty Images
Nicki Minaj Takes Us Behind The Scenes At Secret Video Shoot
Nicki Minaj is up to something and we think her band of bouncing Barbs are gonna like it.
Secret shoots bumpin #Realize #ICantEvenLie & #Nobody drops tonight @ midnight. EST. Off that DJKhaled album!!! Who's prepared?!?! ✍

A post shared by Nicki Minaj (@nickiminaj) on Jun 22, 2017 at 10:15am PDT
Onika took to Instagram today to announce that she's dropping TWO new songs tonight, a record called "I Can't Even Lie" featuring Future and "Nobody" featuring Alicia Keys.
Apparently, she is currently in the middle of what she calls a #secretshoot for one, or perhaps both of these new records.
Guess dropping multiple songs at once is Nicki's new marketing strategy, maybe this one will pan out a bit better than the last batch.
Flip the page to see more of Nicki and her shiny fun bags.
Who's prepared for 2 new songs @ midnight?!?! #ICantEvenLie ft @future & #Nobody ft @aliciakeys ~ courtesy of that new @djkhaled album ❣️#SecretShoot

A post shared by Nicki Minaj (@nickiminaj) on Jun 22, 2017 at 11:18am PDT
Every girl knows what I'm doing. When u waitin on that eye liner to dry so u gotta keep ya eyes mad low like a crazy person. Cuz if u open them eyes and mess it up, u dead ass b ready to kill somebody Sheika slayed that makeup or nah? Hey Neal! And my other babies. #ICantEvenLie ft @future & #Nobody ft @aliciakeys drops @ MIDNIGHT off @djkhaled new album. #NBAAwards JUNE 26th on TNT ❣️❣️❣️

A post shared by Nicki Minaj (@nickiminaj) on Jun 22, 2017 at 11:49am PDT
Source: Behind The Scenes: Nicki Minaj Flexes Her Glorious Greased Globes At #SecretShoot For 2 New Songs
4 total views, 4 views today