Happy February everyone! With 2011 off to a good start, maybe it's time to act on (or keep up!) your annual resolutions. Perhaps this year one of your goals is to begin cultivating an art collection but you aren't sure where to start, or are concerned about the financial ramifications of becoming an art collector?

1.

Buy for Sentiment

- Pop into your local art gallery and have a browse. Look for artists who are from an area you know, or have created work based around a familiar area. Works that have a story or a connection will mean a lot more to you. Perhaps the artwork reminds you of your childhood or a special holiday. If that is the case and you are looking for work that reminds you of your visit to Scotland or your home in Fife, artists like Aldona Juska or Colin Carruthers may suit you. Aldona creates beautiful thistle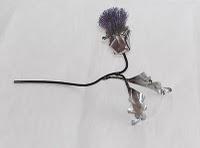 pieces made of wire from North Sea oil rigs, such as this Short Thistle Mantle Stem. With her work, you take home a creation that depicts a symbol of Scotland as well as a literal piece of Scotland. Colin's gorgeous oil paintings, such as his Shoreline Daisies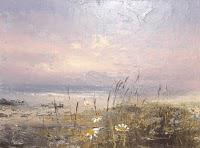 are often in subtle pinks, blues and purples, and depict images of Scotland's east coast, in colours and sizes that would make a nice statement in your home. Ask about the artists shown in your local gallery and you can learn a lot about their life and work, making the piece more meaningful to you, and making the piece a conversation starter at home.
2.

Look for what you like

- This is generally the first thing people tell you when you want to begin an art collection, and oftentimes easier said than done. Some people think that art is an impulse buy and know the second they see a piece that it is exactly what they want.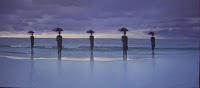 Others have a general idea of styles they like, and that is enough to get started! If you're a fan of the Surrealist style, but can't afford a Dali, check out work by Australian artist Andrew Baines, whose work, such as this Bowler Hat painting, is shown in Artery. If you're a fan of American painter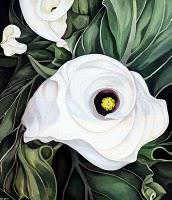 Georgia O'Keefe, but don't want to settle for just a print of her flowers, consider original floral oil paintings, such as Calla Lily, by Jo Beer. Again, ask at your local gallery for similar style substitutes, so that you can find a style you love at a price you can afford.


3. Buy Original

- This may seem pricey, but it doesn't always have to be. Buying original is always better than buying a reproduction. Originals do tend to be more expensive than prints, but they hold more artistic and monetary value. However, if you have your heart set on a particular print, always be sure to purchase a copy signed by the artist, for both value and authenticity. An unsigned print is of little value, but original artworks are more likely to be treasured and perhaps even become a future heirloom!
Here at The Artery Gallery we are proud to feature only original pieces by a wide variety of artists with a range of styles. There truly is something for everyone in here! Pop in to visit us and we'll be happy to tell you about our artists and help you find new artwork that you will love!
www.arteryuk.com