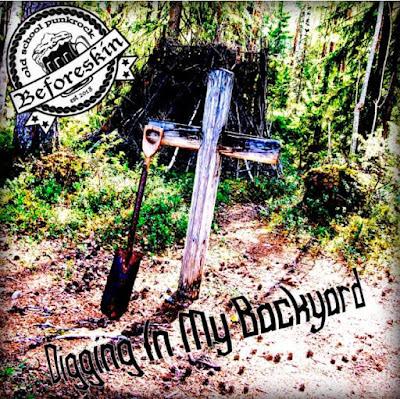 Beforeskin is a trio of degenerate misfit punks from the beautiful town of Östersund in northern Sweden. True to their nature they blast some angry-ass punk and they do it damned well. Now, before we continue I'm going to conduct a crash course in Swedish for those wave riders who are not familiar in my mother-tongue. Beforeskin is a direct translation from Swedish to English meaning foreskin. However, in Swedish foreskin is "förhud" which is made from two words, "för" and "hud". "För" has different meanings but here it translates to "before" and "hud" is "skin", hence Beforeskin. Swedish humour at it's very best, or worst, take your pick. Personally, I love it!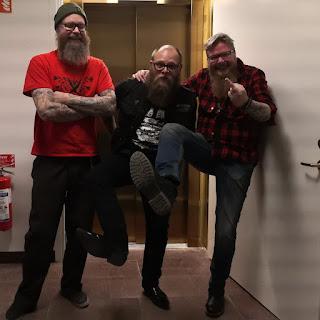 Unruly, unhinged, deranged and obnoxious, I don't want my punk any other way. Add humour to the equation, as well as a huge chunk of tongue-in-cheek "don't take us too seriously"-approach and you have Beforeskin. Their debut album 'Digging In My Backyard' starts off with the title track which is one of my favourites. Full tilt from the word go, they slay pure and simple. 'Fuck Cancer' follows in the same vein musically and lyrically it speaks for itself, pretty damned good song. Even more intense and intensely funny is the brilliant 'If Punk Is Dead (You Can Kill Me Right Now). No holds barred Beforeskin annihilates everything in sight. Rockabilly-ish and boogie down 'Girls Night Out' is like The StrayCats on speed...until halfway through when the tempo drops only to erupt at the end, fantastic! A pretty badass cover appears in the shape of GG Allin's 'Don't Talk To Me' and it kind of sums up all that Beforeskin are and their whole approach to the music the play. The shortest song ends this album and at 1:46 'Alcohol And Drugs' is a skullcrusher. A somewhat slowish start about halfway through they throw down the gauntlet and tears it up in great style!
There are 10 songs on 'Digging In My Backyard' and they are all good, so listen to the whole thing. I simply mentioned my personal favourites and as you all know we all like different things. In conclusion, Beforeskin has unleashed a fabulous slab of punk ditties that you simply need to have in your collection. Can't say they break new ground but they have a blast playing their music and that goes such a long way. So, thank you guys and more music please!
-Swedebeast