You know it's going to be a good day when you have a killer Before & After kitchen renovation on your calendar to share. The matte black details in Tasha of Tchotchkes Design Studio's kitchen are so delicious; you are not going to want to miss this transformation. -Erin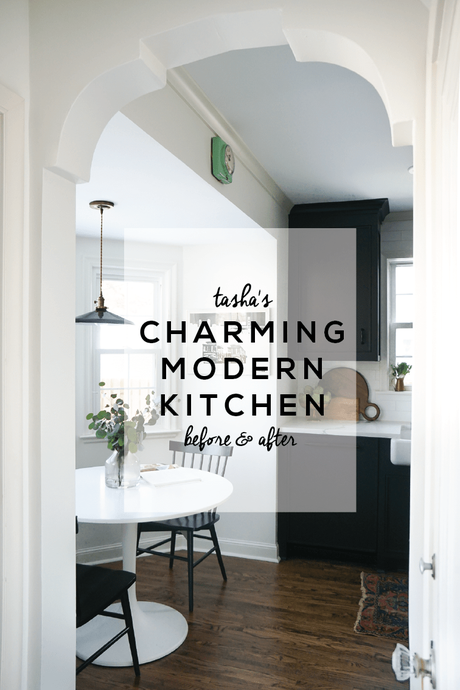 Interior designer & vintage curator, Tasha Schultz's, most recent design project strikes a personal chord with a complete renovation of her own kitchen in the 1942 classic story and a half she shares with her husband, Travis and two Italian greyhounds, Cheeto and Russell in St. Paul, MN.
The original kitchen, though charming, was very poorly updated throughout the years. "We had characteristics like original cabinetry, but cheaply updated laminate countertops. We definitely lacked storage and countertop space (which are a necessity in a small kitchen)," explains Tasha.
Photo Credit: Tchotchkes Design Studio
What was your vision for the redesigned space?
"I really wanted our new kitchen to feel like us as a couple. Clean, Modern with vintage charm while still fitting with the period of our home. Inspiration for the cabinetry came from a modern profile I'd seen on a recent trip to Chicago. I knew I had to do things a little different being a designer. (thus the black cabinetry and modern profile was born). This was my kind of a guinea pig for me :)"
Take us through the process of renovating your kitchen. How did you set (and keep to!) a budget?
"Most of the remodel was done by my husband and myself. We spent MANY weeknights up demo'ing or sheet rocking until 2AM, bless our sweet neighbors who have been supportive through the loud nights. We saved ALOT of money on the kitchen by doing so much ourselves. This was our first remodel and we knew making it through this kitchen would lead to a lot of other future projects (cue a bathroom remodel this summer) :). We were very good on sticking to our budget, I also set a tight deadline for our project, we finished about $2,000 over our estimated budget and about 2 weeks less than our estimated project finish date, I'd say it's a WIN-WIN!"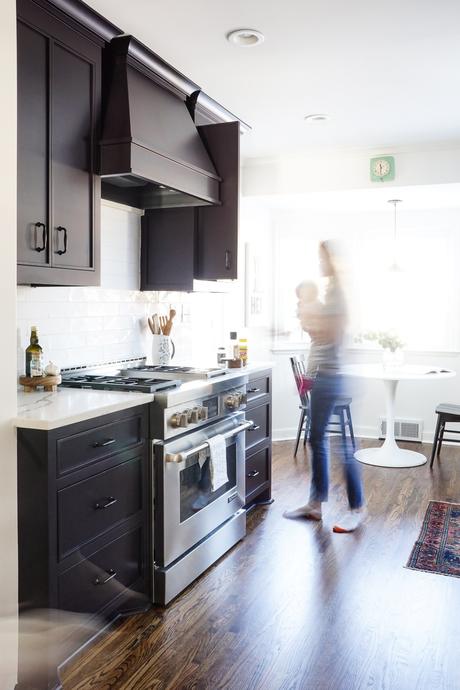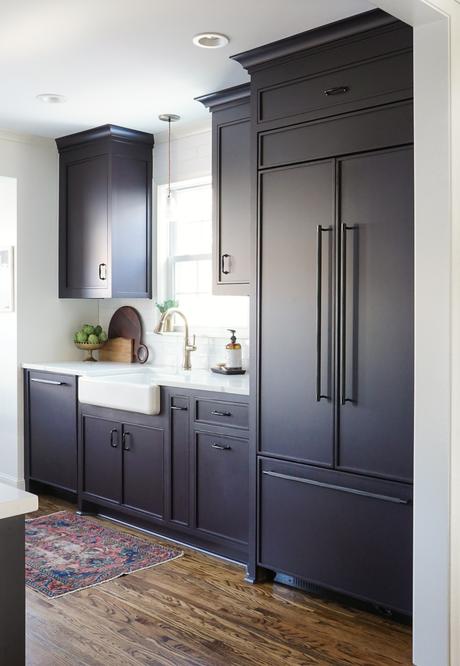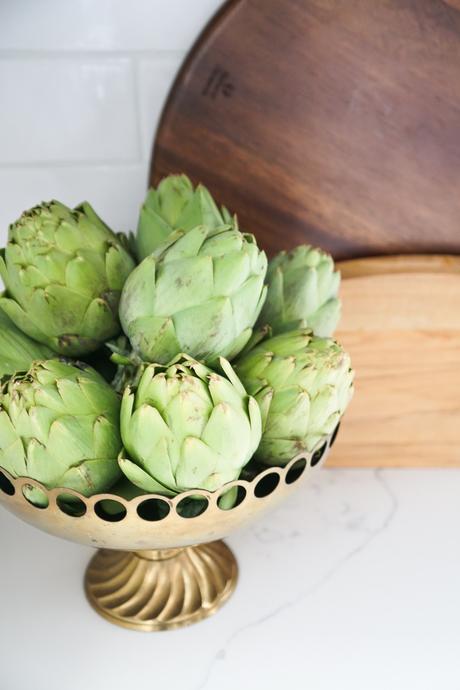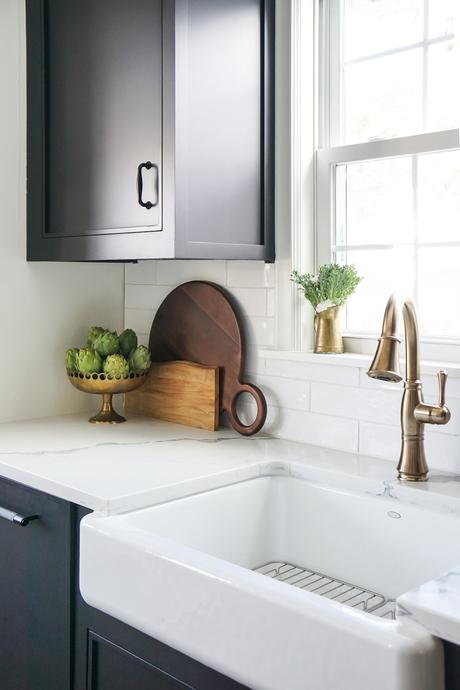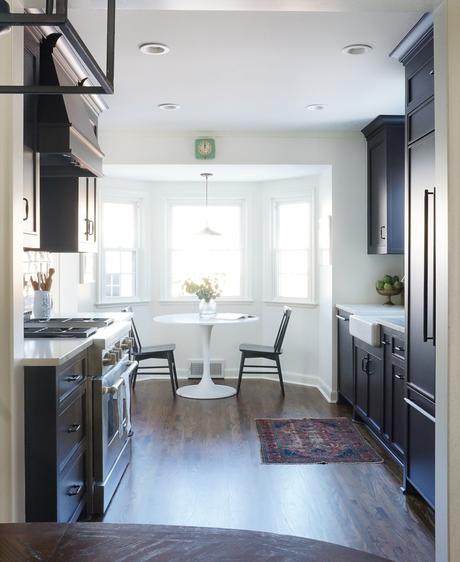 We love how the new kitchen, although slightly more modern than the rest of our home feels so open and cohesive to our dining and living room.
Best money-saving tips for a renovation: Go!
"DIY! If you think you can figure it out, give it a shot! You will save a ton! Also, know what you CANNOT do! We hired out things we knew where above our skill level, and probably saved a headache and money doing so! BE REALISTIC with your expectations."
What's your favorite part or 'moment' of the finished space?
"I love the paneled, built in refrigerator and my husband loves the gas stove! Coming from a wall with no countertops/storage and a giant ugly electric stove and black refrigerator these feel like a million bucks! We also love how the new kitchen, although slightly more modern than the rest of our home feels so open and cohesive to our dining and living room. It's truly a small, comfortable entertaining space now and we LOVE IT!"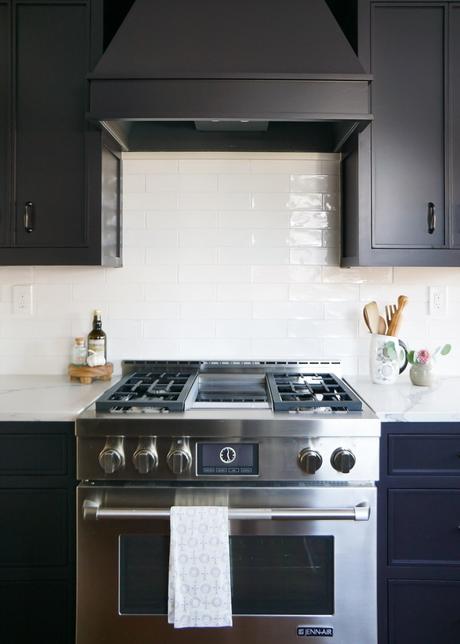 When did you first realize you were headed for a career in design?
I knew from a fairly young age that I wanted to do something with homes. I was always rearranging my room and working on little vignettes (literally for hours!). I would ask my parents to come in and see what I'd been working on all day. It would be a tiny spot in my room (like my bookshelf ... I put all my effort into the details).
To this day, I only buy things I would put in my own home. I think that makes it more special.
When was it that you really began honing in on your personal design aesthetic?
As a young adult working in the high end design industry, I really found my own personal style out of a "thrifting necessity", I'd get a lot of compliments on my own style. Unbeknownst to many, my style was truly formed out of having a tight budget but knowing what was "good". I wanted to be a little different than everyone else, and incorporate vintage thrifted pieces.
Many of my clients have told me they approached me because my style is attainable and different than a lot of other designers in the Twin Cities. Also, they wanted to incorporate their vintage family heirlooms into the design and knew I was the woman for the job.
How did you get into curating and selling vintage goods?
Over the past couple of years, my vintage collection had turned into a bit of a hoarding, so I started selling my vintage. To this day, I only buy things I would put in my own home. I think that makes it more special.
Shop Tasha's Kitchen
Tulip Table | Windsor Dining Chairs | Rug | Framed 'You Are Here' Hand Towel | Round Cutting Board | Footed Tray
Vintage Finds from Tchotchkes Design Studio Shop: Clock, Dish Brushes, Streetcar Print
Local Trades: Custom Cabinetry | Hardwood Flooring
For additional design details contact Tchotchkes Design Studio.
Photo Credit: Francois et Moi
This post may contain affiliate links.
For more Before & After inspiration, go HERE!