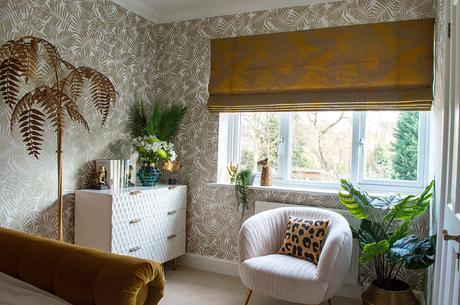 Marilyn Blush Velvet Armchair | Palm Leaf Floor Lamp | Leopard Vase | Faux Monstera Plant | Faux Trailing String of Pearls | Espinillo Wallpaper | Extravagance Blind Fabric
It's taken me a long while to go from home office to glam and feminine bedroom but I'm nearly there, at last! Too busy with Audenza, 3 small grandchildren and emptying the old family home which has an enormous attic stuffed full of 30 years of tat – and memories, of course. I seem to have kept every picture they ever drew, every school report and every school photo. Note to self – curate! Anyway, on with the glam and feminine bedroom reveal. So, how did I go from this below…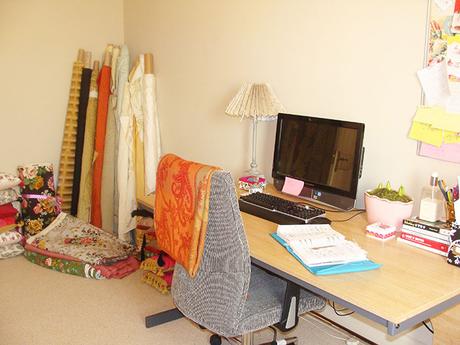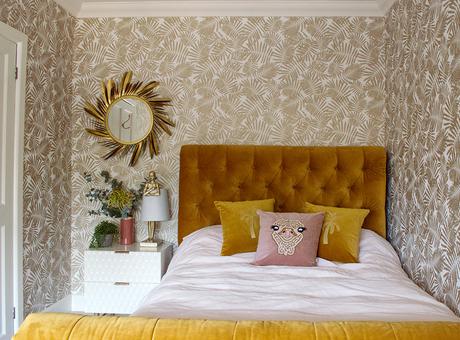 Golden Feather Mirror | Espinillo Wallpaper | Cushions (coming soon to Audenza!)
…to this? Well, as it's a spare bedroom I didn't have to take into account anybody else's viewpoint – which was a relief as it gave me full rein to do what I wanted, and I knew I wanted it light, airy and with touches of gold, with a very feminine and glamorous vibe – perfect for Audenza products then! My starting point was looking for wallpaper and, as I said to the lady in the shop when asked what I was looking for, "I will know when I see it" and 'Espinillo', a gorgeous gold acacia leaf design by Clarissa Hulse for Harlequin was the one. I did take a few other samples home with it, but really I knew it was the one straight off. Next was the bed – velvet, naturally as it always been my favorite fabric for its richness, but oh what colour? So many samples of so many fab colours, but the mustard velvet spoke to the wallpaper and that was it. The roman blind fabric is Extravagance by Harlequin and the color echoes the bed. I painted the doors, ceiling, radiator and skirting boards in Wimbourne White, by Farrow and Ball, to blend with the background of the wallpaper.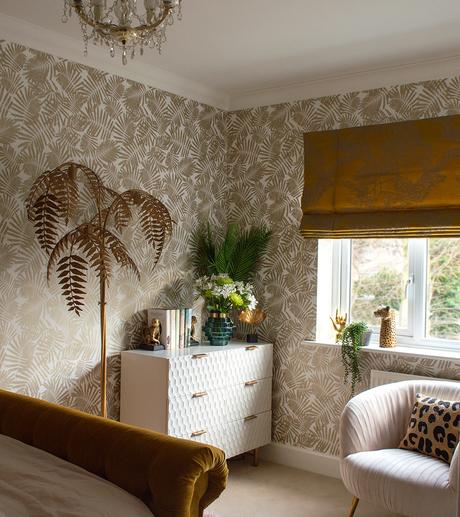 Palm Leaf Floor Lamp | Monkey Bookends | Artificial Areca Palm | Gold Rock On Hand | Faux Trailing String of Pearls | Leopard Vase | Espinillo Wallpaper | Extravagance Blind Fabric
I fell in love with the bedside table and sideboard as soon as I saw them – the white finish, textured fronts, and the gold handles are perfect for this bedroom. The truly difficult decision was the bedlinen, it took me weeks to make up my mind whether I wanted white or pale pink or a deep teal. In the end the beautiful barely there pink linen won the vote, and doesn't it look fab with the mustard velvet cushions and the pink velvet ostrich cushion? The golden feather mirror was intended for the dining room but I loved it so much in here I shall just have to purchase a new one for the dining room – more decisions.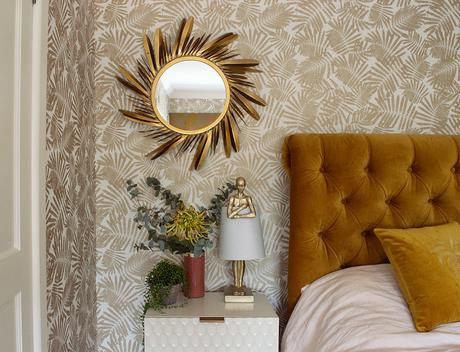 Golden Feather Mirror | Faux Trailing String of Pearls | Espinillo Wallpaper
I could have gone mad with colourful accessories, but restrained myself and kept to a theme of lots of faux plants for their injection of warmth, and just a bit of color in the vases, with a gold lamp base and bookends to continue the gold theme.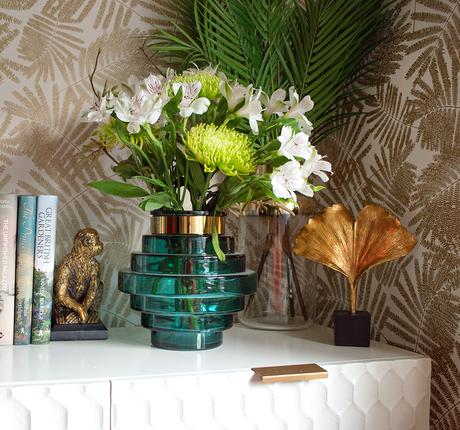 Monkey Bookends | Artificial Areca Palm | Ginkgo Leaf Ornament | Blue Vase (coming soon to Audenza!)
The real star of the show has to be the antique bronze palm leaf floor lamp and I'm so excited to have one, at last, after weeks of waiting. We all want one but I'm the oldie so pulled rank, and its mine!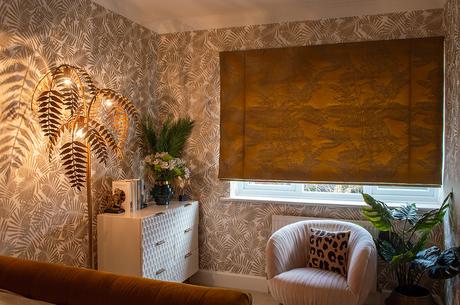 My main worry now is that my globetrotting son has moved in for a few weeks and really, it's not a color scheme for a lad who (temporarily) works in a potato factory. I feel like sheeting the carpet, (in fact my lovely Marilyn blush pink velvet armchair has a sheet draped over it for now) and banning him from going in there except to sleep. I'm not sure if he appreciates my glam and feminine bedroom as he is pretty much oblivious to his surroundings, but he is enamoured of the pure linen sheets and reckons it's the best sleep he's ever had!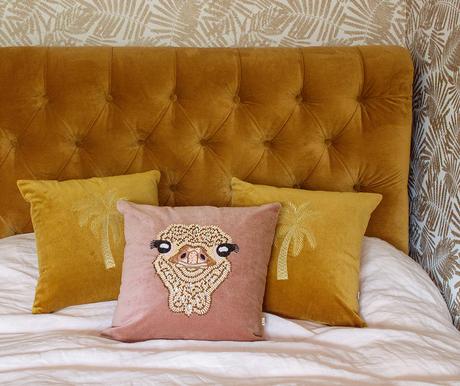 Velvet Cushions (coming soon to Audenza!)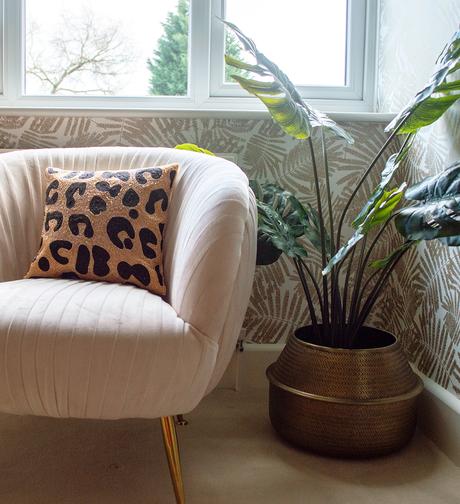 Marilyn Blush Velvet Armchair | Beaded Leopard Print Cushion (coming soon to Audenza!) | Brass Planter (coming soon to Audenza!) | Faux Monstera Plant
Well, what do you think? I love it. although its not finished yet as there is wall space, and that's always a temptation. I usually have a more eclectic mix but wanted this room to be very stylized and a real Audenza bedroom and I think I've achieved that.
Jacqui x