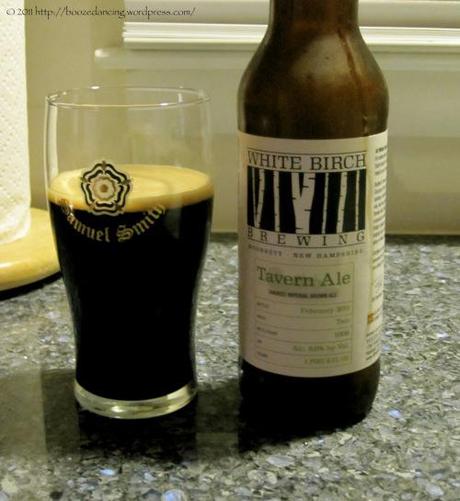 Yet another craft beer souvenir from our summer vacation in Maine.
I had never heard of White Birch Brewing until I saw this bottle of beer at Vic and Whit's Sandwich Shop in Saco, Maine.  It turns out that White Birch is a very small brewery in Hooksett, NH that has only been in operation since June of 2009. Their Tavern Ale, a Smoked Imperial Brown Ale, was listed as one of Draft Magazine's Top 25 Beers of 2011.
Here is what White Birch has to say about this beer:
Butter's Tavern was a fixture of Concord, NH in the eighteenth century. Inspired by their loggerhead ale, we've created a Smoked Imperial Brown Ale. Hearty malts, with a nuanced smokiness and smooth finish create our interpretation of this historic ale. We hope you enjoy this slice of New Hampshire history. 
On Thanksgiving eve, Limpd invited us over for some pre-holiday beverages (and also to try his Mom's infamous stuffing recipe, which he had baking in the oven when we arrived. All I can say about the recipe is that it requires 100 slices of Stroehmann's King Loaf White Bread. Not 99. Not 101. 100!!!). Since this beer comes in a 22 ounce bottle, I decided to bring it along for a collaborative review. The Wookie arrived after me, so he didn't get a chance to try this beer. Sorry Wookie.
Here are our impressions of this beer…
Limpd
G-LO
Appearance: Deep, deep brown. Murky. Nice Lacing. Rich, mahogany color with some ruby red at the edges when held up to the light. Minimal head.
Aroma: Baker's chocolate. Coffee. Roasted malt. Bittersweet chocolate. Dark roast coffee.
Taste: Rich, full flavor. More coffee than chocolate. Lingering coffee flavor. Lightly carbonated. Medium bodied. Very smooth and easy drinking. Roasted malt throughout. A bit of smokiness in the finish.
ABV: 8%
Overall, we enjoyed the White Birch Tavern Ale. It's an easy drinking beer that does a great job of hiding its relatively high ABV. While it's not a beer that I would go out of my way for to try again, it has definitely piqued my curiosity about this relatively new and very small brewery. How can you not be curious about a two year old brewery that already has over 50 beers listed on its website?