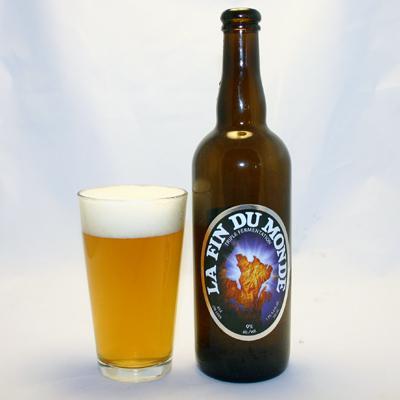 photo courtesy of thebrewbros.com
Once again at the import wall at Kress Wine, I selected a La Fin du Monde (French for "The end of the world") which is a Belgian style tripel, bottle conditioned golden ale from the folks at Unibroue. Now, this leads me to a series of digressions since Unibroue sounds a lot like Unibrow and makes me think of any number of follicley blessed individuals I've met or maybe Frau Farbissina. Also, Unibroue is French Canadian, so I recall that cheesy "French" guy and his "Woody, I'm going to steal your girlfriend!" And, I am old enough to recall the Mackenzie bros. and may want to head to the "Great White North" and say owt and call someone a hoser. Or maybe talk to Robin Scherbatsky over drinks at the Hoser Hut.
With that out of my system, I can say that Unibroue made history by becoming the first North American beer maker to use a brewing method inspired by the two-centuries-old tradition developed by Trappist monks in Europe—particularly in Belgium. The brewery was established in 1990 and grew so quickly as a world class brewer that by 2006 it had attracted the attention of Sapporo International and was purchased.
Here is what Unibroue has to say about their La Fin du Monde:
Unibroue spent 18 months developing the unique strain of yeast that now provides subtle flavours and a champagne-like effervescence to its best-selling brand; an exceptional brew that offers both subtlety and strength, with malt, fruit and spice notes on the palate, and a smooth, dry finish.
The beer's complex flavor and carbonation make it an ideal pairing for aged cheeses and succulent cuisine like scallops, fillet mignon and duck confit.
La Fin du Monde is brewed in honor of the intrepid, European explorers who believed they had reached 'the end of the world' when they discovered the 'new world' – which became known as America.
I found the La Fin du Monde to have the following characteristics…
Appearance: Dandelion, a little cloudy with light foam and good lacing.
Aroma: Sweet, oranges and malt.
Taste: Sweet, fruity with a smooth if slightly bitter finish.
ABV: 9%
This was an exceptional take on a Belgium beer. If you like a Belgium style beer, you will really like this North American beer. But, I will caution that the beer is bottle conditioned and while that may enhance the flavor, beware the dregs at the bottom of the bottle. Also, with the high ABV, this is not a session beer.
Advertisement