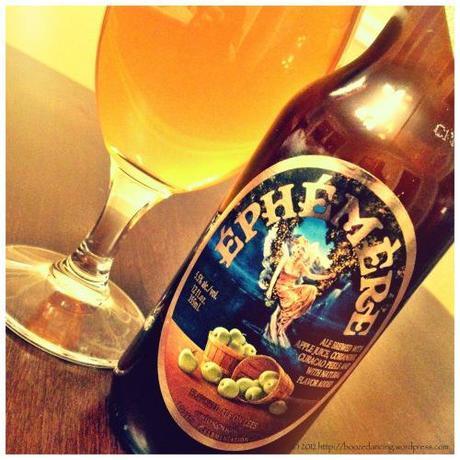 Although the Unibroue Ephémére is part of the the regular draft beer line up at The Pourhouse in Westmont, NJ, for whatever reason, I have never bothered to try it. After drooling over a recipe for Unibroue Ephémeré Apple Cinnamon Bread over at The Bake And Brew blog, I decided that I just had to try this beer, since the odds of me actually baking a dessert are pretty slim.
Here is what Unibroue has to say about their Ephémére :
Let's see if Unibroue's description of this beer is accurate…
Appearance: Golden yellow color with a pale orange tint when held up to the light. Slightly cloudy. No head or lacing. A thin ring of foam circles the perimeter of the beer and clings to the insides of the glass.
Aroma: Very fresh scent of spiced apples. Clove. Candied orange. Yeast.
Taste: Lightly carbonated. A bit thin and watery. The clove and apple come through immediately. Slightly tart with a hint of sweetness. No bitterness at all. Mouth puckering finish.
ABV: 5.5%
Looks like the brewers at Unibroue believe that honesty is the best policy. Their description of Ephémére is right on the money! If I took an Allagash White or an Avery White Rascal and mixed it with a Woodchuck Hard Cider, the end result would be this beer. Overall, I found it to be very refreshing and thirst quenching. I will definitely order one the next time I drop by The Pourhouse to see how it tastes on draft.