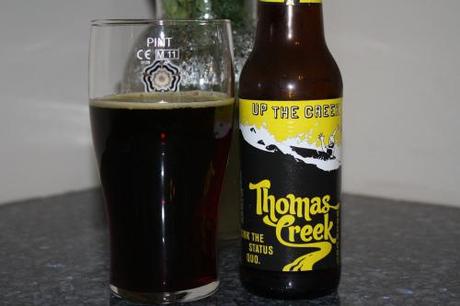 Recently Miracle Max paid us a visit. During an evening of drinking and good company, I had expressed my disappointment with the Firestone Walker Fifteenth Anniversary Ale. There was nothing really wrong with the bottle. It was just that is leaned a little too heavily on barley wines in the blend and I am not a big fan of barley wine. Fortunately, Miracle Max never arrives empty-handed and he is always looking to make a trade. So, for a bottle of Fifteenth, I received a Thomas Creek Up the Creek Extreme IPA and a bottle of Uinta Hop Notch IPA. I'm not going to discuss who might have gotten the better end of the deal. Suffice it to say that both parties were more than satisfied with the exchange.
This past Frothy Friday, I decided to open the Thomas Creek and do a little bit of research as I had never had anything from the brewer. Thomas Creek is a brewery in Greenville, South Carolina and is just big enough to provide a varied and award winning eight beer line up and just small enough to not have the room to warehouse beer. So, the beer arrives as fresh as the brewery can produce it.
From the Thomas Creek site:
 Up the Creek is mashed at a low temperature to increase the amount of fermentable sugars while reducing residual sweetness. This creates a hoppy behemoth of a beer with its alcohol well hidden. UTC is designed to be dangerously drinkable, so use caution or you'll find yourself Up the Creek!
I found the Up the Creek to have the following characteristics.
Appearance: Brown with a ruby red tinged with minimal foam and a good lacing.
Aroma: Sweet, roasted malt with hints of chocolate, hops and pine.
Taste: Like a brown ale meets an IPA. Full of caramel and malt, with a hint of burnt chocolate and a nice hoppy finish.
ABV: 12.5%
This was a very good example of an Imperial Double IPA. I thought this was just a fantastic find and if the Uinta Hop Notch is any good, I will be more than satisfied with my trade. One word of caution: Thomas Creek isn't kidding about this being "dangerously drinkable". At 12.5% ABV, I'd recommend stopping at two.