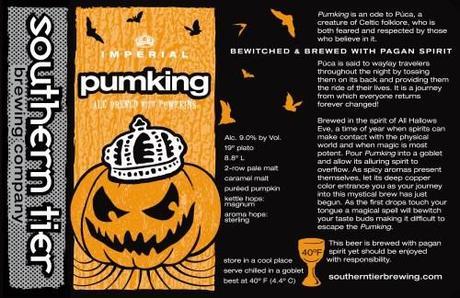 Sudsy Sunday. The Pour House in Westmont, NJ. Five guys. Eagles versus Atlanta on the plasma TVs. We each had a few beers. I had three and sampled at least three more. I was a bit indecisive, but that's ok, because the bartender will usually let us sample a beer before we commit to a full glass. Here's what I sampled:

Epic Smoked and Oaked: Smelled like an Islay Single Malt Whisky. I love Islay whisky, but it's not what I wanted.
Epic Sour Apple Saison: Everyone said it sucked before I even tried it. I thought it was an uber tart Saison, i.e. it tasted like someone poured some Sour Apple Pucker into my Saison Dupont. Not nearly as bad as everyone said, but not something I could drink alot of.
Lagunitas A Little Sumpin Sumpin: The Wookie wrote about it, and I concur with his review. It's a damn good beer!
Once I finally decided what I wanted to drink, I started off with a Flying Dog Road Dog Porter, then moved on to the Southern Tier Pumking, and ended the evening with a Great Lakes Edmund Fitzgerald Porter (definitely a Comfort Beer!). Since I've talked about the two Porters before, let's talk a bit about the Southern Tier Pumking…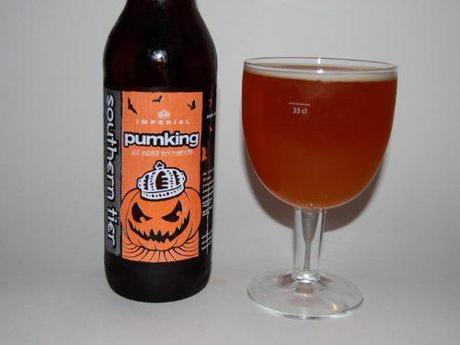 Photo courtesy of http://www.theperfectlyhappyman.com/
I've had quite a few Pumpkin Ales, but to be honest, most of them are pretty disappointing. They are either too heavily spiced, to the point of tasting artificial, or just plain boring.
Boring is not a word that I would ever use to describe Southern Tier's Pumking. It pours a pale orange color with a creamy, quarter inch head that dissipates slowly. The nose is all vanilla, cinnamon, allspice, brown sugar, and pumpkin pie. That first sip is very smooth and creamy, with an almost velvety carbonation. All of those pumpkin pie aromas carry through to the palate. It tastes exactly like a pumpkin creme brulee! This beer is so smooth that you would never know that it has an ABV of 9%.
While I enjoyed the Southern Tier Pumking, it does have one drawback. One of the guys ordered a massive plate of Famous Fries (crinkle cut french fries, spiced with Old Bay Seasoning, and served with melted American cheese on the side). Attempting to wash down some Famous Fries with the Pumking was an absolute disaster. Old Bay and pumpkin pie spices do not play nicely together. This is not the type of beer that you can drink with your meal. The Southern Tier Pumking is the kind of beer that you would have after dinner, in lieu of dessert.