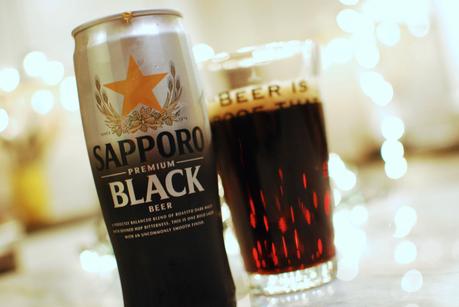 Before we get to our review of Sapporo's Premium Black Beer, let's talk a bit about the above photo. This is the last photo that I will ever take using my 9 year old Nikon D80 digital SLR. After I took this photo, my camera gave me the dreaded "Err" message. This is EXACTLY what it looks and sounds like:
As soon as this issue occurred, I scoured the interwebz for a solution...
Remove the battery for 20 seconds to "reboot" the camera? Didn't work.
Remove the lens and wipe the mount sensors with a clean, dry cloth? That also didn't work.
Bang the camera body on the murder table to jiggle something loose? No dice there either.
The next day I called Nikon customer service and they suggested that I send it in for an evaluation and possible repair. They were super nice over the phone and said that the repair would cost between $100 and $200. Given the complexity of modern digital cameras (they are essentially mini-computers that take photographs), $200 isn't all that much to pay for a repair (especially if that $200 will get me a couple more years out of the camera), but when I started to do the cost-benefit analysis, it just didn't make sense to get it fixed.
When I factor in the number of photos taken with the D80 over my 9 years of ownership (anywhere from 6 to 10 thousand photos) and the amount of money that I DIDN'T spend on film, developing, and printing (between $4,250 and $6,375 assuming $3/roll of 24 exposure 35mm film and $14 per roll for developing and printing), then one could argue that my $1,000 camera has "paid for itself" over its useful life. And when you consider that newer digital SLRs are cheaper, smaller, lighter, and better in almost every way (faster shutter speeds, better in low light situations, higher quality image sensors, etc.), getting a new camera made more sense to me, so that's exactly what I did. After reading several reviews, I settled on a Nikon D5500 camera body which was released back in 2015 and is now selling for $600 ( the new D5600 costs $700 but doesn't offer enough new features when compared to the D5500 to make it worth the extra $100). I've been playing around with my new toy for three weeks now and am happy to report that I definitely made the right decision by not getting my old camera repaired.
Now that you have that little back story, let's get back to our review of the Sapporo Premium Black Beer. Here's what Sapporo USA has to say about this beer which was brewed and canned in Guelph, Ontario:
Our first dark beer is bold and flavorful, yet smooth and crisp in the classic Sapporo fashion. Sapporo Premium Black is crafted with roasted dark malts and a refined hop bitterness that is complemented by a sweet, round fullness and distinct coffee and chocolate flavors.Sapporo Premium Black is well-suited for pairing with a variety of hearty and spicy dishes from around the world, including traditional German, Asian, Cajun and Latin cuisines and crème brûlée. Or it can stand on its own for those who appreciate a bold, robust-flavored beer.
And here's what we thought about it...
Appearance: Mahogany color with auburn highlights. Not much foam or lacing.
ABV: 5.0%
Aroma

Limpd: Dish water, pennies and dark chocolate syrup.
G-LO: Not very exciting on the nose, i.e. I'm not getting much of anything. I guess I'm getting a hint of chocolate and/or coffee, but not much else.

Taste

Limpd: Right out of the refrigerator, there is very little taste. It's cold, with a little body, but that's about it until a bit of a bitter aftertaste. I found that after I poured it out and let it sit for 20 minutes, the flavor was decidedly different. More like a stout with lots of dark chocolate and a good bit of an acrid finish. Think coffee grounds, and don't ask how I know this.
G-LO: Medium bodied with soft carbonation. Light roast coffee and some chocolate notes. All very mild. Little to no bitterness. Very short finish with a slight coffee aftertaste.
The Verdict
Limpd: I'm not sure what to make of this one. Right out of the fridge, the beer is a very mild with practically no hoppy flavor. Warmed up, the roasted characteristics come to the forefront. This gives the beer an added dimension, making it a bit more interesting; still not great mind you, but better.
G-LO: This beer was neither good nor bad. By that I mean that there is nothing offensive going on, but then again, there's also nothing to make me want to try it again. Overall, an incredibly average beer that does the job and nothing more. While the beer was incredibly average, the can is spectacular! That thing could double as a weapon.
____________________________________________________
Many thanks to Colangelo PR for sending us this very generous sample!
Categories: Brew Review, Sapporo
Tagged as: Beer, Beertography, Craft Beer, Drinkwire, Glotography, Nikon, Photography, Review, Reviews, Sapporo, Sapporo Premium Black Beer