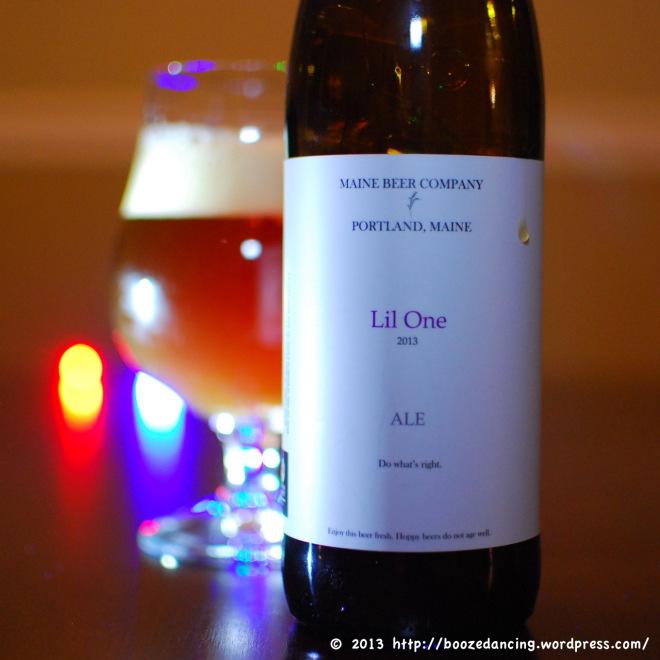 A few weeks ago, The Alemonger sent me a photo via text (for those of you that sweat the details, this happened on February 23rd at 5:01 PM) of the latest Maine Beer Company beer (i.e. Lil One) that he purchased at the Wegman's Wine and Spirits store in Cherry Hill, NJ. Until I received his text, I had never heard of this beer. I like to think that I am up on the whole Craft Beer scene, but the truth is that there is way too much going on for me to keep up.
During out brief text chat, he claimed that he TRIED to get me one, but alas, he purchased the LAST bottle in stock. Only The Alemonger knows what really went down that afternoon, and given his propensity for being tight lipped when the circumstances demand it, I suspect that I will never know the truth about the Wegman's inventory at his time of purchase. Thankfully, after a brief dinner at Pei Wei with the wife and kids a week or two after The Alemonger's text, I made a quick stop at the aforementioned Wegman's Wine and Liquor store and managed to secure a bottle of Maine Beer Company's Lil One for my very own.
Here is what Maine Beer Company has to say about their Lil One:
This is our big winter beer. Hoppy, balanced, and full of warm belly cheer. Kevin created this brew and named it after his newborn daughter. This one got brewed once this year, and we hope that it brings some light to these cold, dark months. Drink it fresh!
And now for my impressions of this beer…
Appearance: Cloudy red-orange color. Thick off white foam that maxes out at around 1.5 inches and then dissipates slowly. Clingy lacing as you drink it down.
Aroma: Rich, resinous hop aroma upfront with a fresh baked shortbread cookie sweetness coming through in the background.
Taste: Moderately carbonated with a very creamy mouthfeel. Starts off with that malty sweetness which has a cane sugar and honey like quality. The bitter hops kick in at mid-palate, but they don't dominate the flavors since that sweetness is there to lend some balance. The bitterness intensifies at the finish, but never becomes overwhelming. Dry, astringent finish with the alcohol finally showing up to say hello.
ABV: 9.1%
Maine Beer Company has done it again! Lil One is one seriously flavorful, and beautifully balanced beer. It has some serious hops for sure, but it also has a solid malt backbone to keep those hops in line. I know their beers are a tad on the expensive side (this half liter bottle cost me $7), but I think they are worth every penny. Any brewer that goes to the trouble of printing "Drink it fresh!" on one of their labels FOUR TIMES is obviously very serious about delivering a quality product to their customers. Cheers to a job well done!