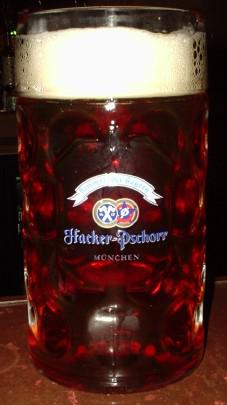 Photo courtesy of BeerBuzz.org
To end my reviews of the Oktoberfests I chose the one that started it all. The Hacker-Pschorr Oktoberfest Märzen is billed as the original Oktoberfest since it was brewmaster Joseph Pschorr who was commissioned by Ludwig I, the Crown Prince of Bavaria,  to develop special brews to commemorate the occasion of Ludwig I's wedding in Munich in 1810. The beer was so good that the party lasted for days and Oktoberfest beer was born. Today, Hacker-Pschorr is one of the six brewers allowed to serve its beer in Munich during Oktoberfest.
Here is what Hacker-Pschorr has to say about their Oktoberfest Märzen:
Bavarian barley slow roasted, caramelized to a rich, red amber color combined with the purest spring waters from the Alps, exclusive yeast and the finest Hallertau hops.
I found the Oktoberfest Märzen to have the following characteristics…
Appearance: Clear amber with light foam and good lacing.
Aroma: Sweet malt and a little hoppy.
Taste: Nice mouthfeel full of malt with a slightly bitter finish.
ABV: 5.8%
This was a very good beer. If you like the Märzen style this may be one of the best.
Advertisement