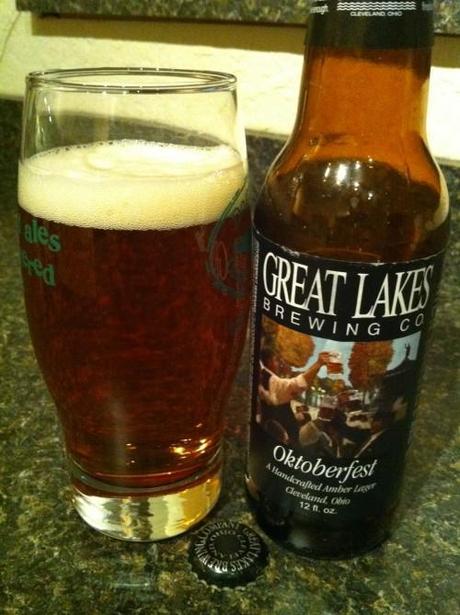 phot courtesy of www.beerblogger.com
As my Oktoberfest beer reviews wind down, I have saved one of the best for last: Great Lakes Brewing Company's Oktoberfest. G-LO has reviewed several of the Great Lakes brews, i.e. the Burning River Pale Ale, the Christmas Ale, the Edmund Fitzgerald Porter, the  Commodore Perry IPA, the Doppelrock Doppelbock Lager, the Lake Erie Monster Imperial IPA, and the Eliot Ness Amber Lager, and we have found that Great Lakes runs out a great line of craft beer. Their Oktoberfest is definitely in keeping with our prior assessments.
Here is what Great Lakes has to say about their Oktoberfest:
A nod to Cleveland's commemoration of the traditional German Oktoberfest, which dates back to the mid 1800s when German immigrants celebrated at outdoor beer gardens like Haltnorth's Garden and Kindvater's St. Clair Garden. The Oktoberfest is an amber lager with rich malt flavor balanced by fragrant noble hops.
I found the Oktoberfest to have the following characteristics…
Appearance: Clear amber with a little foam.
Aroma: A little sweet, a little piney and a little hoppy.
Taste: Rich, full flavored, well balanced. A little spicy, a little bitter with a nice finish.
ABV: 6.5%
As we have found with other Great Lakes products, this was a really good beer. This might be the best American Oktoberfest I have had.