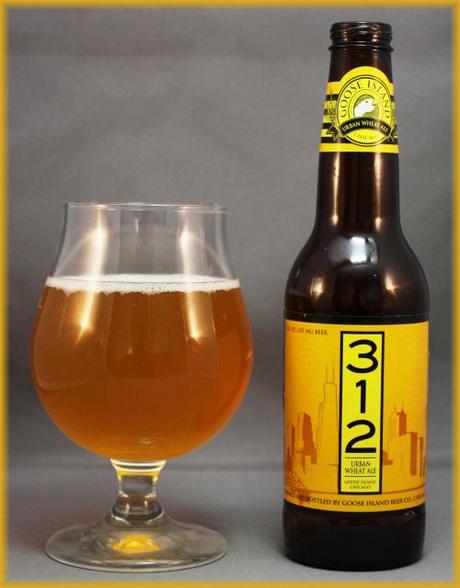 photo courtesy of the fermentedopinion.com
The other day, a business trip left me in Chicago's Midway Airport for a two hour layover, so to kill time, I thought a quick bite and a beer at Harry Caray's Seventh Inning Stretch was in order. I picked a Holy Cow Burger, a side of baked mac & cheese, and to wash it all down, I chose a Goose Island 312 Urban Wheat Ale.
Goose Island is a craft brewer steeped in the tradition of Midwestern mass produced beers. Founded in 1988 as a craft alternative, they have rolled out an impressive lineup of beers including the Sofie and the Matilda. Last year, Anheuser-Busch upped their ownership from a 32.25% share of the Craft Brewers Alliance's 40% share to an outright purchase of all of Goose Island. This purchase has been viewed with great hesitation as the balance between Goose Island's craftiness and Bud's mass production is something of a fine line. While the availability of Goose Island is now open to the Bud's distribution channel (this is a good thing), I am left to wonder what might be lost in the mix.
Here is what Goose Island has to say about their 312 Urban Wheat Ale:
Inspired by the city of Chicago and densely populated with flavor, 312's spicy aroma of Cascade hops is followed by a crisp, fruity ale flavor delivered in a smooth, creamy body that's immensely refreshing.

I found the 312 to have the following characteristics…
Appearance: Golden straw with a fair amount of white foam and good lacing.
Aroma: Sweet,  malty, wheaty with a hint of floral.
Taste: Wheaty and floral with a little bite of hops and a sweet finish.
ABV: 4.2%
While the 312 was a great complement to the burger and mac & cheese, it wasn't all that remarkable. It was good, flavorful, and refreshing, but I guess having loved the Matilda, I expected a little more oomph.