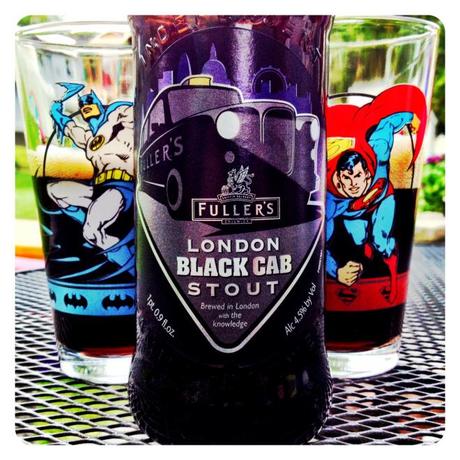 While in search of the Samuel Smith Apricot and some Magner's Pear Cider, I hit the English wall at Kress Liquors and picked up a couple of bottles of Fuller's Black Cab Stout. I have had a number of beers from the Fuller's lineup  (the Fuller's ESB, the London Porter, the London Pride, and the Gale's Prize Old Ale), and engaged in a discussion regarding aging when I came across a 2010 Fuller's Vintage Ale (and put the theory to the test with 2009 through 2011 bottles). So, the folks at Fuller Smith & Turner are not an unknown. The Fuller's London Black Cab Stout is classified as an Irish Dry Stout and is rated as a very good example of the style (Top 40) by Beer Advocate. While known for the London Pride, Fuller's is the only brewer to have had three of their beers (London Pride, ESB, and Chiswick Bitter) named Champion Beer of Britain.
Here is what Fuller's has to say about their Black Cab Stout:
Brewed with a combination of five different malts, some heavily roasted for a near jet black appearance, Black Cab Stout is 4.5% ABV and beneath its dark exterior features luxurious red berry notes, toasty aromas on the nose and culminates in a dry, bitter finish.
Let's get on with the review…
Appearance: Chestnut brown with lots of tan foam.
Aroma: Roasted chocolate malt and dried fruits (raisins, dates).
Taste: Creamy with light carbonation, lots of chocolate flavor (Ovaltine) and the aforementioned dried fruits.
ABV: 4.5%
While not as good as the ESB, the Porter or the Pride, the London Black Cab did not disappoint. This was a very drinkable and very refreshing beer with lots of sweet chocolaty flavor and just a slight hint of coffee in the finish.