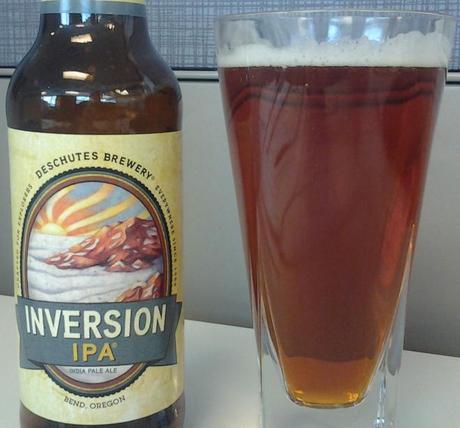 At work, we have tried to celebrate the end of our work week with Beer Friday. Each Friday at quittin' time (or maybe just after lunch), we head over to the kitchen and partake of whatever fine libations are available. Of course, as we are responsible for buying our own beers, our efforts are met with varying success. Some weeks, we are met with Budweiser or Leinenkugel's Summer Shandy. Other weeks, we have had Founders Double Trouble, Great Lakes' Alchemy Hour or the North Coast's Old Rasputin. So clearly, some weeks are better than others. Anyway, on this particular Friday, I was met with Deschutes Brewery's Inversion IPA. Deschutes is a craft brewer founded in 1988 and located in Bend, OR. They brew six year round beers (including the Inversion IPA and the Chainbreaker White IPA), three seasonal beers, their Bond Street Series (4 beers) and their Reserve Series (limited edition of certain specialty beers).
Here is what Deschutes has to say about their Inversion IPA:
Paradise is stumbling upon our whole flower hop room and inhaling. Inversion IPA is as close as you can get without knowing somebody. Enter, if you will, all the glorious aromatic complexity of the hop. This big, bold IPA's intense multi-hop kick gets a subtle dose of restraint from select Crystal and Carastan malts. For discriminating hop heads.
I found the Inversion IPA to be…
Appearance: Amber with tan foam.
Aroma: Malty, doughy with a good amount of hops.
Taste: Creamy with a big blast of hops that lingers into the finish.
ABV: 6.8%
I really enjoyed this one, a West Coast IPA for sure; but not hopped to the point of becoming a pine cone. This was a great way to end a work week.