Absolution Brewing Company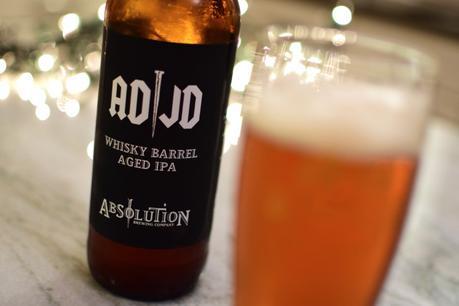 As far as I know, you can't get the beer in the above photo anywhere on The Eastern Seaboard. Unless of course you know a guy. Which I do!
Our very own West Coast Office just happens to live in the same town as Absolution Brewing Company (Torrance, CA. GO TOROS!), so when he saw this beer on the shelves at his local store, he was kind enough to pick up a bottle and ship it my way. The WCO and I were lucky enough to visit this brewery during my first visit to the South Bay and really enjoyed our time there, so when this beer found its way to my front porch, I was pleased to have the opportunity to sample more from this brewery without the inconvenience of having to fly back to the West Coast.
Before we get to my review, here's what the good people at Absolution Brewing Company have to say about their AD/JD Whisky Barrel Aged IPA:
AD/JD IS MAKING A ROCKIN RETURN
October 5, 2016 - You've been asking for it so it's back! AD/JD our WHISKEY BARREL AGED ENGLISH IPA is back for the fans! For those not familiar with this beer, we take our English IPA and Age it in our Jack Daniels barrels to give that oh so extra smooth finish we love! Come in on Friday, October 7th to celebrate BA(Barrel Aged) beer day and enjoy the release of AD/JD. Very limited quantities will be up for sale in bottles that day. Cheers!
Appearance: Looks like sunset over Redondo Beach on a hazy day in October. Fluffy, off-white foam that tops out at around an inch and then settles down to about a quarter inch. Lots of lacing remains as you drink it down.
Aroma: Mellow citrusy hop notes. Some yeasty bread dough. A bit of candied orange peel.
Taste: Smooth and creamy mouthfeel with velvety soft carbonation. Lots of mellow citrus notes at the start that come across as being more lemony than orangey. A bit of hoppy bitterness in the middle, but not overly so, i.e. it's more of the pithy variety of bitterness. As far as the whisky barrel influence goes, when I first poured it , I didn't get much of a whisky flavor other than a slight whisky-ness in the aftertaste, but after letting it warm up (it takes awhile to drink a 22 ounce bomber on your own!), a bit of barrel char flavor showed up. The finish is slightly dry with a bit of tartness.
ABV: 7.2%
______________________________________________