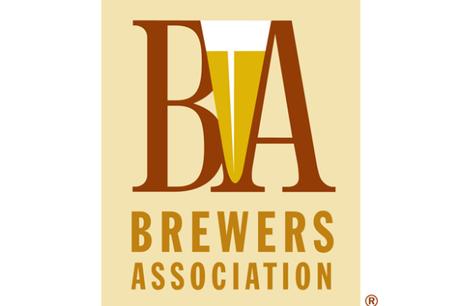 What's going on here? Read this post to find out. All charts below are clickable to enlarge.
Campaign finance, from 1989 through Q2 2014: $900
Lobbying:
All time: $1,892,618
2013-2014: $739,969
2013-14 spending was 39.1 percent of all time amount
Source
2013-2014 Cycle


Contributions:
Lobbying:
Since 2005: $1,764,840
2014: $394,597
Source (note that this website had different totals from the one above)
Contributions from the Brewers Association are obviously still fairly new, which is why the organization has fewer charts than others. The Brewers Association, which first spent money on lobbying in 2008, according to this site, hired its first full-time lobbyist in 2015.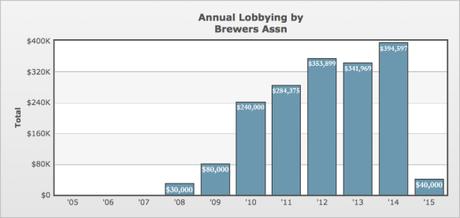 Via Open Secrets:
In 2014, the group spent $394,597 to lobby the federal government. Its second-biggest lobbying year was 2012, when it paid out $353,899. According to CEO Bob Pease, up until this year he and individual breweries have spearheaded the Association's lobbying effort.
For 2014, the lobbying activities percentage of non-deductible dues pertaining to tax returns was 14.9 percent. Based on the dues structure of the Brewers Association, it's a relatively small amount for most U.S. beer makers. That lobbying amount counts for $29.05 for brewers making up to 500 barrels and $43.96 for those making 501 to 2,500 barrels.
Legislation of Interest
As you may imagine, the BEER and BREW acts draw significant attention from the association, which also lists its position statements on its website regarding:
Transparency in Labeling
Transparency in Brewer-Distributor Relationships
Independent Three-Tier Beer Distribution System
Brewery Direct to Customer Sales
Alcohol Content in Beer
Franchise Laws/Access to Market
Independent Wholesalers
Excise Taxes
Underage Drinking & Driving Under the Influence
A couple points of interest from these positions:
"Transparency in Labeling" can be attributed to the creation or purchases of "craft" breweries by large companies. You don't need to look far for an example, considering the recent lawsuit brought against MillerCoors regarding Blue Moon.
The "Independent Three-Tier Beer Distribution System" position is a beast unto itself, but can mostly be seen in terms of in-state politics, where debate over self-distribution and brewery-distributor relationships can be a hot topic. It ties in directly with "Brewery Direct to Customer Sales."
Of the three trade groups included in the Beer Money series, the Brewers Association makes it easiest for individuals to get involved, providing numerous ways to take action on their website on issues like the BEER and BREW acts.
Beer Money series:
Bryan Roth
"Don't drink to get drunk. Drink to enjoy life." - Jack Kerouac