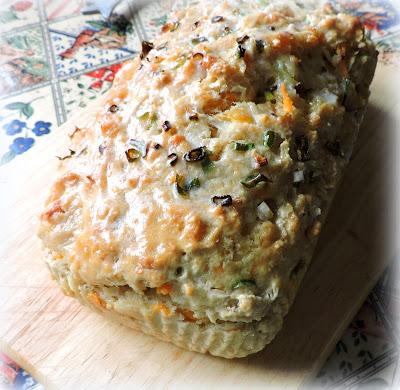 I have always wanted to try Beer Bread.  We don't drink alcohol in this house for religious purposes, but I do cook with it every now and again.  I like to make a beef batter for my fish and I add some wine to stew and even guiness from time to time. When I saw the contents of the April Degustabox, I decided there was no time like the present to bake a Beer Bread!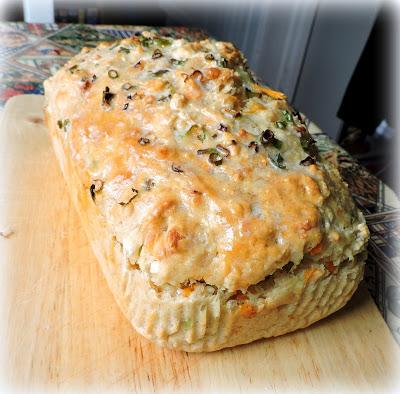 I got the recipe from an old newspaper clipping that I had filed in my Big Blue Binder years and years ago and it looked like a pretty sound recipe, so tht is the one I used.  It turned out fabulous.  The perfect recipe for showcasing one of this month's products, more about that a little bit later, first I want to tell you about Degustabox and what else was in the box.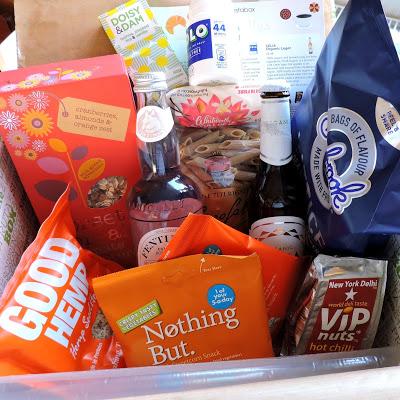 Degustabox is a monthly foodie subscription service that sends out a range of specially selected foodie products. There's always a great mix of new products that I haven't tried before, as well as plenty of treats from more established brands. Quite often you will have the opportuity to try new products before they arrive in the shops, so it can be a bit of a sneak peak! Each Degustabox costs £12.99, delivery costs are included in the price, and there is no fixed contract involved - you can cancel at any time. I love getting these boxes. Its a little bit like Christmas for me when the box arrives every month. Here is a little bit about the April Box I received.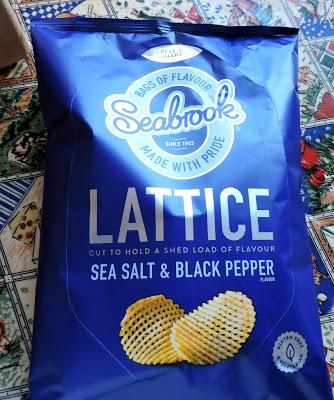 SEABROOK CRISPS Lattice Sea Salt and Black Pepper 1 X £1.50 -£1.99
 For us a premium crisp is more than just a snazzy pack. For a Seabrook crisp to make the cut, it has to be cut just right. So these Lattice crisps are sliced both ways to hold even more Sea Salt and Black Pepper flavor and give you a crunch like no other. We think they're the most flavoursome crisps you'll ever eat, a bold claim perhaps, but if you know anything about Seabrook, you'll know flavor is what we're all about. So enjoy the experience. 
These were really good, not greasy at all.  I opened them up the other day when we had Val and Steve here for lunch and they were very much enjoyed!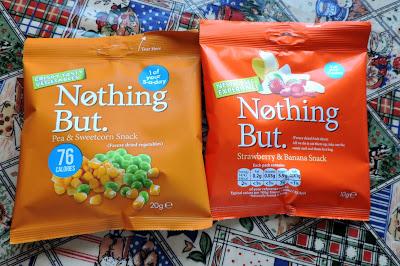 NOTHING BUT 2 X £1.20 
 Snack packs of freeze-dried fruits and vegetables, containing nothing but 100% wholesome ingredients.
Available in six scrummy flavours (three fruity ones and three veggie ones), all of which are suitable for vegetarian, vegan and gluten-free diets, Nothing But healthy snacks can be enjoyed on the go, added to breakfasts, or sneaked when no-one's looking so you don't have to share (just kidding…maybe…)
And because our ingredients undergo a special process called freeze-drying, rather than being baked or fried, all that's removed is the water. Lots of lovely vitamins and flavours are retained for a super healthy snack that never compromises on taste - perfect if you want something that strikes the balance between delicious and nutritious.
 Two of three flavours were included in each Degustabox. I received the Pea & Sweetcorn and the Strawberry & Banana.  Both were very tasty and made for a deliciously different snack.  I enjoyed the fruity one on my breakfast oats two mornings in a row!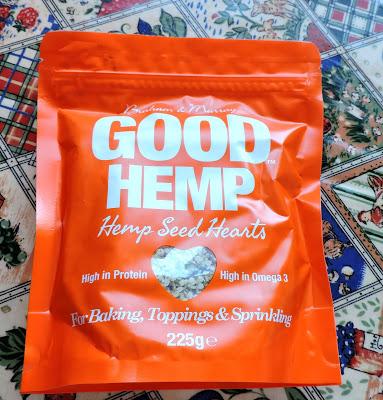 GOOD HEMP Hemp Seed Hearts 1 X £4.49
 Good Hemp Seed Hearts are pure, unrefined hemp seed kernels with a delicious light nutty flavor.
Packed with goodness they are the true 'Super Seed', naturally high in Protein, Fibre and Omegas 3. The Omega 3 in hemp seeds is the best sort of Omega 3 which can easily be absorbed by our bodies unlike most plant sources. In fact a 30g serving of Good Hemp Seed Hearts contains more Protein and Omegas than the same serving of Chia or Flax seeds.
The protein in hemp seeds is also one of the nearest in profile to animal protein as it is a complete protein which contains all the essential amino acids that our bodies need but cannot product themselves so must obtain from food. 
- 100% Natural. Nothing Added.
- High in Protein.
- High in Fibre.
- High in Omega 3.
- Natural source of Omega 6 GLA - 400mg per serving (the same as 2.5 capsules of Evening Primrose Oil).
- Contains all Essential Amino Acids.
- Free From Nuts, Gluten & GMO.
- Suitable for Vegetarians & Vegans. 
Available now at www.goodhempfood.com & Ocado. In Sainsbury's stores from June 2017. We have also been enjoying this product sprinkled on our breakfast oats.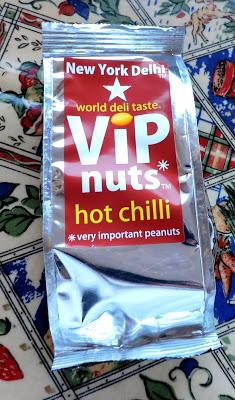 ViPNUTS (Hot Chilli) 1 X £1.25
 Introducing New York Delhi's 'ViPnuts' – the gourmet peanut brand. Our unique take on one of the world's favorite snacks.
Hot Chilli is the one for the chilli lovers out there – this is not an imposter like so many – this really does not disappoint if you yearn for that chilli kick and depth of flavor then this is the one for you. Deliciously and not dangerously hot!These nuts also come in a Hot Toffee flavor.
Oven baked, natural, highly nut-tritious and delicious! If only every nut could be a ViPnut…
These really packed a wallop!  If you like hot and spicy, you will love these.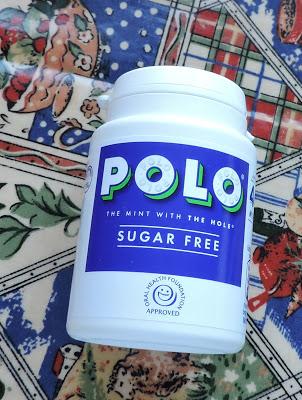 POLO Sugar Free Pot 1 X £1.49
 The POLO®'s you've known and loved since 1948 are now available in a handy convenient pot for on the go.
POLO® mints are flavoured with natural mint oils to refresh your breath and the POLO® Sugar Free range is accredited by the Oral Health Foundation® as being kind to teeth. 
The Diabetic in me was well pleased with me and I loved the convenience of being able to carry it in my purse.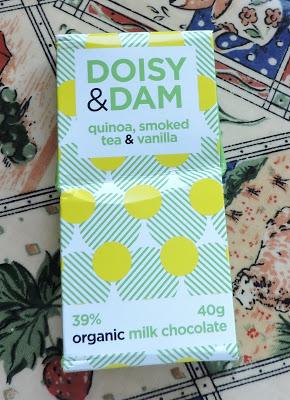 DOIS & DAM'S QUINOA, SMOKED TEA & VANILLA CHOCOLATE 1 X £1.75
Each superdelicious bar of Doisy & Dam chocolate is lovingly hand-crafted in the UK using the best quality, organic ingredients, ethically sourced from all over the world. Our lip-smackingly good chocolate is gluten-free, soya-free, vegan (dark range) and jam-packed full of nature's superfoods. Carefully combined with the smoothest Dominican cacao, superfoods such as goji berries, lucuma and quinoa are transformed to bring us a wonderfully indulgent treat with a unique taste and texture.
This was certainly different!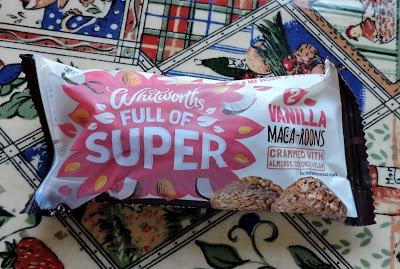 WHITWORTH'S Full of Super Vanilla Maca-roons 1 X £1.50
Whitworths VANILLA MACA-ROONS are crammed with almonds, flakes of coconut, golden flax seeds and agave nectar. What's more they're naturally high in FIBRE and Pantothenic Acid (which aids mental performance), gluten free, soya free and are suitable for vegetarians.
Available in 50g packs (2 maca-roons), from selected Tesco stores - see our stockists list for your nearest store. 
What can I say?  We love Macaroons and these were very tasty!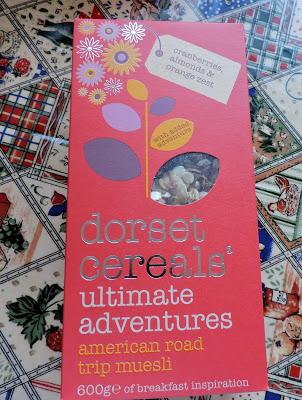 DORSET CEREALS Ultimate Adventures American Road Trip Muesli 1 X £4.89
 Life's not a dress rehearsal. Join us on a foodie journey as we travel the world in search of new and exciting tastes and textures… in our Ultimate Adventures collection.
Our machu picchu flavor is an adventurous inca trail-inspired blend of oats and barley with brazil nuts, golden berries and a taste of coffee.
Our american roadtrip flavor blends cranberries, almonds and orange zest – inspired by Route 66.
We've traveled the world to find the best textures and flavours, and brought them home.
We both love, LOVED this.  In fact this is the muesli I used in my cookies yesterday.  Also we love Dorset Cereals full stop anyways, and I buy them all the time. This American Road Trip flavor was great!

 
 GAROFALO Whole Wheat Penne Pasta  1 X £2.19
A pleasure to eat, Garofalo organic whole wheat Penne Pasta is rich in aromas and unique in taste and texture. Made with unprocessed whole organic durum wheat means that its natural bran, germ, fibre, vitamins and minerals remain intact; giving many health benefits. And it cooks in just 11 minutes!
Penne are probably the most popular tubular pasta types around. The word Penne means "quills" and refers to straight tubes of pasta cut diagonally at the ends (like a quill pen). Rigate means "ridges" which helps hold more sauce on the pasta than the smooth penne type.
Penne makes excellent and versatile pasta for many applications because of the very practical design. The angle cut of the end makes a large surface area for sauce to fall into and be drawn up the tube which means they are great for pairing with thick tomato sauces, meat sauces, chunky vegetable sauces, and thick cream sauces.
Garofalo Whole wheat Penne is Organic, suitable for vegetarians and vegans and it is certified Kosher.
As a Diabetic I only use whole wheat pasta and this was exemplary in flavor and texture.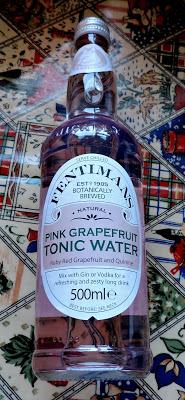 FENTIMANS Pink Grapefruit Tonic Water X 1
 Made with ruby red grapefruit and quinine for a tonic that is refreshingly dry and crisp. Mix with Gin or Vodka for a refreshing and zesty long drink. No artificial sweeteners, flavourings or preservatives.
Aroma:
Subtle notes of fresh grapefruit combine with a hint of orange to offer a hint of what's to come.
Botanical flavour:
A complex combination of distinctive lemongrass, heady juniper berry, invigorating kaffir lime and uplifting orris root provides the base of this zesty tonic water. Sharp and aromatic quinine awakens the palate followed by fresh grapefruit, as though enjoyed freshly sliced from the fruit itself. 
 After notes:
Fresh, tangy and luminously sweet grapefruit is prominent, continuing the complex melody of flavours and leading to a welcoming dry finish.
This was included in the non-alcohol versions of the Degustabox.  I have enjoyed it simply over ice.  I love the fresh flavour!  I like Fentimans anything anyways.


 
CELIA Organic Lager 1 X £2.49
 Introducing CELIA Organic - naturally carbonated beer with the benefit of being gluten-free.
100% organic and brewed using just three ingredients, CELIA Organic is a premium craft Czech lager ideal for even the most discerning lager drinker.
Moravian malt sourced from the Bohemian region, 100% locally sourced organic Saaz hops and sand-filtered water from the Žatec foothills combine to create a delicious, refreshing lager with a delicate bitterness and a hint of citrus, which also has the added benefit of being gluten free.
CELIA Organic is #BrewedForFood, pairing perfectly with herb-roasted chicken, grilled meat or subtle seafood dishes.
"The floral aromatic Saaz hops are an ideal match for a fresh seafood dish" – Martin Vozar, CELIA resident chef.
CELIA Organic is traditionally batch brewed for over two months in a small micro-brewery housed inside the castle walls of the historic city Žatec in Czech Republic. Every batch of CELIA is brewed using a patented de-glutenisation process which gives the beer the benefit of being gluten free, whilst a silicon filtration technique means CELIA is also suitable for vegans. In addition, a natural carbonation process is used to give the beers a light mouth feel, without compromising on taste.
CELIA Organic Lager is available from the Free From section at Tesco and Waitrose stores nationwide, Tesco and Waitrose online, Ocado and selected Oddbins, Booths and Whole Foods stores. 
And of  course this was the product I chose to highlight with a recipe!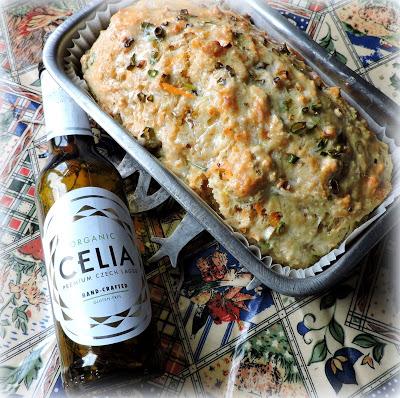 I have to say that it smelled very nice, and quite beer-like.  Since I don't drink alcohol, I can't remark on its taste as a beverage but it did work very nicely in this Beer Bread recipe!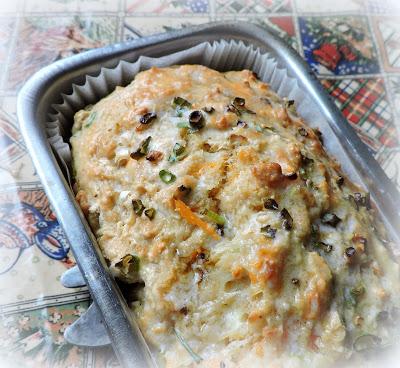 This is a really simple recipe.  Its as simple as mixing the dry ingredients together and then stirring in the beer with a wooden spoon.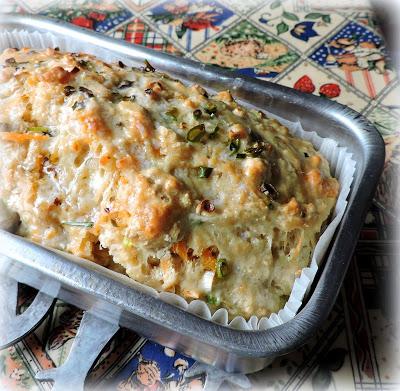 It goes together really quickly and easily!  It also bakes really quickly as well.  You can have it mixed, baked and on the table in less than an hour.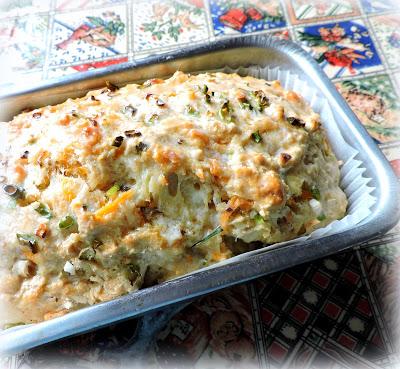 It goes fabulously with soups and stews.  The original recipe did not call for the spring onion or the garlic and onion powders.  I thought that they would be great additions and I was right.  They worked beautifully!  This was delicious!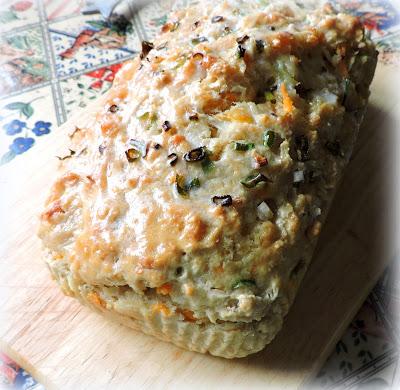 *Beer, Cheese & Onion Bread*Makes one 9 X 5 inch loafPrintable Recipe  
This makes a great side dish to soups and stews, or with a salad.  Lovely toasted as well. 
420g of plain flour (3 cups)120g of grated strong cheddar cheese (I use a mix of dyed and undyed for colour)4 spring onions, trimmed, washed, dried and chopped1 tsp garlic powder1 tsp onion powder1/2 tsp salt3 TBS sugar1 TBS baking powder1 (330ml) bottle of lager (12 ounce, beer)1 TBS butter, melted to finish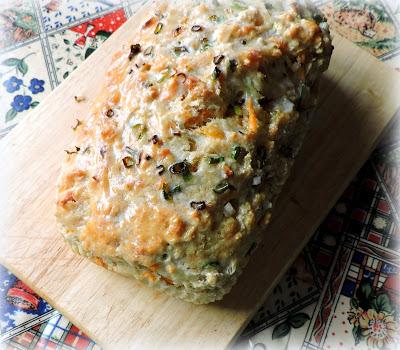 Preheat the oven to 180*C/350*F/ gas mark 4.  Butter and line a 9 X 5 inch loaf tin with parchment paper.  Set aside. 
Whisk the flour, garlic powder, onion powder, salt, sugar and baking powder together in a bowl to combine.  Stir in the cheese and onion.  Make a well in the center and pour in the lager.  Stir together with a wooden spoon to blend.  Spoon into the prepared pan.  Its okay for the top to look a bit craggy.  ( I reserved a bit of the spring onion to sprinkle on top.)
Bake for 35 to 45 minutes, or until the sides are beginning to pull away from the pan and a toothpick inserted in the center comes out clean.  Brush the melted butter over top and let stand in the pan for 10 minutes, before tipping out onto a wire rack.  Allow to cool for about 10 more minutes before slicing to serve.  
Beautiful served warm with some butter for spreading. Store any leftovers in an airtight container and use within a day or so for optimum taste and texture.  Any leftovers (as if!) are brilliant toasted.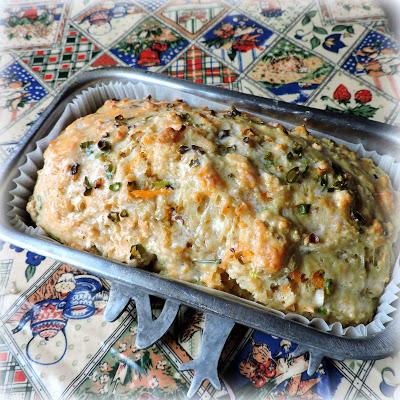 Many thanks to Degustabox UK for sending me this box. I have to say I really look forward to getting my box each month. There are always lots of things in it to enjoy and new products to try out. I highly recommend. You can also tailor the boxes to your own likes and dislikes by filling in your own Taste Profile. If you like the sound of the Easter box, you can obtain yours now here . Do check out the Degustabox web page for more information and details.   I can also offer you a discount code this month.  Just use 2EKEZ  and get your first box at a reduced price!​
Follow them on Facebook 
Follow them on Twitter