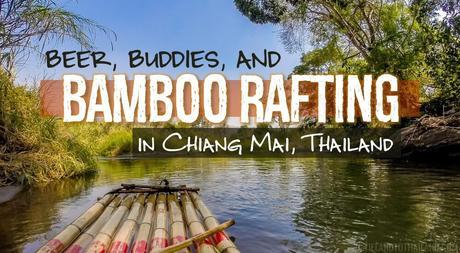 Something we've wanted to do for a while now (we had known about the activity even before moving to Thailand) was to take a day trip and go bamboo rafting in Chiang Mai's countryside. When a group of friends suggested that we join them for a lazy river trip through the jungle just after the hot season rolled in, it sounded perfect.
The way we saw it, bamboo rafting was the Thai equivalent of river tubing, which happens to be a summer pastime of ours when we lived in the USA. We'd round up a few people, grab a cooler of beer, and spend an afternoon floating down a slow moving river. So that's what we ended up doing with several friends, only this time we did it Thai style.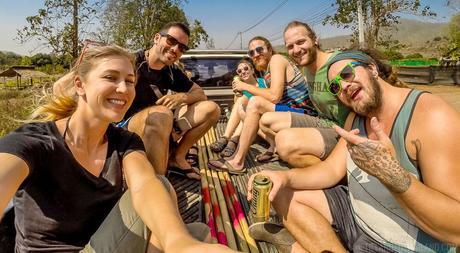 One of the popular spots to go bamboo rafting in Chiang Mai is the Mae Wang (or Wang River, pronounced 'wahng'), which is about an hour's drive southeast away from the Old City toward Doi Inthanon. Our songthaew driver dropped us off at the entrance of Chai Lai Orchid. Just left of its entrance was a little no name shop where we paid and arranged for our bamboo rafting trip. After handing over some cash, we hopped in the back of a pickup truck and took a short ride to a big shack in the jungle that housed about a dozen bamboo rafts.
We were quoted 500 baht for a raft with a Thai guide and 300 baht per raft if we wanted to steer the rafts ourselves. Each raft can hold four people, five if the water level in the river is high.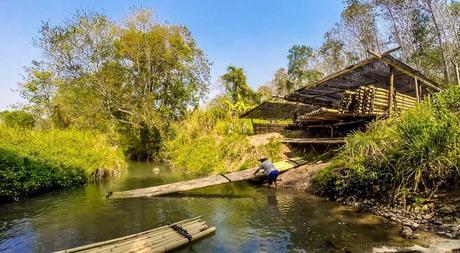 The bamboo rafts were HUGE and around 25 feet (7.5 meters) long. They were pretty basic and made of several thick bamboo stalks that were bound together with some rope and strips of rubber. We were handed two long skinny poles for each raft to propel ourselves down the river gondola style and then sent along our way.
The river was very shallow (only few inches deep in some places) but the water was refreshing and not too cold. The jungle's trees and grasses came up to the waterline so we were in the cool shade for much of the trip.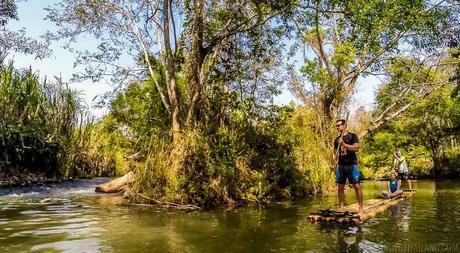 One thing we had worried about was how comfortable we'd be sitting on the hard rafts and if we'd be getting wet at all. It's not at all like the cushiony inner tube we were used to back home, but it wasn't uncomfortable sitting on the bamboo raft and getting our butts and feet wet kept us cool.
Even though this is a water activity and we all wore our bathing suits, we kept our shirts on. Since Thailand is a modest country, it's best to stay covered up.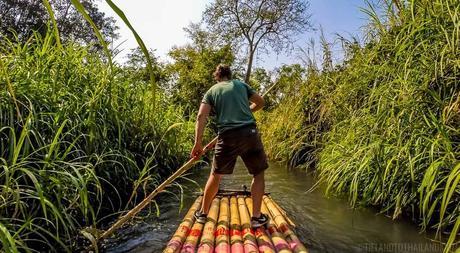 At one point in the river there's a sharp bend and a huge rock to the right. It's actually just before the first rope bridge that hangs over the river. We pushed our rafts onto the sandy bank on the left side and a few members of our group did some cannonballs into a deep spot in the river, much to the amusement people passing by. If you follow us on Periscope you probably caught our live stream video of our bamboo rafting adventure. You can follow our friends Andy Dew and Elias Russell for even more Chiang Mai Periscopes.
There were several twists and turns in the river and shallow spots that we had to skillfully maneuver around, so we found that it was easier if two people steered the bamboo raft. One person stood in the front and one stood in the back even though the Thai guides steered the rafts on their own. We all took turns guiding the boat and got a good workout from the challenge. It was interesting to see how the bamboo raft flexed and bent through tight spots, too.
We'd recommend getting a Thai guide to steer your raft if you are traveling with young children or if you do not have the balance or the upper body strength or mobility to maneuver the raft yourself.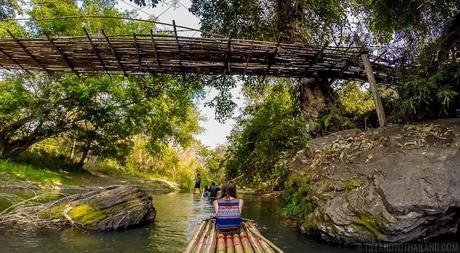 This trip was a fun excuse to have a few afternoon beers. We didn't see signs prohibiting alcohol and they even sold us beer from the same shop where we paid for the bamboo rafts, so we figured it was ok to drink on the river. We brought along cans of beer during our lazy river outing and saw several other rafters doing the same. We were glad to see that everyone kept track of their empties and didn't throw them in the river. Thanks for keeping Thailand beautiful!
Near the end of the trip we saw a momma elephant and her baby bathing in the river! We were too far away to get a good photo with our camera but there are several elephant camps along this river so there's a good chance you'd see these giant animals, too.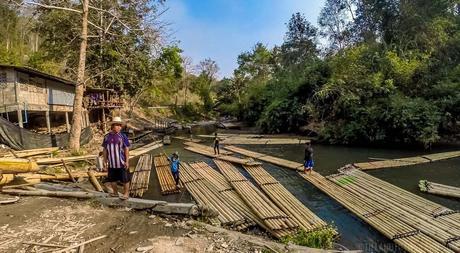 We rafted for about two hours (including our stop at a rock) before passing a series of restaurants and coming to the end point. You'll know you're done because there will be dozens of other rafts floating in the water and several people hauling them out and onto trucks. Basically, you can't go any further!
Bamboo Rafting Packing List
If you bring drinks or snacks, pack an empty plastic bag to collect the trash
Even though it's shady, wear sunblock
Bring a dry bag for electronics
Bring a change of clothes; at the very least, bring a fresh pair of bottoms to ride home in because your bum is guaranteed to get wet during this trip
Wear waterproof sandals because chances are you'll be walking the river a bit (when first getting on the raft and then again anytime it gets stuck); flip flops are ok but are not the best choice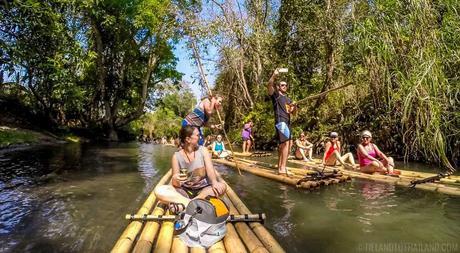 This activity is offered by many day tours but we went on an independent trip. The entire trip lasted about seven hours. The cost of a round trip songthaew, bamboo rafting, beer, and lunch was just under 5,000 baht total or about 715 baht (20 USD per person) for our group of seven people. Yay for cheap summertime fun!
If you're hungry, don't be afraid to grab a bite to eat at one of the restaurants along the road just a hundred meters or so before you get to the Chai Lai Orchid sign (you must walk pass them after you've exited the river). The restaurants might not look like much but the food was delicious. Our favorite dish was an Isaan style whole fried fish ( lahb blah tub tim grawp or ลาบปลาทับทิมกรอบ) tossed with a tangy hot chili sauce, mint, red onions, and ground rice. We've eaten our best Thai meals at small, unassuming riverside places like this one that don't water down the flavors. It was spicy but so worth it!
How to Get to Bamboo Rafting in Chiang Mai (Mae Wang)
Although we hired a songthaew driver for the day, it's easy to get there on your own by car or motorbike. The end point is a small no name shop directly left of Chai Lai Orchid, so that's the best landmark to use with Google Maps. It will be on your left hand side. If you take your own vehicle, you can park it in the shade under the awnings that are directly across the street from Chai Lai Orchid.

Chris and Angela sold everything, paid off their debt, and ultimately figured a way out of the nine to five grind in the United States. Today they are living full time in Chiang Mai, Thailand, guiding and inspiring future expats towards amazing lives abroad! For more updates follow them on , , and . To see a full list of posts check out the .