In e-commerce business most of the time online sellers only focus on getting traffic to their online store. But wait, do you think only traffic will help you in finding potential customers?
Getting traffic is good but you should know how to convert your visitors into potential paying customers. Instead of going for high traffic you should go for converting a high percentage of your traffic so that you can generate more revenue.
In order to build a profitable online business, we need to focus more on potential customers rather than focusing on getting more traffic.
If you're one of them who owns an e-commerce business and not getting sales and conversion then don't worry. We are here to introduce you a conversion platform that can help you in increasing your conversions and sales.
In this case, you need to do something extraordinary and take help of various apps and platform in order to stand out from the crowd.
Here comes Beeketing- A powerful and complete marketing automation for an e-commerce business that is designed to convert your visitors into potential paying customers.
In this post, we have featured Beeketing Review 2019 that includes all the detailed insights about its pricing, apps, features functionality and more. Let's get started here.
Beeketing Apps Review 2019- A Complete e-commerce Marketing Automation
About Beeketing
Beeketing is a powerful all-in-one marketing automation tool for e-commerce in order to convert your visitors into your potential customers. Get stronghold in your e-commerce business as this platform is backend by AI.
Basically, Beeketing app is more of an e-commerce API app that generally tracks your visitors immediately when they land on your store. Once it captures a visitor then it will find its ways to your visitors to potential paying customers.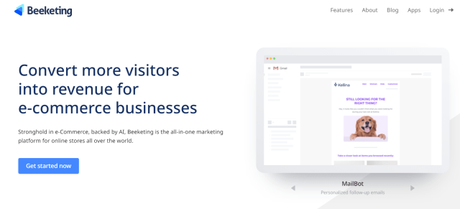 With Beeketing you can easily convert more visitors into revenue for your e-commerce business.
Beeketing Apps can be game a changer for your e-commerce business as here it's specially designed to help online sellers creating marketing campaigns effectively and most especially right through automation for their online stores.
Beeketing platform comes with more than 10+ built-in features or Apps like the Boost Sales, Sales Pop, MilBot, Better Coupon Box, Mobile Converter, Mailbot Email Marketing, Checkout Boost and more.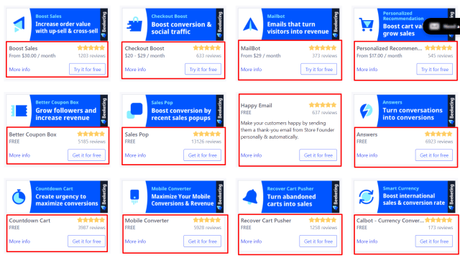 Using this platform you have the ability to sell effectively like Amazon. That will help you in tracking and analyzes customer behaviors right on a website in order to discover your customer's personal interest.
On the other hand, it also cross-sells and up-sells simply by analyzing sales history then it will automatically send better sales emails to your buyers. It will start introducing the product that matches your visitor personal interest in order to make them buy more products.
Beeketing Integration
Beeketing Apps & Features
Generally, Beeketing Apps has more than 12 apps that you can use to optimize your e-commerce website and generate sales. Let's check out each one of them in detail. Let's get started with Beeketing Apps Review:
1) Sales Pop (Free)
Basically, it's a pop-up App that generally offers sales pop-up notification right for e-commerce business and online stores. With this app, you can easily boost your sales and build trust right on your brand right with social proof.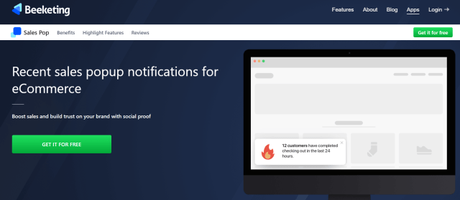 More than 90,000+ e-commerce websites generally use sales pop in order to grow their business. Using this app you can create social proof right with recent sales notification. Here this Sales Pop App syncs right with your store's data to sim3ply turn recent order right into sales notification to simply promote all of the purchase activities on your storefront.
You can easily leverage the power of social proof, Sales Pop will definitely convince your visitors to start making a purchase from your brand with trust and confidence.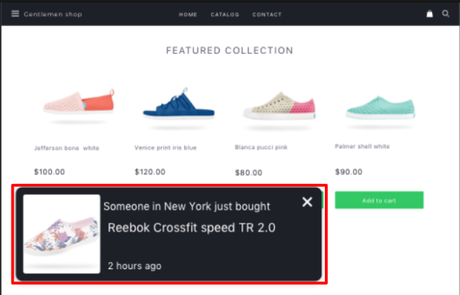 Benefits of Using Sales Pop:
Key Features of Sales Pop:
Free Holiday Themes
Beautifully Responsive Designs
Better User Experience
Highly Customizable Notifications
Super easy to install and manage
2) Boost Sales (From $30/Months)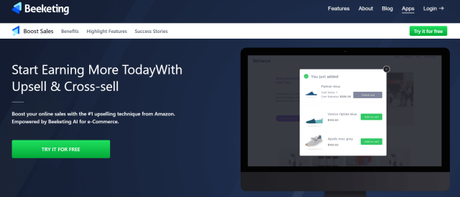 Using this app you can add extra revenue to your e-commerce websites all over the world. We all know that upsells empowers you to simply suggest customers higher-end alternatives or the relevant products so that one can easily increase average order value right from all orders.
The popup will appear when a visitor adds an item to their cart and then it will upsell them a list more flexible options that they might be super interested in. It will automatically use Beeketing AI to automatically pick up all of the most appropriate products based right on your customer's shopping experience and that will help you in increasing your revenue and sales.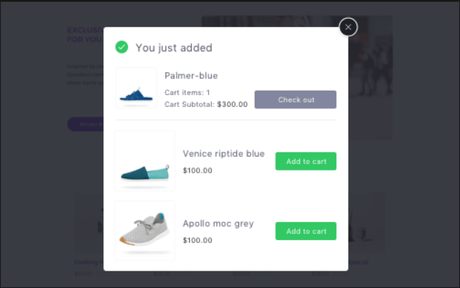 Benefits of Boost Sales App:
Key Features of Boost Sales App:
3) Checkout Boost ($20-$29/Month)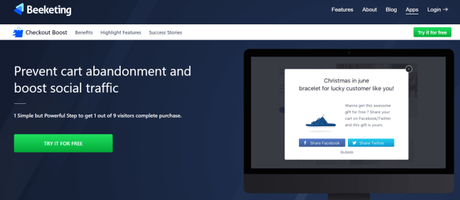 You can easily boost your store' s checkout rate and simply gain more consumers on every purchase. Right when your customer checks out, here a beautifully designed popup window will open the chance to get a coupe code if they somehow share their carts on social networks.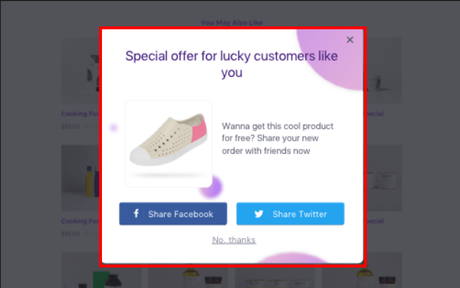 Benefits Of Checkout Boost:
Key Features of Checkout Boost:
4) MailBot ( From $29/Month)
MailBot can really help you in turning your visitors right into your potential buying customers by personalized follow-up emails. This App comes with email marketing AI discovery and unlimited policy. Just grow your sales by 30% automatically and simply save your 85% of the time.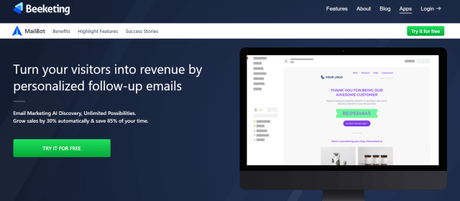 MailBot comes with powerful marketing automation. Just gain back all of your lost sales right with personalized emails in order to turn your visitors into revenue.
You can easily boost conversion rate, increase loyalty along with increasing your retention rate.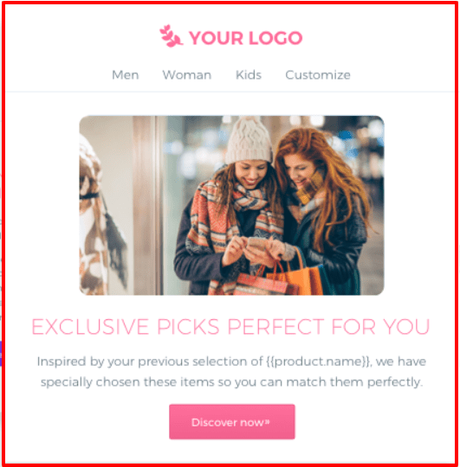 Benefits of Using MailBot:
Boost Conversion Rates
Increase retention rates
Powerful marketing automation
Virtual email marketing assistant
Trigger personalized emails to customers
In-depth analytics and optimization.
Key Features of MailBot:
5) Personalized Recommendations (From $17/Month)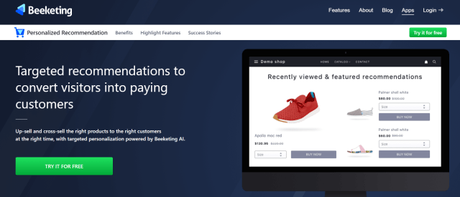 This tool takes out a smart recommendation that will totally rock your sales. Like here you can use features like Bought this also bought, the Bestseller of the store, recently viewed & featured recommendations, cart recommendation, smart upsell popups and more.
It can really help you in boosting your sales by upto 25% simply by recommending the right products that your customers actually want to buy.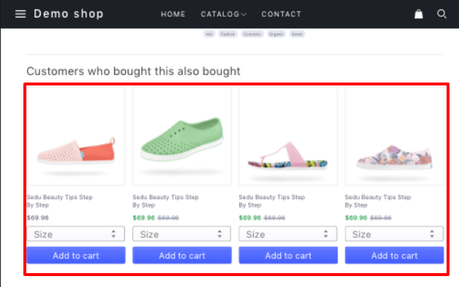 Benefits of Personalized Recommendation App:
Best seller of the store
Cart recommendation
Smart Upsell Popup
Handpicked products for you
Recently viewed & featured recommendation.
Key Features of Personalized Recommendation:
Increase order value
Full responsive on mobile devices.
Better User Experience
Detailed performance report
Super easy to install and customize your recommendations widgets.
6) Better Coupon Box (Free)
This Beeketing App- Better Coupon Box mainly features in offering stunning email pop-ups with the exit intent in order to convert visitors into customers. Just turn visitors right into email subscriber, social followers along with increasing online sales.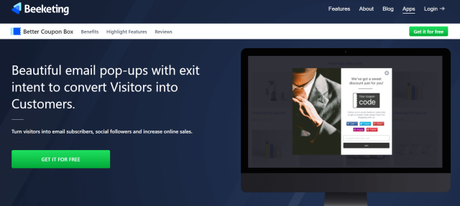 You can easily convert and capture more than 85% of your visitors right into your potential customers. You can turn your visitors into your customer simply by offering a coupon right in exchange of their emails along with social follows right with their beautiful pop-ups.
This tool will easily track the visitors' mouse movement in order to detect the moment they are about to abandon your store it will show up a popup right before them and offer a coupon box to them in order to get more sales and conversions.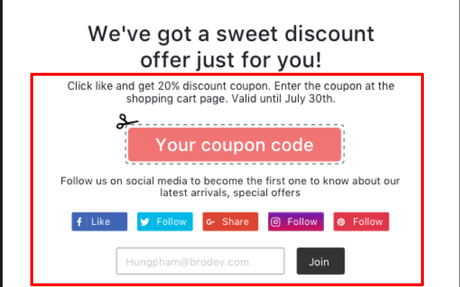 Benefits of Better Coupon Box App:
Key Features of Better Coupon BOx
7) Happy Email (Free)
Using this application you can easily automate and personalize welcome emails right to new customers. This app will help you in connect you to your visitors personally so that you can boost engagement and increase sales.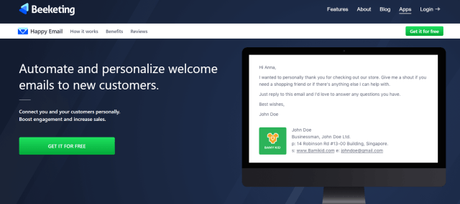 This app can help you in sending a thank-you email from you to your customer automatically right after the very first 30 minutes of making the sales.
You don't have to worry anything here as everything is automated and well-written and is ready right for one-click installation. Here all of the emails will be carefully written based right on given information.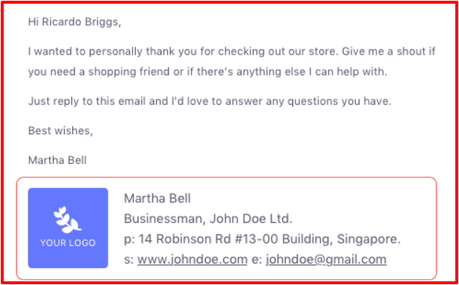 Benefits of Using Happy Email:
Key Features of Happy Email:
8) Answer App (Free)
With this feature, you can easily deliver exceptional customer support and boost conversion. Using this feature you can automatically solve more than 65% of customers inquiries. More than 47,000+ e-commerce websites are currently using Answers in order to provide reliable customer support.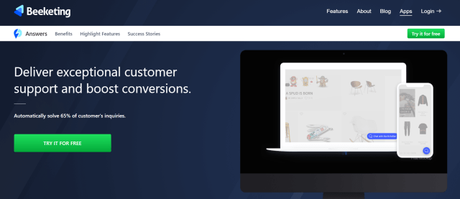 You can provide live, instant and personalized customer support right with Facebook messenger live chat and more. You can simply leverage Facebook Messenger in order to create friendly and instant communication right with your customers and prospects.
This app also offers the new searchable FAQs that will help you in delivering fast customer support even during the peak time. It also provides the fastest way for the customer to simply check their order status.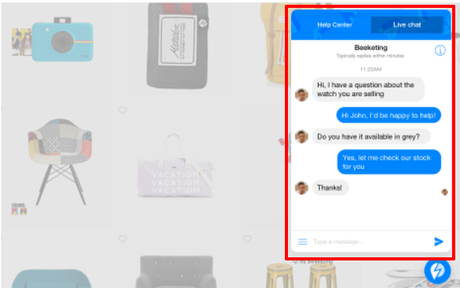 Benefits of Using Answers:
Key Features:
9) Countdown Cart (Free)
This app one of my favorite app as it multi-functional. Just use countdown timer, social proof and stock countdown everything will be in the Free App called Countdown Cart. Just create a strong sense of urgency & scarcity right for your online status.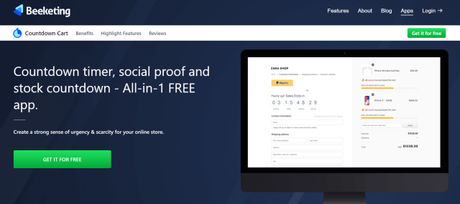 We have mentioned that you can easily boost sales right with urgency and scarcity. This app will help to simply persuade customers that the time to make the purchase is now and if they delay then they may miss out the best deals and discounts.
Just give every customer an ultimatum. In order to buy as soon as possible not lose the deals in somehow, the countdown hits zero. This one is really on the easiest and quickest ways to convert sales.
You can also highlight the popularity of your products. The feature shows in the real time, the number of visitors who viewed your products and how many of them are actually sold and how many are remaining.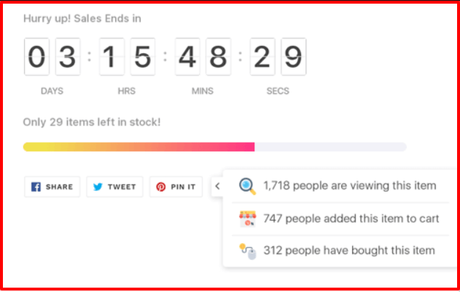 Benefits of Using Countdown Cart:
Key Features:
10) Mobile Converter (Free)
Just maximize the mobile conversion right with stick add-to-cart bar along with better visual experience. You can easily boost mobile conversion and revenue and embrace mobile commerce. There are more than 10,000 e-commerce owners are using the Mobile Web Host in order to make more sales from the mobile devices.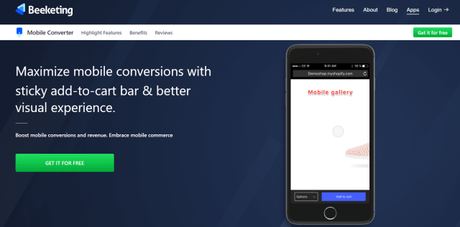 It can really increase mobile conversion and attract more sales and customers. Here this Mobile Converter app will help in eliminating all the disadvantages and satisfies your customers and simply drive their action while your visitor is using your online store on mobile.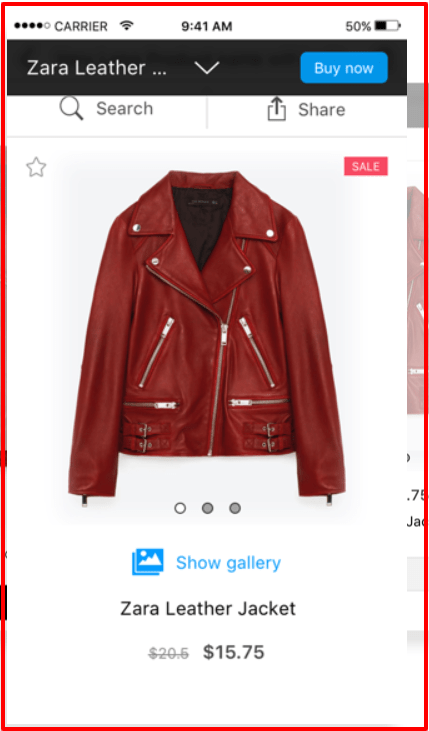 Benefits of Using Mobile Converter:
Key Features of Mobile Converter:
11) Recover Cart Pusher
Just recover the abandoned cart right with automated and targeted web push notifications and more. This app facilitates in higher opt-ins, real-time communication, and higher conversion role as well.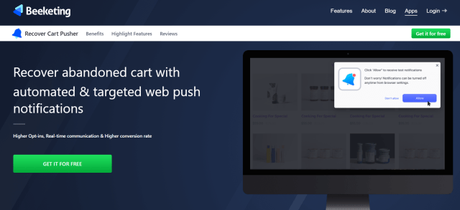 You can easily turn your abandoned carts right into sales with the web push notification right to your customer who has the abandoned a cart right on their desktop.
It offers real-time communication and here you don't have to wait for the customer in order to check emails or right be there on your website. These notification are delivered right on the desktop. It also eliminates the spam filter or the never-read emails and that will have much more click-through rate.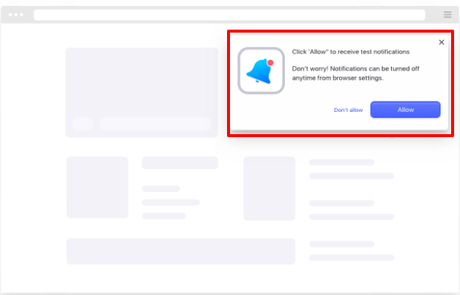 Benefits of Using Recover Cart Pusher:
Key Features:
12) Calbot- Currency Converter (Free)
Right with the help of this app you can auto-detect and simply discovering customer's currency. Simply sell internationally and simply increase the conversion in just 1 click.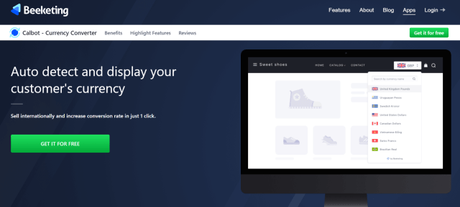 You can easily display customer's currency or simply let them manually select. It also has 24/7 support unlimited currency & updates exchange rate in the real-time.
You are free here to sab your rounding rules. Just get school will let you create your own rounding rule in order to get more accurate. Just provide multiple customization options in order to make the best fit for your online store.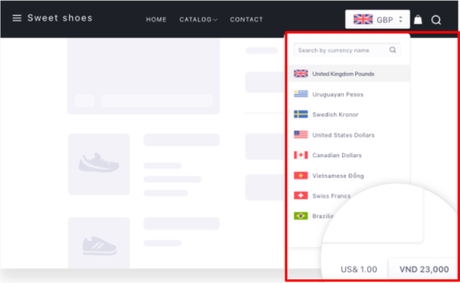 . Benefits of Using Calbot- Currency Converter (Free)
Key Features:
Beeketing Pricing Plans:
Pricing plans offered by this tool is very flexible and affordable so that anyone can easily get started with it. And the best part is that most of the Beeketing Apps are free of cost where you don't have to pay anything. Here we are going to reveal the price of Beeketing Apps:
Pros and Cons:
Pros:
Apps are very lightweight
Great support and customer service in order to assist users properly.
These apps are fully automated and easy to understand and straightforward
Offers very simple, easy and highly responsive application to use
Sellers can raise sales by over 45% using these 12 Beeketing Apps (Free + Premium)
Easily integrates right with WooCommerce, Shopify, BigCommerce, Weebly, Lightspeed POS and more.
Cons:
Offers Limited Platforms support
All of the Beeketing apps are featured on WordPress and that's a down-part of it.
Quick Links:
Conclusion: Beeketing Review 2019
If you really want to convert your visitors right into your paying customer then you should definitely give Beeketing a try as it's the All-In-One E-commerce Marketing Platform.
You should definitely give Beeketing platform a try and find out how it's working for you. It's now working for us and we hope it can help you too in generating more revenue.
We hope this post suits your purpose well. If you like the post then share it on social media platforms like Facebook, Twitter, LinkedIn and more.