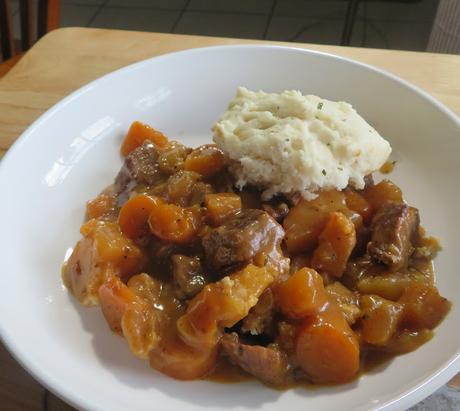 I would be the first to admit that I am a very old fashioned girl with very old fashioned tastes. I love to try new things and to be a bit out there at times, but basically it is the simplest things in life which bring me the most pleasure.
In both the way I live my life and in the things that I eat.  There is nothing I love more than a nice pot of a delicious old fashioned beef stew, made the way my mother made it, the way her mother made it and the way her mother before made it.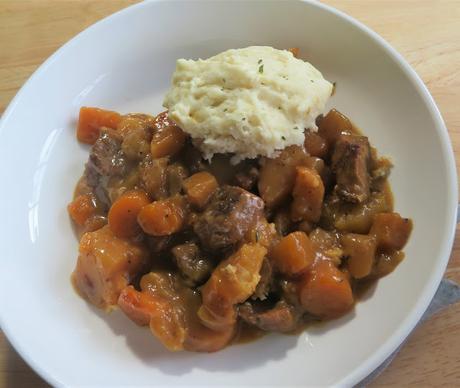 Things like Beef Stew are very much a generational thing and something which I can make with my eyes closed. I learned from watching my mother do it, and have added my own twists and turns to it through the years.
I was really craving stew today and decided that it should not matter that I am only one, I can still fashion myself a traditional beef stew recipe that won't end up with me having to eat it for a week. 
 This stew is nothing fancy, and I must apologize for my photos in advance as well. It was rather late in the day when I went to take them, so they are not the best.
I hope that doesn't put you off from making this delicious dish however!  Dumplings and all! If you are looking for a full sized version, you can find it here.
Fit for the God's Oven Braised Beef Stew.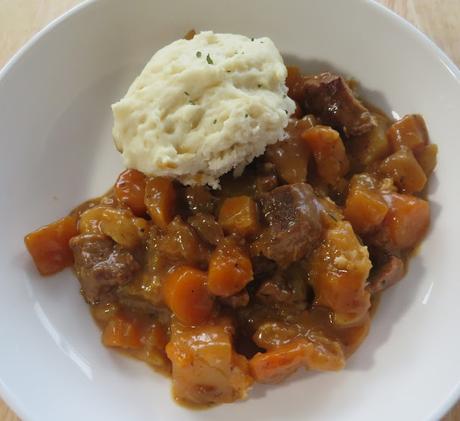 For me, the perfect stew has to contain a few "MUST HAVE" ingredients.  First of all a good beef is paramount.
Buy the best stewing beef that your money can buy. Try to get one that doesn't have a  lot of fat on it. You want a bit of fat and you want it to be nicely marbled, but you do want more meat than fat.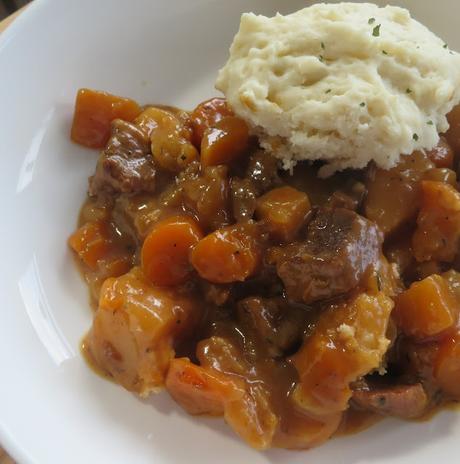 Yes, I
am
that woman you see in the grocery store, poring over every single pack of stewing beef looking for just the right one! Tell me I am not alone in this!
I hate eating meat that is full of gristle and fat.  There is a happy medium.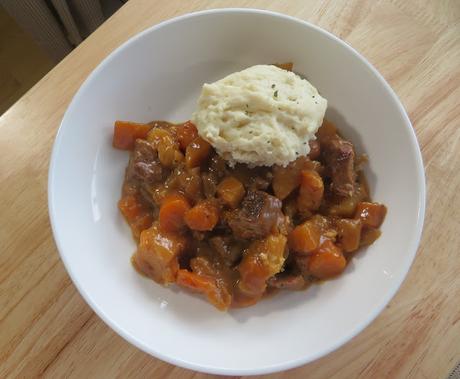 Onions are another thing that a good stew must contain. No fancy onion. Just a plain old brown onion, peeled and diced.
You also want a goodly portion of root vegetables. I like to use carrots, parsnips, rutabaga (swede) and potatoes.  There is nothing fancy here.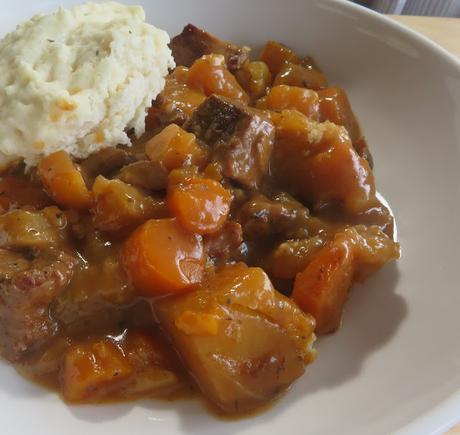 There is nothing fancy here. Just good old fashioned root vegetables peeled, and sliced or diced.  Some people like to add celery, and you certainly can, but I never bother.
One thing you need to do when making a pot of stew is to brown your beef really well. This will add much flavor and color to the stew.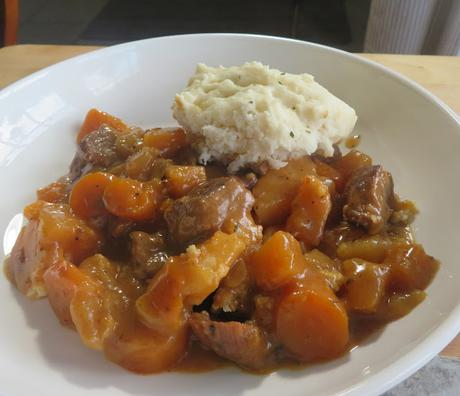 I cut my meat into one inch cubes and toss it together with some seasoned flour.  The flour will melt off the beef in the long slow cooking and help to thicken the stew.
It also adds to the caramelization of the meat.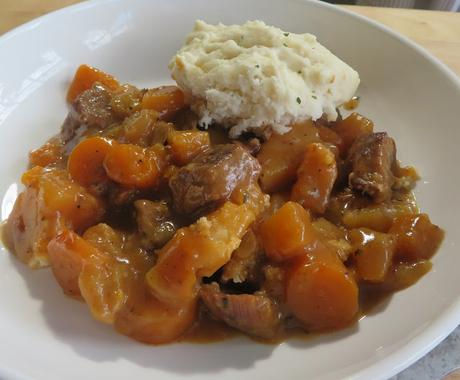 Crowding the pan is probably the single most common problem that people encounter or practice when browning off beef for any purpose.  If you crowd your meat in the pan it won't brown properly.
Its that simple. It is better to work in smaller batches, removing them as they brown and adding more, than to dump everything in all at once.  This is the secret to a well flavored and colored stew.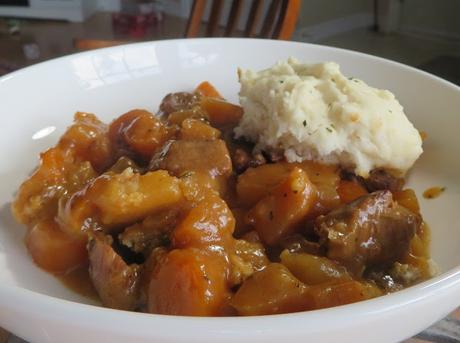 You probably won't need to work in batches for this stew as there is not that much meat, but you still don't want to crowd the pan. A lot depends on the circumference of your pan.
Once I have my meat all browned I add the vegetables (with the exception of the potatoes) to the pan and I let them cook and caramelize a bit, soaking up all the goodness left in the pan.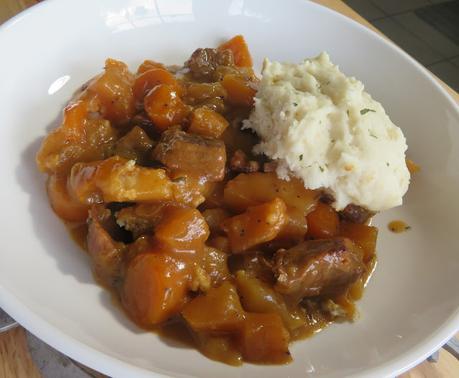 Finally I add all of the aromatics and herbs along with some beef stock. You can just add water if you want, but stock does give it a nice flavor.  Some people add red wine.
I never, or hardly ever have things like red wine in the house and so I add a bit of balsamic vinegar which give that added boost of flavor,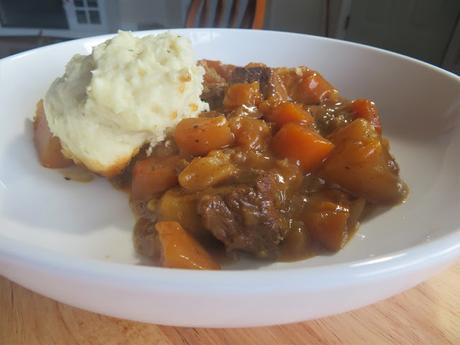 Other things I like to use are a splodge of tomato ketchup, some creamed horseradish, Worcestershire sauce, and some herbs.
Thyme, parsley, summer savory and a broken bay leaf. I break the bay leaf to release the flavors. It does make a difference.  If you can't find summer savory use marjoram. You could also add a bit of rosemary, but I never do.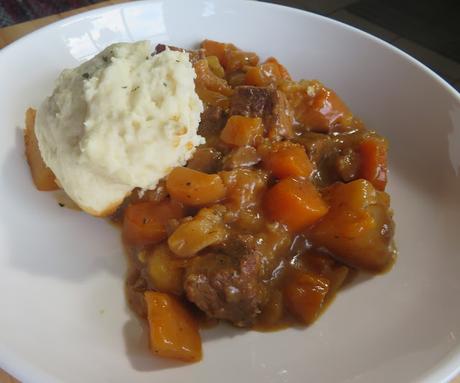 You want to be a bit judicious with the salt and pepper. I really don't add any until the end.  Stock can sometimes be salty.
And some of the other ingredients can be as well. Lets not forget that the beef was browned in seasoned flour as well.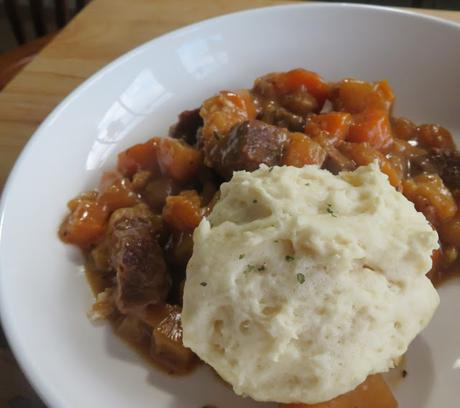 I let the stew cook, covered in a slowish oven for about an hour to an hour and a half, then I add the potatoes. I don't want my potatoes totally falling apart, so that is why I wait a bit longer to add them.
Finally you can make some dumplings to drop on top during the last fifteen minutes of cooking. Its not necessary, but its always nice.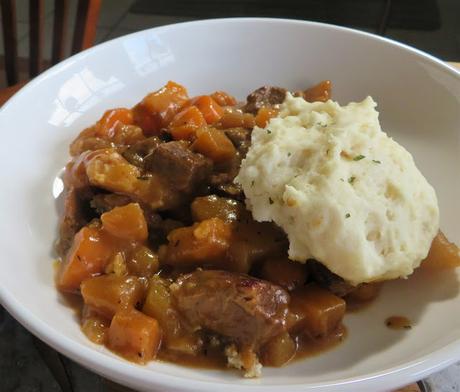 Today I just used Bisquick baking mix to make Bisquick dumplings.  Very easy.  Just drop them onto the hot stew, recover and bake for a bit longer.  I went and had a shower and by the time I was done, everything was ready to eat.
And it was totally delicious.  I was a happy camper, enjoying some of my favorite comfort food.  Stew and dumplings. It doesn't get much more comfy than that! 
Plus I had the leftovers to enjoy the next day. Stew is one of those delicious dishes that always improves even more in flavor overnight. Enjoy!
  é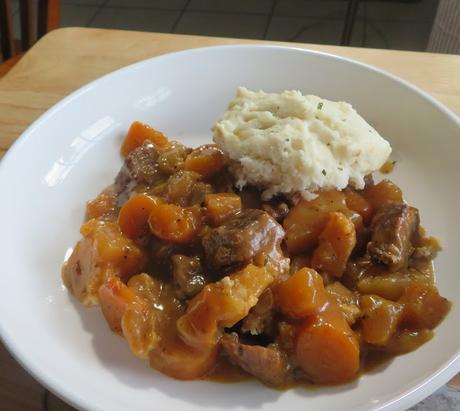 Beef Stew for Two
Yield:
2 - 3
Author:
Marie Rayner
Cook time: 3 H & 30 M
Total time: 3 H & 30 M
A down-sized version of my favorite beef stew, perfectly sized for two. It may be smaller in size but is every bit as delicious as the full sized version!
Ingredients
3/4 LB of stewing beef, trimmed and cut into 1 inch pieces
1 TBS flour
salt and black pepper to taste
a splash of light olive oil
1 medium onion, peeled and chopped
1 clove garlic, peeled and minced
2 medium carrots, peeled and sliced into coins
1 medium parsnip, peeled and sliced into coins
1/4 of a small rutabaga (swede) peeled and cut into 1/2 inch cubes
1 large baking potato
2 cups beef stock
1 TBS tomato ketchup
1 TBS balsamic vinegar
1 tsp creamed horseradish
1 small broken bay leaf
1/4 tsp each thyme, summer savory and parsley flakes
1 tsp Worcestershire Sauce
Dumplings: (optional)
1/3 cup of Bisquick baking mix
1/3 cup of milk
Instructions
Toss the beef cubes together with the flour, along with some salt and pepper to taste.  
Heat the oil in a heavy bottomed stove top/oven safe casserole dish/Dutch oven, over moderate heat.  (You will not need a really large one, but it should hold at least four to five cups.)Add the beef cubes and brown them all over.
Once they have browned add the onions, garlic, carrots, swede and parsnip, along with the herbs.  Sauté over medium heat for about 10 minutes, then add the stock, ketchup, horseradish, Worcestershire sauce, and Balsamic vinegar. Bring to the boil, then reduce to a simmer.  Simmer while you are preheating the oven.
Preheat the oven to 325*F/160*C/ gas mark 3. 
Cover the casserole tightly and pop it into the oven. Bake for 1 hour. 
Peel your potato and cut into large chunks. 
Add the potato to the casserole, give everything a good stir, and return to the oven, again, tightly covered.
Bake for a further 1 to 1 1/2 hours until the meat and vegetables are tender.
If you are making the optional dumplings. Stir together the baking mix and the milk to combine and dollop on top of the hot stew.  Cover tightly and return to the oven for a further 15 minutes.  Delicious!
Did you make this recipe?
Tag @marierayner5530 on instagram and hashtag it #TheEnglishKitchen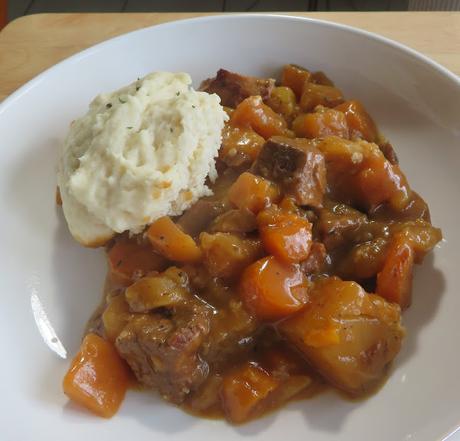 All of the content you see here on this page, both photography and written, are the sole property of The English Kitchen, Marie Rayner. Any reposting or misuse is not permitted. If you are reading this elsewhere, please know that it is stolen content and you may report it to me at mariealicejoan at aol dot com. 
Follow me on Bloglovin