Its been a while I last cook Beef Rendang.  Using Thermomix to blend my chilli paste is a breeze now.  The quality is so fine and I no longer has a major clean up with I fry the rempah.
I think I must explore more curry recipes from now on.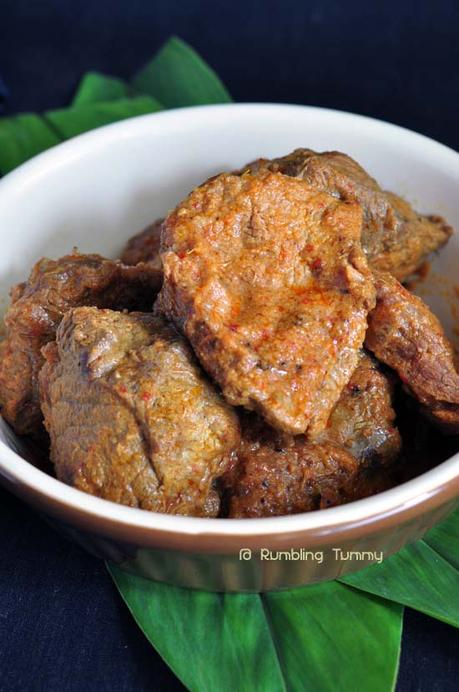 Findings: The beef was not tender enough so I transfer it into a pot, added in 200ml water, bring to a boil and let it sit overnight and further cook it the next day, on very low heat for 1 hr in order for it to be soft.  (I add in another 500ml water)
Tastewise, this is good.
What you need:
1kg beef, cut into cubes80g garlic cloves300g shallots5 stalks fresh lemongrass8 cashew nuts15 dried chillies, rinsed, soaked and deseed25g galangal25g turmeric25g fresh ginger100g oil1 tsp ground cumin1 tsp ground fennel2 tsp salt150g coconut milk2 fresh turmeric leaves, trimmed and shredded2 tbsp brown sugar
Method:
Place garlic, shallots, lemongrass, candlenuts, dried chillies, galangel, turmeric, ginger and oil into TM bowl, grind 15 sec/sp10. 
Add in ground cumin, ground fennel and 1 tsp salt. Saute 15 min/120°C/sp 1 until fragrant.
Add in beef, coconut milk, turmeric leaves, brown sugar and 1 tsp salt.  Cook 30 mins/100°C/reverse/sp spoon.
Enjoy!


If you have enjoyed this post by Rumbling Tummy, be sure to follow her on Facebook, Instagram, Pinterest, Twitter and Google+ .