Circuit Breaker Day 52
Over the years, I had done quite a number of Beef Rendang as it is one of the favorite dish in the family.  In this blog alone, I had 3 and today's will be the 4th one.
I am exploring yet another new recipe and I shall call it Beef Rendang (4).  

Decided to number them because whenever my friends tell me it is good, I don't know which one they are referring to.

This time round, I used the Thermomix to help with the rempah (they are fast and good) and the Instant pot to speed up the cooking process as I feel that Thermomix cannot cook a nice pot of Rendang to a tenderly soft texture.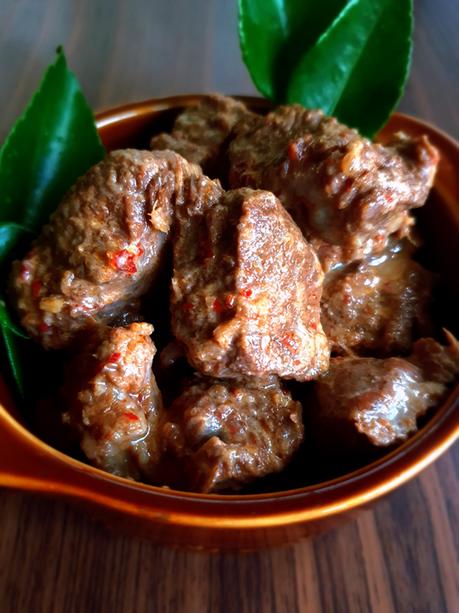 Findings: We were too eager to eat but this rendang taste much better after a day sitting in the gravy.
What you need:
8 cloves garlic, peeled
10 small shallots, peeled
1 inch piece fresh galangal peeled
1 inch fresh ginger, peeled
16 pcs dried chillies,  deseed and soak in hot water to soften
1 tsp coriander powder
½ ground cumin
1 tsp curry powder
2 tbsp oil
3 stalks lemongrass (use only the lower white portion) bruised or lightly smashed
4 kaffir lime leaves
1 kg beef (stewing beef), cut into chunks and seasoned lightly with salt and pepper
½ cup water
1½ tbsp brown sugar
1 packet of chilled coconut milk
Soy sauce, to taste
Method:
Blend garlic, shallots, galangal, ginger and chili to a smooth paste. (I use the Thermomix as it gives me a very fine and smooth paste)
Add the coriander powder and cumin powder and mix well. Set aside.
Choose the sauté setting in the instant pot. Heat the oil and briefly sauté the lemongrass, ginger and kaffir lime leaves until aromatic.
Add the spice paste and cook for about 5 minutes, stirring occasionally until it is fragrant and darkens in color and begins to bubble as it releases some oil.
Add the beef and stir well to ensure evenly mix with the spices.
Add water and sugar and mix everything well. Make sure to loosen the brown bits at the bottom to prevent burning.
Turn off the sauté mode and cover the pot, putting the valve in the sealed position.
Put in manual high pressure for 25 minutes. Allow a natural release for 15 minutes.
Uncover then pour in the coconut milk.
Sauté and cook, stirring occasionally so beef doesn't stick to the bottom, for 15 minutes or until the sauce has browned or caramelized in color and has thickened (the dish would release some oil at this point, too).
Season with soy sauce or salt.
Note: After boiling the beef for another 15 mins or so, cover and let it sit in the sauce overnight.  This will taste so much better the next day.
Serve.
Enjoy!

If you have enjoyed this post by
Rumbling Tummy
, be sure to follow her on
Facebook
, Instagram, Pinterest,
Twitter
and
Google+
.