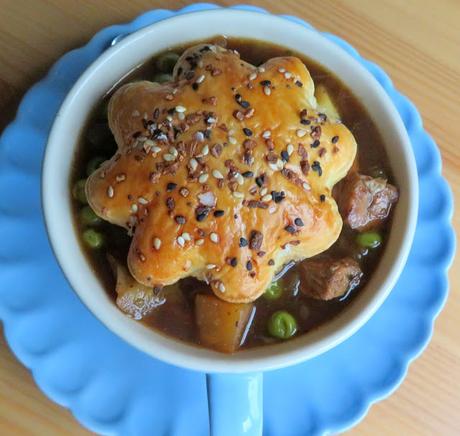 I had found a rolled brisket in the oven at the weekend. I am trying to use up what I can from the freezer. I think our local food bank will be getting a healthy donation from our food cupboard in any case. 
I just did my normal pot roast.  With the leftovers I decided to make a delicious homemade soup. My son had shown me his Turkey Pot Pie Soup on Sunday and so I thought to myself why not a Beef Pot Pie Soup??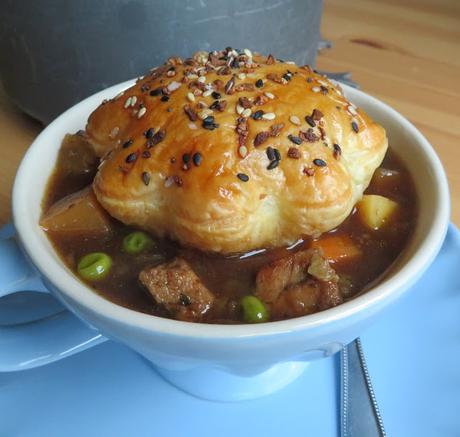 Why  not indeed. Usually when I have leftover roast beef I will use it for a nice hash or a pot pie. Mom's Beef Pot Pie is a real favourite! 
Some other favourites are Monday Night Supper Dish (an old fashioned pasta dish), Old Fashioned Baked Hash,  and Greek Casserole.  Other favourites are Oven Hash, Macaroni Roma, and Beef Miroton.  And those are not all my options by any stretch.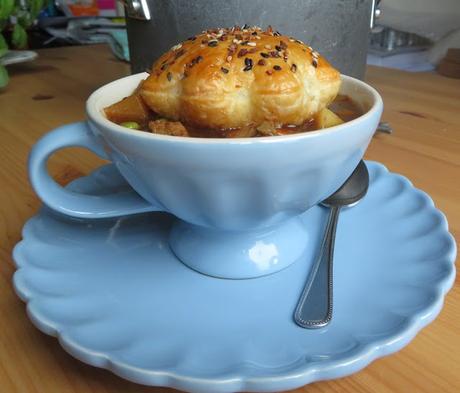 My mother always said I was the Queen of the leftovers and that I could make the sole of a boot taste good.  I say I learned it from my mother. 
In her kitchen NOTHING went to waste.  Absolutly nothing.  She made mostly soups and pot pies from her leftovers, and I have to say she was a master at making soup out of just about anything and everything.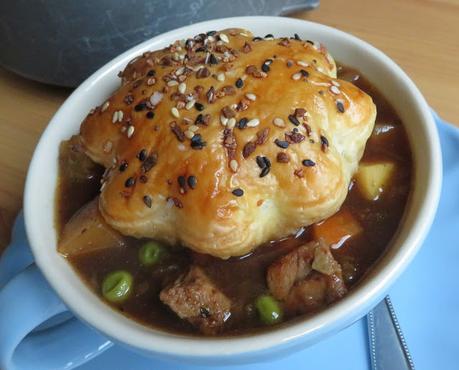 Mom was born at the beginning of the Great Depression. She grew up poor.  Her grandfather was a farmer so they always had food, but a lot of other things were not so abundant.
He passed away in 1938 and her grandmother, who had been a midwife moved in with my mother's mom and dad. Food was much harder to come by then, and every scrap got used. Thrift was the order of the day.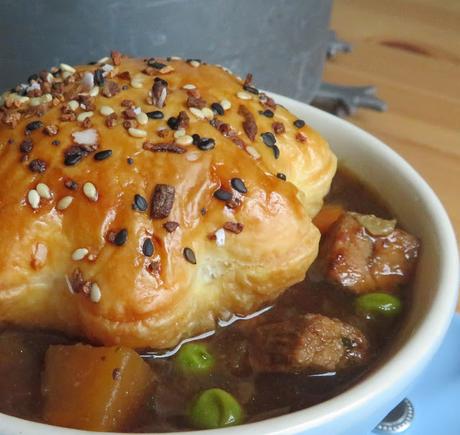 Sometimes those of us who have grown up in the time of plenty can be a bit wasteful, and I have been guilty of it on occasion.  By and large however I try to always use up whatever I can.
I do have a four day rule however. If I haven't used it in four days and I can't free it, unfortunately it goes out.  Thankfully that doesn't happen very often.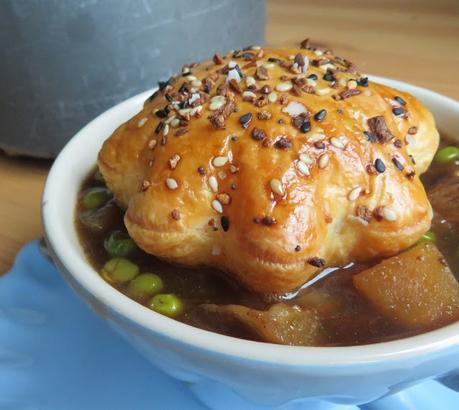 Stale bread, cakes and cookies can always be used to make fresh desserts.  But when they are not good for even that, the birds end up with them.  I do not give them mouldy bread however. I am always careful about that.
Flimsy near the best by date vegetables always make for a great stock or soup.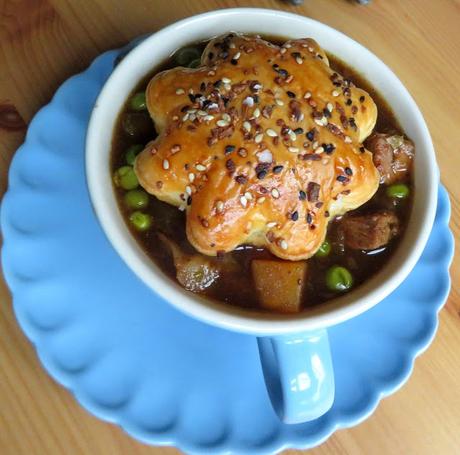 Today I channelled my mother and I made a pot of beef and vegetable soup with the leftover roast. You could use ground beef in a pinch if you don't have any leftover roast.  
Making soup is such a simple thing to do. I always start with a mirepoix of vegetables. Onion, carrot, celery.  All get chopped and sauteed until soft in a bit of oil.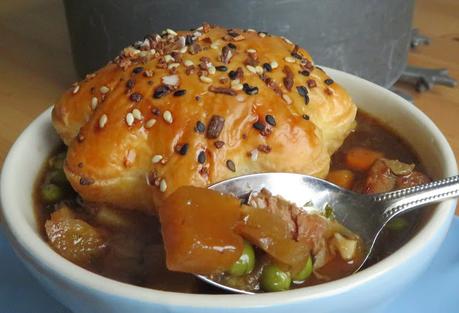 These vegetables are the basis of any good soup and stock.  They are filled with flavor. From there you can easily move ahead.
I added the beef and some garlic to them softened vegetables. I raised the heat a bit and allowed everything to brown just a tiny bit.  Caramelisation always adds tons of flavor to things. Colour too.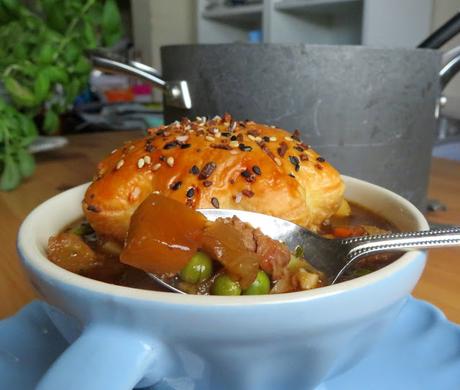 From there I added some stock, and water. I always keep a variety of stock pots in my cupboard. If you have stock pots in your cupboard, or boullion cubes you are never far away from a good soup.
Better still if you have frozen stock in the freezer. That only happens very seldomly in this house, although I most always have a chicken carcass or two to make chicken soup with.  And what is chicken soup but a nice pot of stock with a few bits thrown in!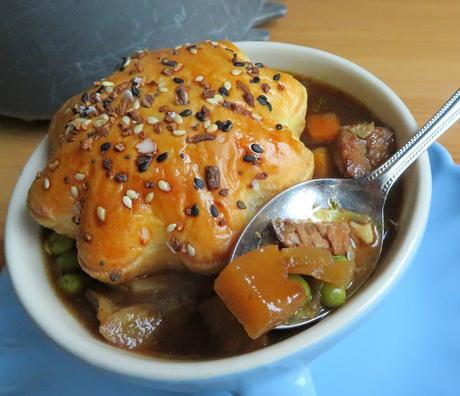 If you have any leftover meat juices (and I did) you can also add them now.  I used a tasty mix of herbs for flavor as well.
Parsley, sage, rosemary and thyme. Just like the song Scarborough Fair.  They go very well together and they went well in this.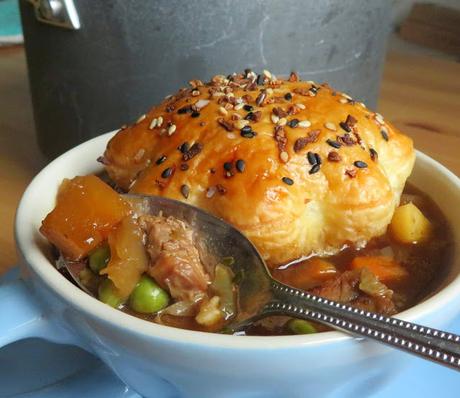 I also added a broken bay leaf.  Did you know that if you break your bay leaves in half when you are adding them to things they will release more flavour?  Its true. Now you do know.
I seasoned it simply with salt and pepper. Other vegetables I added were chopped potato, chopped rutabaga (swede)  and some chopped cabbage.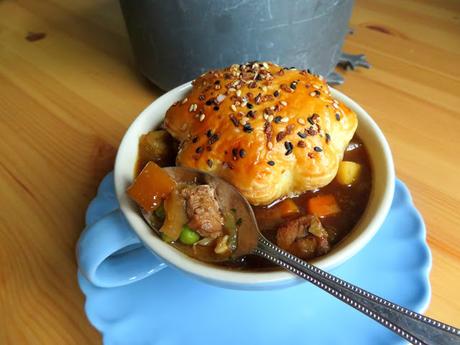 I added a bit of tomato paste as well, which added a slight hint of richness. Sometimes I will add a tin of chopped tomatoes. Today I did not.
This all gets simmered together for about 35 to 40 minutes until everything is nice and tender.  Then at the very end I will throw in some frozen peas. Waiting til the end helps to preserve their color somewhat.

 I am in noways fond of over-cooked peas. Not. At. All.  So they only need to cook for about minutes and I am happy.
The pot pie topping is baked puff pastry rounds.  I use all-butter puff pastry if I can get it.  Its the best. I just cut them into rounds with a fluted cutter, brush with an egg wash, sprinkle with some seasoning, (today it was everything Bagel seasoning) and bake until golden brown and puffed.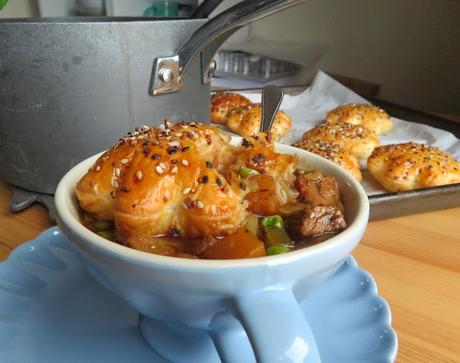 Crisp and light as air.  Ready to pop on top of your hot soup after it has been ladeled into heated bowls. Today I used my favorite big cup and saucer. I thought it looked really nice.
If you wanted to you could use ordinary flakey pastry. Heck, even hot buttered crisp toast rounds would work.  Just so you have something nice and crisp and tasty sitting on top.  Leftovers never tasted so good!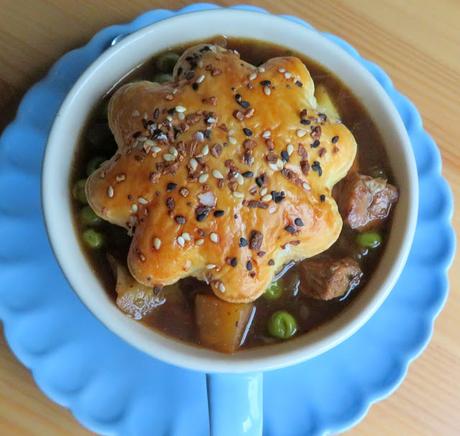 Print
Beef Pot Pie Soup
Yield:
4
Author:
Marie Rayner
prep time: 10 Min
cook time: 40 Min
total time: 50 Min
A hearty beef soup created from leftover roast beef. Topped with a puff pastry round it makes for a very delicious meal on a cold autumn day.
Ingredients
For the soup:
1 TBS olive oil
1 medium onion, peeled and chopped
1 medium carrots, peeled and chopped
1 stick celery, peeled and chopped
1 clove of garlic, peeled and minced
2 cups chopped leftover roast beef along with any juices
2  medium potatoes, peeled and chopped
1 small piece of rutabaga, peeled and finely chopped
4 cabbage leaves, finely chopped
4 cups (960 ml) hot beef stock
2 TBS tomato paste
1 1/2 cups (375ml) water
1 broken bay leaf
1 tsp parsley flakes

1/4 tsp each sage, rosemary and thyme
salt and black pepper to taste
1 cup of frozen peas
For the topping:
1 sheet of all butter puff pastry
1 egg beaten with 1 tsp water
Everything Bagel Seasoning
Instructions
Heat the oil in a large saucepan. Add the chopped onion, carrot and celery.  Cook slowly over medium low heat stirring frequently until softened.
Turn up the heat to medium high. Add the garlic and beef. Cook for a few minute minutes until the beef begins to brown a bit at the edges.  Add the beef stock,  water, potato, cabbage, rutabaga, tomato paste and any seasonings.  Bring to the boil, then reduce to a simmer and cook until all the vegetables are tender.  Taste and adjust seasoning as required.  Add the frozen peas.
Preheat the oven to 200*C/400*F/ gas mark 6. Line a baking sheet with baking parchment. Unroll the puff pastry. Cut into shapes and place them onto the baking sheet.  Brush lightly  with the egg and sprinkle with the bagel seasoning.
Bake for 10 minutes in the hot oven until golden brown and nicely puffed.
Ladle the soup into heated bowls.  Top each serving with a round of puff pastry and serve immediately.
Did you make this recipe?
Tag @marierayner5530 on instagram and hashtag it #EnglishKitchenCreated using
The Recipes Generator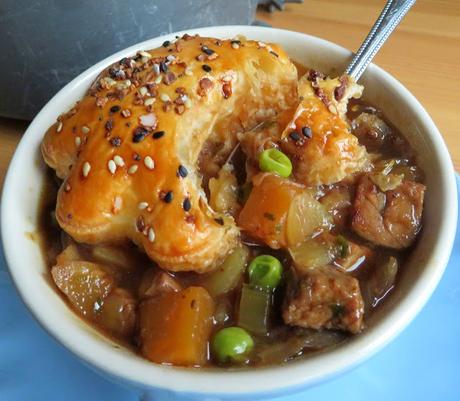 What is your favorite thing to do with your leftovers from a roast dinner? Usually I will make a hash or a pot pie. I had not made soup in quite a while. It made for a lovely change! 
This content (written and photography) is the sole property of The English Kitchen. Any reposting or misuse is not permitted. If you are reading this elsewhere, please know that it is stolen content and you may report it to me at: mariealicejoan at aol dot com Thanks so much for visiting. Do come again!