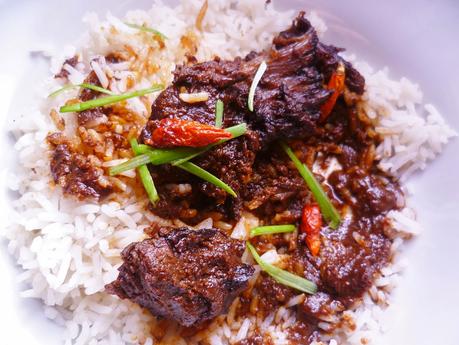 beef adobo from the Philippines
Filipino food is typical of the food that fascinates me; the food that has evolved from settlers, traders and conquest. In this case, it is Malay, Chinese and Spanish influences that have helped to shape Filipino food.

An adobo is a case-in-point; essentially a rich stew of meat marinated in bold sour, sweet and salty flavours, then slow-cooked until it melts in your mouth. There are lots of different types, but this one (adobo sa gatâ) cooked in coconut is one of my favourites.
The vinegar helps to lightly preserve the meat, so an adobo keeps very well and like a curry, the flavor improves with time.
Recently, this recipe was judged to be a winner in The Guardian newspaper's weekly Readers' Recipe Swap on the theme of "vinegar".  Food writer, Eve O'Sullivan was kind enough to say:
This week's deserved winner, though, packed a sweet, sour and savoury punch that's bound to impress pretty much anyone. MarmadukeScarlet used beef rib, which was beautifully softened by the copious sherry vinegar, but a cheaper cut would work too.

So don't just take my word for it . . .
Serves 4
Skill level: Easy
ingredients:
2-3 tbsp vegetable oil
4-6 short ribs
salt and freshly ground black pepper
250ml chicken stock
250ml coconut milk
180ml sherry vinegar
180ml dark soy sauce
2 tsp light brown sugar (optional)
1 star anise
1 head of garlic, peeled (roughly 20 cloves)
2-3 bay leaves
3 birdseye chillies
salt and freshly ground black pepper
spring onion tops, shredded, to serve
steamed rice, to serve
directions:
Heat oil in a large sauce pan over a medium heat. Fry ribs until lightly browned all over. (Roughly 10 minutes.) Remove ribs and set aside.

Tip out any excess oil. Add stock and scrape up any of the caramelised sticky bits. Add coconut milk, vinegar, soy sauce, sugar (if using), star anise, garlic, bay leaves, and chillies. Return ribs to pan. Bring to boil and then simmer, covered, for about 2-3 hours, until the meat is tender. Skim off any fat if necessary.

Season to taste.

You can serve the ribs on the bone. But I prefer to strip the meat away from the bone; (it tends to break up into big meaty chunks). Return meat to the stew and heat through before serving with a steamed white rice, topped with a little shredded spring onion tops.